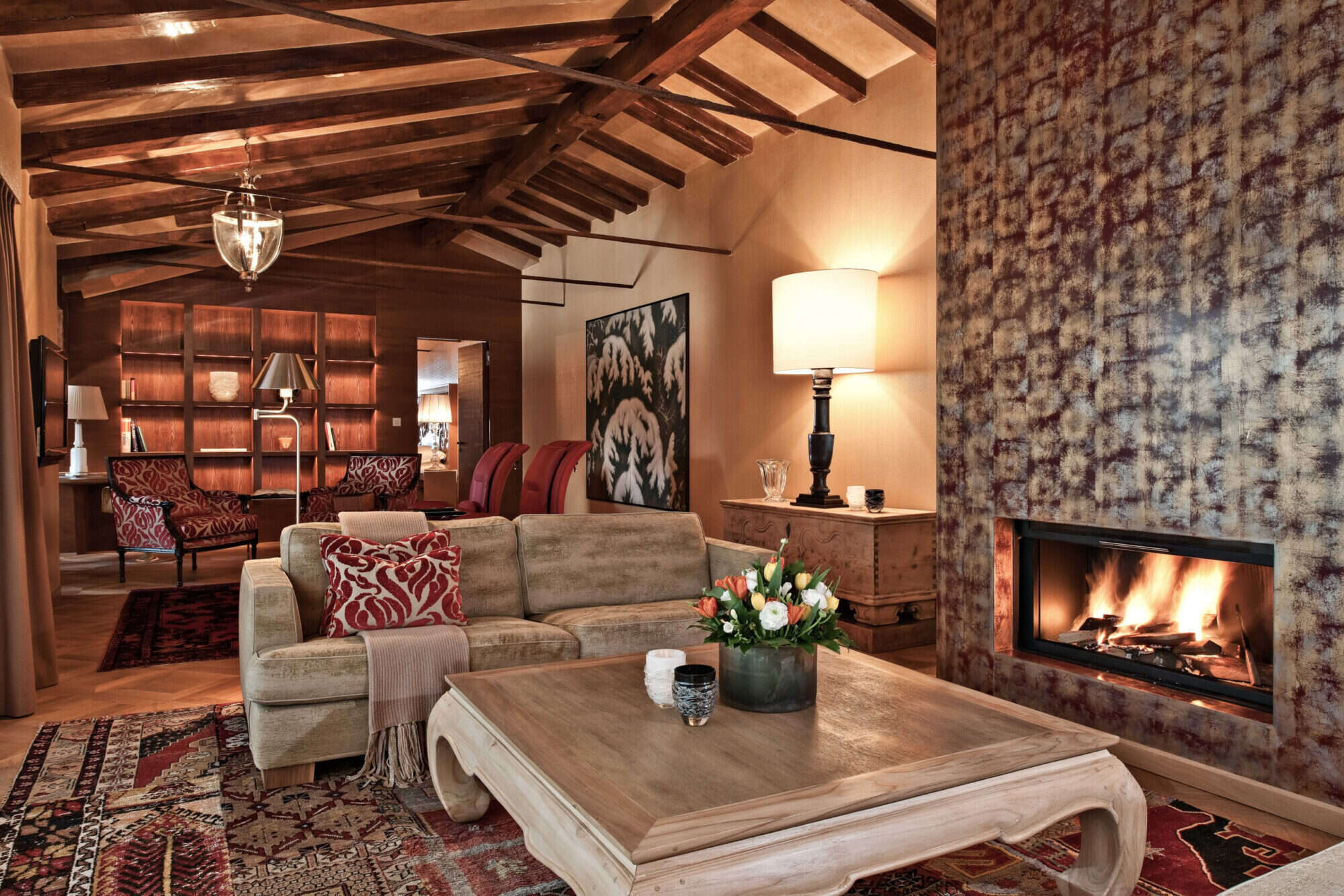 Perched on the north side of an idyllic lake and surrounded by the pristine Engadine mountains, the Carlton Hotel is unmistakably one of the most exclusive properties in St Moritz. The hotel has just 60 suites offering opulent interiors, impeccable service and stunning views of Lake St Moritz. The hotel's interior consists of classic architecture inspired by czarism and occasional modern elements. Swiss architect Carlo Rampazzi was given license to seek out the finest materials to ensure even the smallest details are fit for royalty.
With 4,154 sq ft of living space, the Penthouse Suite is the biggest in St Moritz, allowing room for three en-suite bedrooms, private dining space and five terraces. These strategically placed outdoor areas add up to offer guests a 360-degree view of their beautiful surroundings.
Especially in a winter like this one, when people seek social distance, the concept of this luxury establishment is ideal. Being an all-suite hotel, guests never have to leave their room and can enjoy unforgettable days in a home away from home. The Carlton Penthouse has a fully equipped kitchen and ample dining space, allowing guests to enjoy an evening of fine dining in privacy. However, guests should make an exception for Da Vittorio – St Moritz, a stunning, two-Michelin-star restaurant serving incredible Italian food from the renowned Enrico and Roberto Cerea.
Carlton Hotel St Moritz has a beautiful spa offering a range of luxurious treatments inspired by the healing powers of the mountains. With so few guests at the hotel, the extensive three-floor spa is never busy, but guests who book the Carlton Penthouse have exclusive access to the separate spa suite, reserved automatically for penthouse guests.
Carlton St Moritz is aware that many of its guests will opt to stay away from the busy slopes this year, so it has developed a selection of experiences that allow them to enjoy the Swiss winter without the crowds. The most exclusive of these is Rent a Mountain. For 5,000 Swiss francs ($5,637), guests are given exclusive access to the longest illuminated night ski slope in Switzerland. You can ski to your heart's content without having to worry about ski lift queues on the way up or rogue snowboarders on the way down. Aperitifs are provided for a relaxing après ski, and a restaurant dinner is also available upon request. The mountain is simply yours. The experience can be booked by the dedicated butler, who will be available 24 hours a day from the moment you check in.
Carlton Penthouse from $30,000. Contact info@carlton-stmoritz.ch, +41 81 836 70 00, carlton-stmoritz.ch