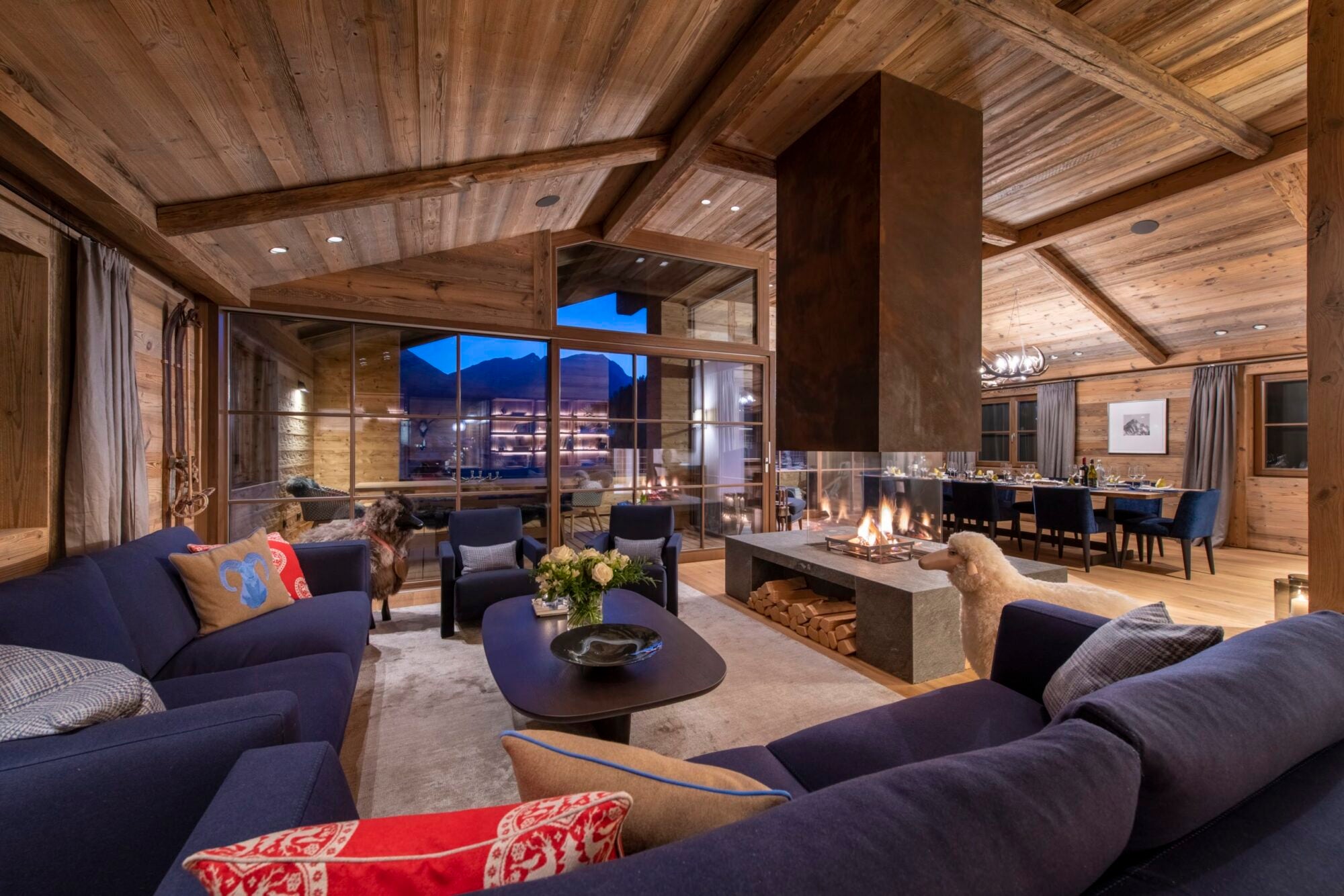 The Austrian village of Lech has long been considered an elite destination, but unlike its French and Swiss counterparts, it has managed to retain much of its original alpine charm. The secret is out, however, and Lech is quickly growing. Chalech, a development that opened in 2019, is one of the village's newest elite accommodations. It is comprised of five chalets, all offering supreme luxury and ultimate relaxation just a stone's throw from pristine ski runs. Chalech S is the most prestigious of the properties: It sleeps 10 adults in five en-suite bedrooms, plus two children in a bunk room, across four floors connected by a private elevator. The picture-perfect living area has a stand-alone central fireplace and floor-to-ceiling windows looking out over the twinkling lights of Lech and the mountains beyond. Bramble Ski operates the chalet and can tailor your stay to exact specifications, arranging anything from heli-ski tours to private dinners with highly accomplished chefs.
Stay
Size – 4,305 sq ft Weekly rate – From $45,000
This luxurious chalet boasts four well-appointed bedrooms, each with an ensuite that has a rainfall shower and deep bathtub. The impressive master suite has a private balcony with extraordinary views. The chalet's main living area feels extremely spacious thanks to the double-height ceilings and abundant natural light that streams in through floor-to-ceiling windows. Here, the central fireplace is a triumph of modern design: a contemporary, minimalist feature that still manages to create the traditional chalet ambience. Of course, it also plays an essential function by providing ample heat on those chilly alpine nights. There are charming alpine decor elements throughout, from incredible photographs of the Alps to statues of sheep and antique skis hanging on the walls.
Dine
Bramble Ski offers the services of a number of professional chefs during your stay at Chalech S. The chefs will prepare a delicious afternoon tea upon your return from a day on the slopes and a delectable four-course meal every night. An evening begins by the fireplace with delicious canapés and a glass of champagne before you are invited to sit at the 12-person dining table illuminated by a unique chandelier fashioned from antlers. Choose from wonderful dishes across a range of cuisines, from South American-inspired ceviche to a British family-style roast pork. Chefs take great pleasure in detailing the inspiration behind each and every dish, and accommodate all preferences and allergies. Finish off your night with a selection of local artisan cheeses hand-selected by the chefs themselves (most are cheese connoisseurs). The Bramble Ski team can also arrange reservations at Kilian Stuba, the only Michelin-starred restaurant in the village.
Relax
Chalech S has a private spa on the ground floor; guests have exclusive use of the sauna and hammam, making it the perfect place to thaw out and unwind after a long day on the slopes. The area's best beauty and wellness therapists offer a wide range of treatments in the chalet. Guests also enjoy shared access to a swimming pool and a gym, just in case skiing isn't enough of a workout.
Ski
There are only two areas in all of Austria where heli-skiing is permitted; both sit in close proximity to Lech. Your Bramble Ski pro can arrange a flight to either Schneetäli or the neighboring Mehlsack, where incredible off-piste conditions await. If heli-skiing is too much of an adrenaline rush, a guide can take you down the best ski runs in the area. They know the local pistes like the backs of their hands and will alter the route to suit your ability. Equally well-versed in Lech's social scene, they will take you to the best local bars for a well-earned après-ski cocktail.
Contact
Fiona Ellis, commercial director, fiona@brambleski.com, +41 277 762 164, brambleski.com