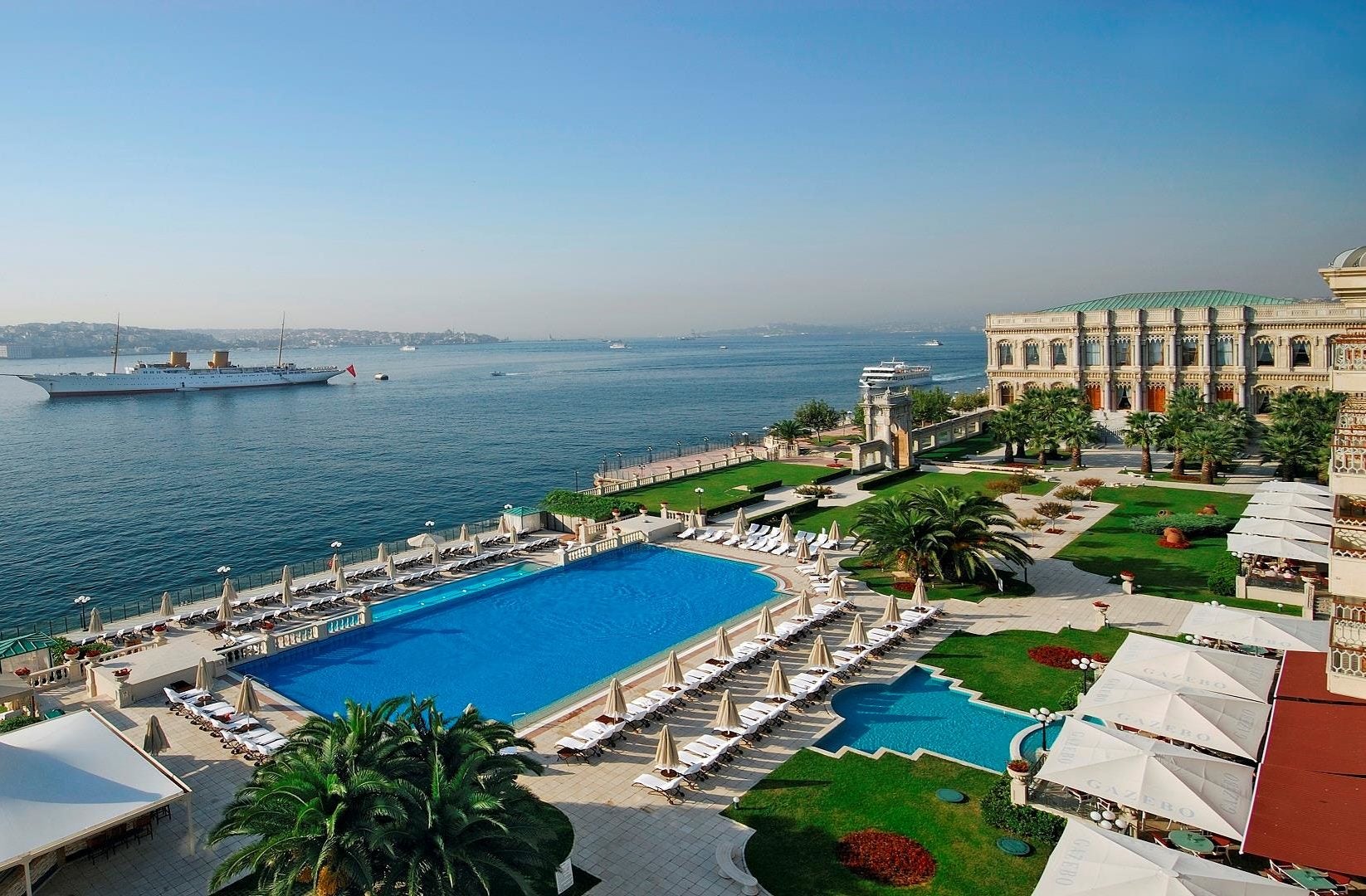 Once the residence of Ottoman Sultans, the Çıragan Palace Kempinski opened as a hotel in 1990. With its extensive gardens, the Palace is a peaceful oasis in the bustling city. Infused with artwork and creativity, including a ground floor art gallery, garden sculpture gallery, classical music concerts and regular book readings by renowned authors, the Çıragan Palace is as much of a destination as Istanbul. During summer, a unique gourmet barbeque of fresh seafood, lamb, beef and mezze specialties is provided. Cigar lovers will enjoy the outdoor Le Fumoir Bar, where quality cigars are served in handmade humidors and perfectly complemented with premium cognacs and quality malts. Çiragan Palace is a prime location for elite events: the ballroom can accommodate up to 1,000 guests and there are exhibition spaces for up to 300 and three private dining rooms.
Top Suite: Sultan Suite
On the second floor of this historical palace, the Sultan Suite guarantees discretion, with its own entrance, reception and a lounge where guests can enjoy breakfast, complimentary high afternoon tea, drinks and canapés in the utmost privacy. There are two large bedrooms with state-of-the-art TVs, a kitchenette, dining area for 12 and two bathrooms.
The Imperial-style furniture is Turkish and matches the suite's colossal doors, ornate fireplaces and chandeliers. Replica Fausto Zonaro paintings are illuminated by 5.7 meter (18.7 foot) floor-to-ceiling windows.
Ask your butler to run you a bath in the grand master bathroom with its handmade marble hammam, private steam room, rain shower and gold-plated crystal faucets. Then float to sleep on the master bedroom's air bed. The King of Spain, Juan Carlos II, and his wife Queen Sofia not to mention Bill Clinton have all stayed here.
+90 212 326 4646, reservations.ciraganpalace@kempinski.com, kempinski-istanbul.com