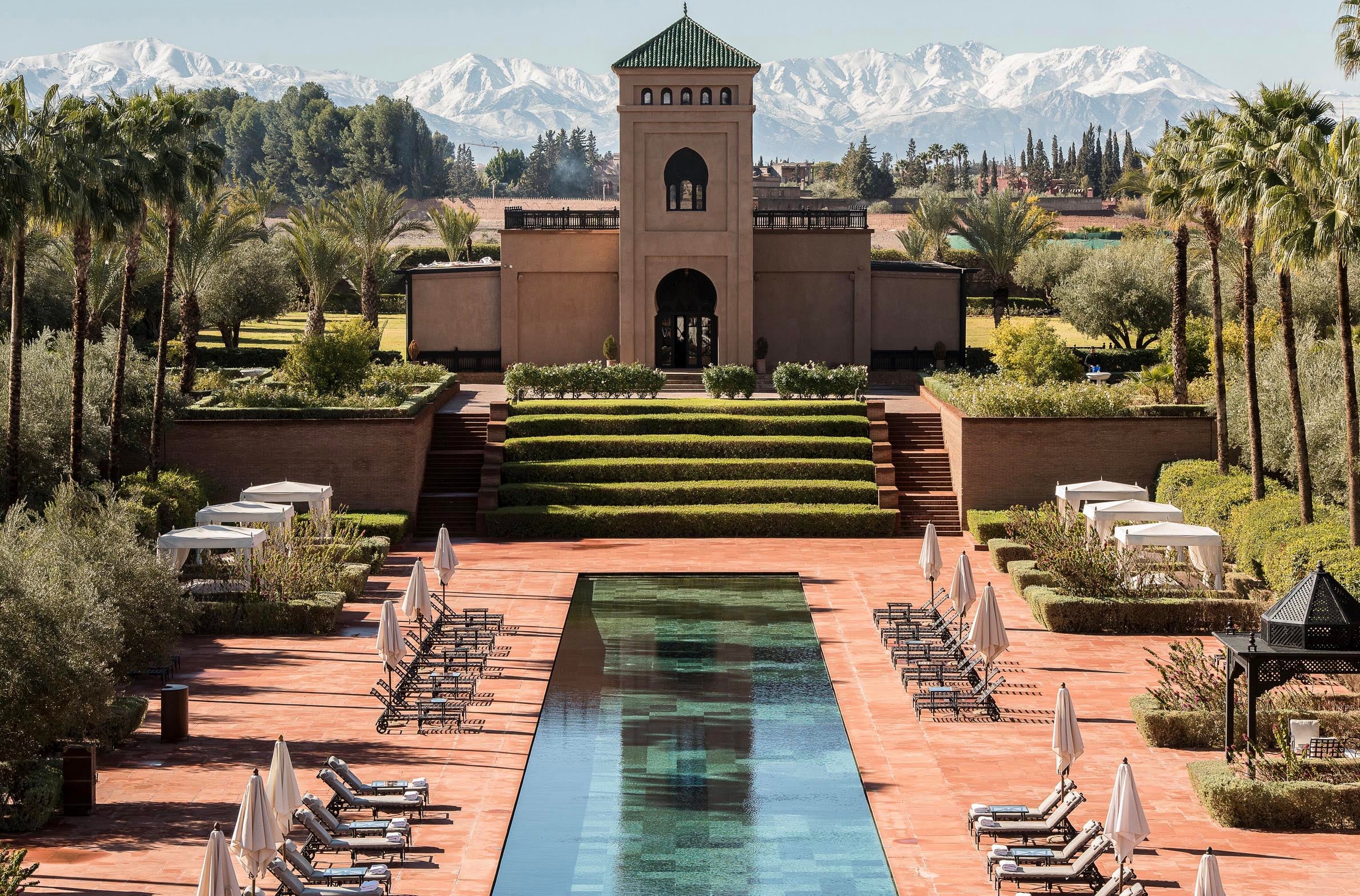 The Selman Marrakech lies just 10 minutes from the airport and 15 minutes from the city center but it feels like a world away from the hustle and bustle. It is set over 15 acres of pretty floral gardens with views of the Atlas Mountains in the distance, and is home to purebred Arabian horses.
The horses feature in the hotel's decor, with black-and-white portraits hanging on the walls. The design of the hotel is really the star of the show — the brainchild of renowned architect Jacques Garcia, it is full of intricate, traditional patterns, plush purple velvet, glittering low-hanging chandeliers, curious antiques, and patterned tiles.
These exquisite details come together in a seamless, glamorous blend that'll have you compulsively snapping pictures. The loveliest spot is the open-air courtyard: monochromatic pillars, floor tiles and mirrored walls all surround a small pool.
It is extremely tranquil — so tranquil, in fact, that despite it being a public space of the hotel, a strange sensation comes over those who enter: you feel an almost laughable urge to whisper.
Stay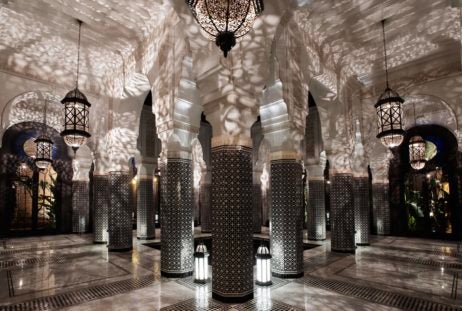 The Selman Marrakech's 55 guestrooms and suites are just as impressive in design as the rest of the hotel: grand Moorish features, exquisite tiles with select pops of color, carved wooden pillars and terracotta terraces that overlook the perfect gardens. For a little more privacy, choose a riad. Set away from the main building, the four riads have a grand master bedroom, private patio with a fountain, private garden and 49-ft swimming pool. The jewel in the already magnificent crown is the 7,535-sq-ft Selman Villa. It has two plush bedrooms (each with an en-suite and separate dressing room), private 49-ft swimming pool and 24-hour butler service.
Relax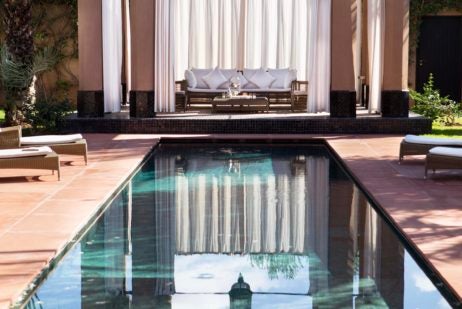 The Selman Marrakech has the largest outdoor swimming pool in Morocco and it certainly is large — 263 ft to be exact. It is flanked by blooming gardens and lined with towering palm trees. There are another two swimming pools that lay beyond the spa are a little more private. The Henri Chenot spa is also expansive, it has seven treatment rooms, four hydrotherapy rooms, a gorgeous plunge pool, sauna, steam room and Jacuzzi. There's a traditional hammam — be sure to book a treatment and leave with fresh, glowing skin (it's particularly effective after a flight). There is a wide selection of treatments available, including facials, massages and body treatments, but also more extensive programs that run over a number of days and can assist with There is a mid-sized gym (personal training sessions available), hairdresser, nail salon and barber.
Dine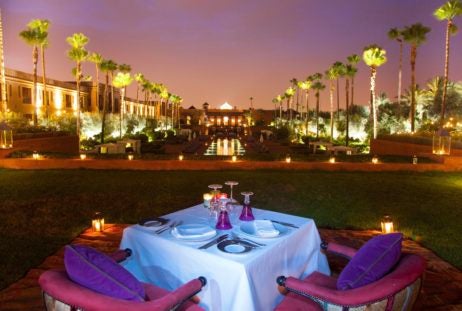 The Selman Marrakech has five bars and restaurants. Begin your evening at Bar Selman. It is decadent in purple velvet and baroque details; a lavish spot for an aperitif. Then meander through the Andalusian gardens to Ayssl for a Moroccan feast. Assyl is an Arabic name that means 'noble origin,' so you can be sure of truly authentic cuisine. Try the free-range chicken tajine with Meslalla olives and candied lemon, royal couscous, saffron milk rice and raisins and fresh mint tea. Le Pavillion serves fresh Mediterranean fare amongst the verdant gardens and you can watch the horses trot by outside. Le Selman is an opulent, refined restaurant.
Explore
No trip to Marrakech is complete with a trip to the famous medina. If you've never been before, the winding labyrinth of souks is very easy to get lost in. The concierge can arrange a private guide for you who will show you the best place to get beautiful embroidered dresses and kaftans, enormous hand-woven rugs, traditional lanterns and furniture, herbs, spices and teas, Moroccan Arian oils, and hand-made slippers and shoes. Your guide will also help with the bartering!
The Selman Marrakech has a few unique residents: Albanian thoroughbred horses. Wander through the stables and you'll more than likely spot one or two poking their heads out of a flower-boarded window; it is like seeing a children's book come to life. There are presentations of the horses during breakfast (on special request) and a thoroughbred parade on Tuesdays and Fridays. A private dinner can be arranged in the stables for a unique, romantic evening.
Selman Villa from $1,835 per night, +212 524 45 96 00, selman-marrakech.com