Elite Traveler is pleased to present the inaugural Top 50 Eco Hotel Suites in the World, featuring a collection of accommodations that take the concept of responsible luxury to the next level.
Our World's Finest Suites database has grown rapidly and now has over 1,600 searchable hotel suites on all seven continents – including Antarctica. To make life easier for our readers, we have launched a series of mirco-indexes for various vacation types, including wellness, family-friendly, beach and epicurean.
These indexes feature the best of the best in their respective categories. Now, we have revealed our first selection of Top Eco Suites, a selection of hotel suites that have been designed and built to exacting standards to ensure a low environmental footprint.
[See also: Elite Traveler Reveals Top 100 Suites in the World 2023]
We broke down the data from over 70 attributes, including everything from renewable energy to on-site composting, to come up with the 50 best eco-friendly hotel suites in the world. We also wanted to ensure there was a wide selection of hotels, spanning not just eco hotspots like the Maldives and Costa Rica but also major metropolitan areas as well.
You'll find the full selection of Top Eco Suites in our World's Finest Suite database and on the table below, but here we take a look at a select few that sum up the index.
Riverhouse, 1 Hotel Brooklyn Bridge, NYC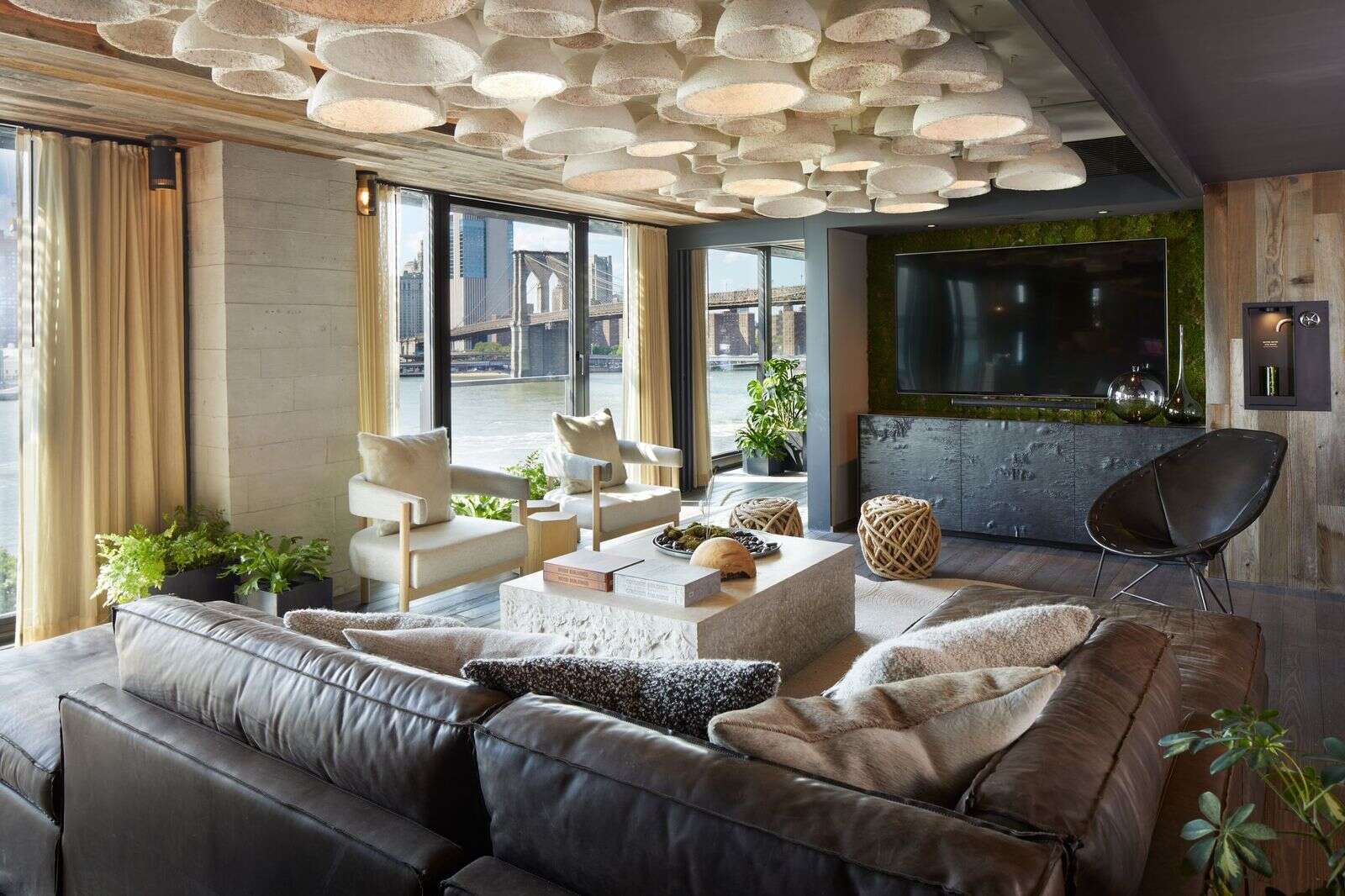 1 Hotel Brooklyn Bridge is a waterfront retreat designed by local artists using reclaimed materials — and it is powered entirely by wind energy.
Two king-size bedrooms, floor-to-ceiling windows showcasing the best of the Big Apple, a carved stone soaking tub and even a hammock: The Riverhouse suite is as serious about luxury as it is about fun.
Impeccably stylish with artwork from local artists hanging on the walls, and with an undeniable flair of youthful hedonism (the minibar boasts house-made cocktail recipes) the spectacular lodgings are a wicked celebration of the city itself. But honestly, we'd go for the view alone: Panoramic vistas of the urban jungle surround the suite, located right by the Brooklyn Bridge.
Lapa Villa, Lapa Rios Lodge, Costa Rica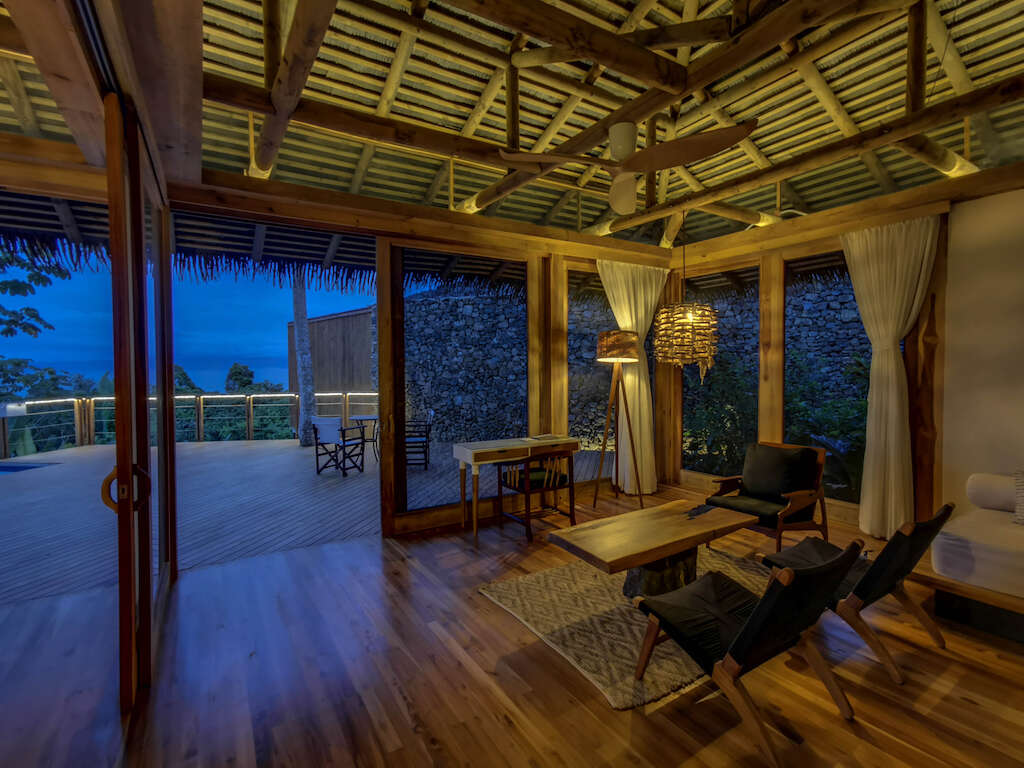 Tucked within 1,000 acres of private rainforest reserve on the Osa Peninsula, Lapa Rios Ecolodge is a global pioneer in both environmental sustainability and social responsibility. For over 30 years, Lapa Rios Ecolodge has been committed to the protection of countless species of endangered flora and fauna across the tropical paradise, all while creating and funding a nearby elementary school with guests' donations.
The four Lapa Villas are perched above the forest canopy; expect glorious views of both forest and ocean from the outdoor terrace and plunge pool. Each stand-alone villa has a main bedroom, a large bathroom with two solar-heated rain showers and a living area with a daybed.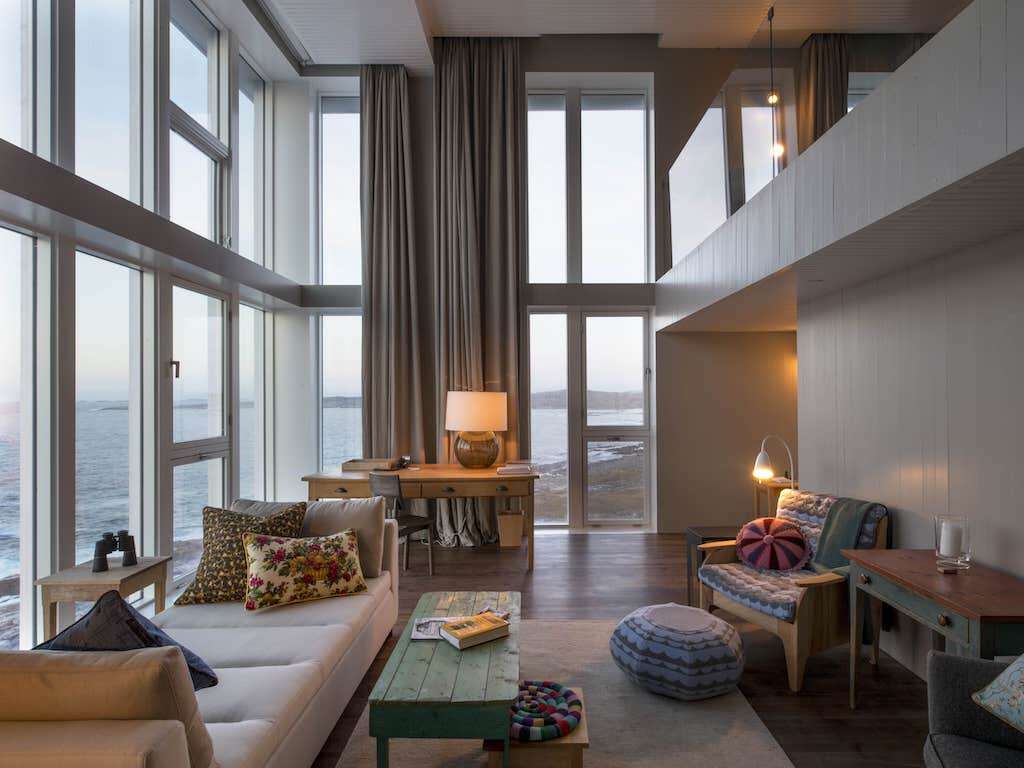 An architectural X-shaped marvel, Fogo Island Inn's dramatic silhouette sits on jagged terrain at the edge of the island. The 29-room inn feels as though it is right at the end of the world and has incredible views of 'Iceberg Alley' — so you can marvel at the 10,000-year-old glacial giants.
The inn is home to an Art Gallery and a Heritage Library stocked with books about Newfoundland, as well as a gym, library, bar, lounge, dining room, and wood-fired saunas and outdoor hot tubs. The two-story Flat Earth Suite is a 1,100-sq-ft sanctuary. It has a mezzanine-style sleeping quarter with a walk-in shower and soaking tub; the homey lounge space below has double-height, floor-to-ceiling windows with the most spectacular views to the north, east and south.