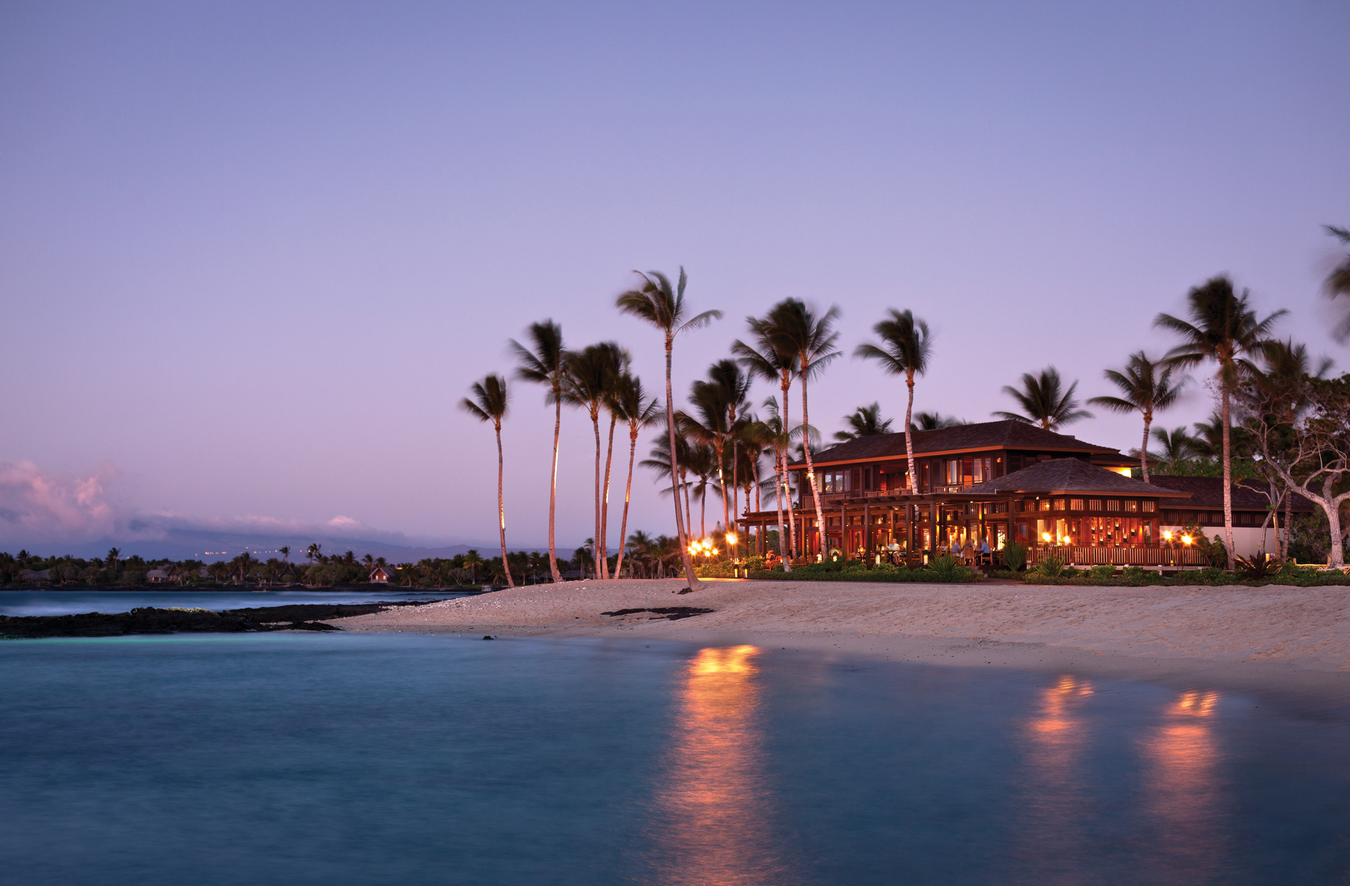 This resort on the island of Hawaii has welcomed repeat visitors for over 20 years, and it's easy to see why so many people return year after year — many love it so much they become homeowners at the Private Residences. With seven incredible pools, a prime beachfront location, Jack Nicklaus-designed golf course, sensational spa, state-of-the-art fitness area and award-winning culinary scene, the resort is a destination in and of itself. Add in superb service, innovative programming, an eco-friendly environment, picture-perfect sunsets and an abundance of the aloha spirit, and you might be visiting the real-estate office before your return trip home.
Stay
Makaloa Villa
– Size 3,885 sq ft
– Nightly rate $18,000
By far the most secluded villa on property, Makaloa Villa feels more like a well-serviced home than a hotel suite. It's on the edge of the resort overlooking Waiakauhi Pond with the ocean in the distance. The crashing of the waves and the gentle sounds of wildlife in the pond set a tranquil scene, which you can enjoy from the villa's extensive outdoor spaces. There's a large plunge pool, hot tub, chaise lounges, shaded couches and a gently swaying hammock. Inside, the three-bedroom villa epitomizes Hawaiian chic with natural decor elements, dark woods, local art and tropical plants. Another highlight is the immense outdoor shower with lava-rock walls, a bamboo roof and lush vegetation, as well as local eco-friendly toiletries. It's tempting to spend an entire day and night enjoying the luxurious villa.
Relax
As it caters to both resort guests and residents, the spa and its fitness areas are quite extensive. There's everything you need to stay in shape while on vacation, including top-notch classes, personal trainers, an 82-ft lap pool, fully equipped Pilates center, tennis center and indoor and outdoor gyms. For even more tranquility, the spa offers Hawaiian-inspired treatments in a lush outdoor setting.
Signature treatment: Head to the on-site apothecary and select local ingredients, ranging from hibiscus to aloe leaf powder and turmeric, to cure whatever ails you. Your therapist will create a customized body scrub and body wrap using the ingredients and finish the treatment with a massage.
Taste
Whether you're looking for classic Hawaiian fare, a beachfront pizza, fresh seafood or superior sushi, you'll find it at one of the six restaurants. 'Ulu Ocean Grill places Hawaiian cuisine and ingredients front and center; don't miss the ahi poke or local seafood dishes. It also has a separate Sushi Lounge where you can pair a wide selection of sake with ultra-fresh sashimi, nigiri and rolls. Hualalai Grille is a steakhouse where you can get everything from a classic wedge salad to a lava hot rock with Kona kampachi and American Kobe tenderloin, or an 18oz chateaubriand with slow-roasted Big Island bone marrow. And Beach Tree is a perennial favorite, where children can play on the nearby lawn while adults tuck into Italian dishes and watch the sunset. But for a truly unique meal, book the Hualalai Seafood Experience. You'll head to the property's oyster farm and shrimp pond, where you'll learn about its aquaculture, shuck and sample oysters with chef Thomas Bellec, then catch your dinner at the shrimp pond. That evening, Bellec will prepare a special tasting menu at 'Ulu Ocean Grill featuring the freshest catch of the day — yours — alongside dishes created just for you.
Enjoy
There are plenty of ways to experience the Hawaiian spirit on and off the resort. The incredible water sports center will you take you out on or under the water. Choose from an outrigger canoe, paddleboard, kayak or boat. You'll see incredible wildlife at sea — there are many dolphin pods that play just off the coast — and there are turtles and plenty of fish closer to shore. At the Ka'upulehu Cultural Center, you can learn about Hawaii's culture and history. And of course, there's no end to the bucket-list-worthy activities on the Big Island. Take a helicopter over an active volcano, drive to the top of Mauna Kea and see world-famous observatories, sneak into a lava tube and have a cup of authentic Kona coffee. The hotel can plan everything for you, and there's even a concierge stand on the beach.
Special Tip
The resort is well-known for its seven pools (each with a different atmosphere), including the traditional quiet pool and family pool, the classic Hawaiian swim-up bar, couples' nests for romantic afternoons, an ocean 'pool' and the world-famous King's Pond. Carved from lava rock and filled with fresh and ocean water, it's more like a swimmable 1.8-million-gallon aquarium than a pool. It is teaming with over 4,000 tropical fish and presided over by a spotted eagle ray, and you can snorkel among the marine life, watch the 'fish circus' and feed the ray.
Contact
Pomai Ascino, reservations manager, pomai.ascino@fourseasons.com, +1 808 325 800, fourseasons.com/hualalai