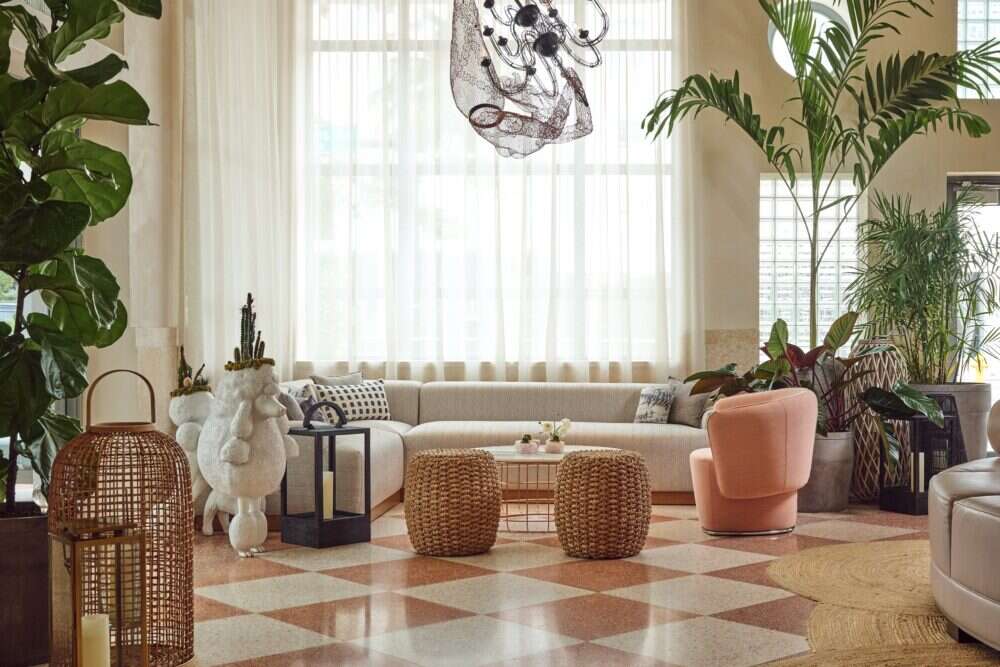 Miami is a celebration of the uncommon. For long-time visitors, it's both a muse and a canvas, framed by historic architecture and lit by the glow of sunset. Here, Hotel Greystone reignites an ancient spark, recalling the heyday of innovative hospitality on Collins Avenue.
Located in the historic Collins Park neighborhood, Hotel Greystone fuses intimate spaces, innovative cuisine, and a hyperlocal ethos. The curated atmosphere creates the perfect conditions for people, art, music, and fine dining to transcend the predictable, and manifest the uncommon.
By day, Hotel Greystone's airy and welcoming corner lobby invites guests 21+, offering gathering areas, tucked away from the street scene, whilst at night the clink of crystal and melody of piano players take over The Greystone Jazz Bar.
Built in 1939, the property is one of architect Henry Hohauser's iconic contributions to the area. Hotel Greystone is comprised of 91 airy and light rooms and suites, including a number of penthouse suites with private terraces featuring hot tubs and incredible vista views.
Sérêvène, the property's signature restaurant led by award-winning executive chef Pawan Pinisetti, presents a menu that marries Japanese ingredients and French techniques. Pinisetti's dishes are experiential, such as melt in your mouth Ora King Sashimi, Lobster Uni Alfredo, and Pork Is My Favorite Vegetable, a half suckling pig served with soft Hawaiian Rolls. For dessert, try the decadent Foie Gras Crème Brûlée or The "305" Louis VIII cognac, 24k Vanilla Affogato.
A few steps up from Sérêvène, The Greystone Jazz Bar, pairs creative and classic cocktails in crystal cut glassware with candlelight. Order up the Novella with Corazon blanco tequila, grapefruit juice and jalapeño simple or the Bowd Blvd. with Russel's Reserve bourbon, Campari and sweet vermouth. Bar bites also dreamt up by Chef Pinisetti include Foie Gras Pâté and Smoked Salmon Dip. Depending on the night, catch a live jazz ensemble, a sing-a-long piano bar or later in the evening, DJ's spinning lounge beats.
Be sure not to miss the hotel's rooftop which provides an oasis of calm away from the hustle and bustle of the busy city. Enjoy the beauty of Miami Beach whilst relaxing poolside with craft cocktails. Guests seeking the sun-and-sand experience can visit Hotel Greystone's beach, where the same artisanal approach to refreshments and service will be echoed at the water's edge.