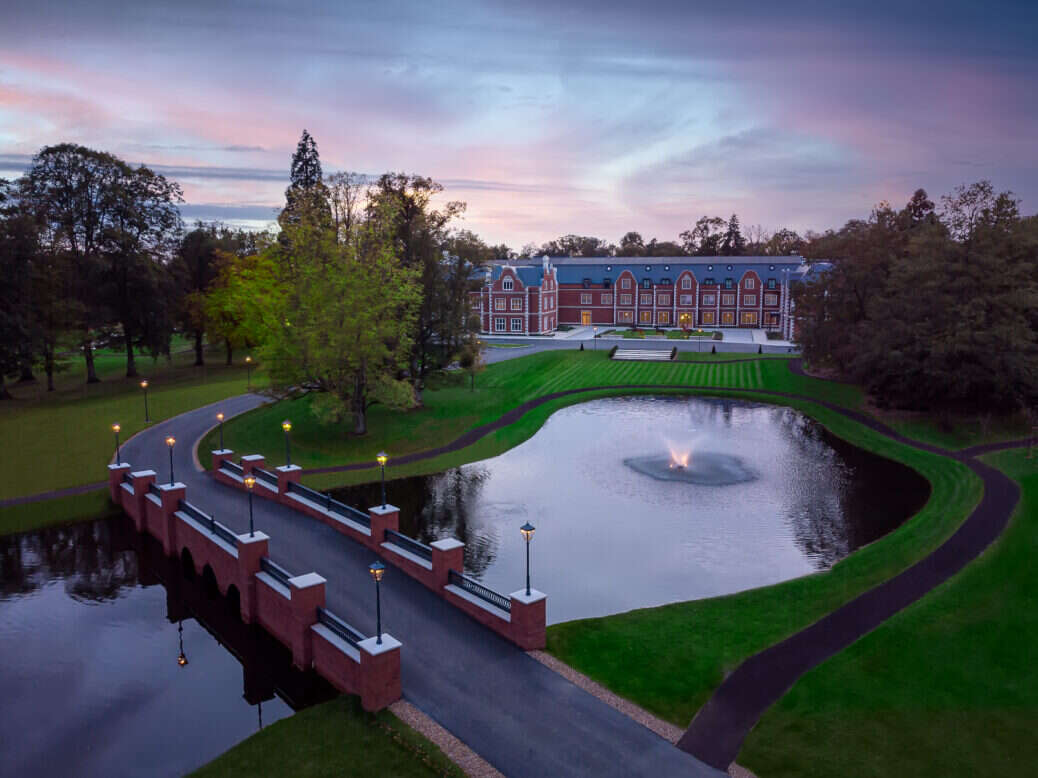 Set among 40 acres of Surrey countryside and with the Queen as its neighbor, Fairmont Windsor Park has lavish guestrooms and opulent suites, a variety of dining options, luxurious spa and wellness facilities, and an abundance of activities within the grounds. As you pull up the drive, the grand Jacobean red-brick exterior makes a strong statement.
Inspired by the previous building that stood there, Fairmont draws upon the site's history: The property started life as a manor house in the 1800s and was used as a military hospital during World War II, before being transformed into two other hotels before becoming a Fairmont. Inside, it is just as impressive: Greeted by a glass-domed atrium and a marble reception, you get a sense of what's to come.
[See also: The Tawny: A Deconstructed Hotel Brimming with Big Ideas]
Stay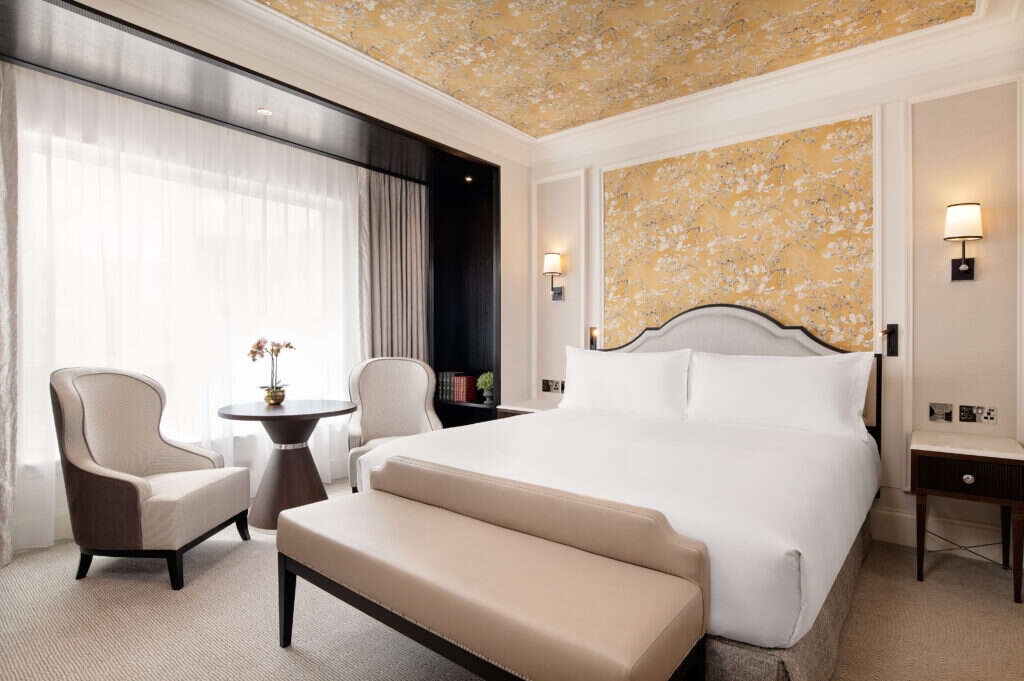 There are over 200 rooms to choose from at Fairmont Windsor Park, but opt for the Signature Royal Suite. Akin to an apartment, the suite offers two en-suite bedrooms with walk-in dressing rooms, an expansive living area, and a dining room. The decor, a combination of natural stone and soft textures, creates a soothing environment. The suite also comes with private access to an exclusive VIP area of the spa called the Salutaris Spa (meaning 'health-giving' in old English).
Here, you can enjoy everything you would expect from the spa, but in total privacy. The suite also features a hot tub, steam room, and private access to the hammam. The considered historical touches continue, with fresh orchids coupled with floral wallpaper acting as a nod to a previous owner who favored the flower. If you are seeking more seclusion, the hotel is set to open a collection of treehouses later this year. Located within the expansive grounds, they will have breathtaking views across the countryside.
Dine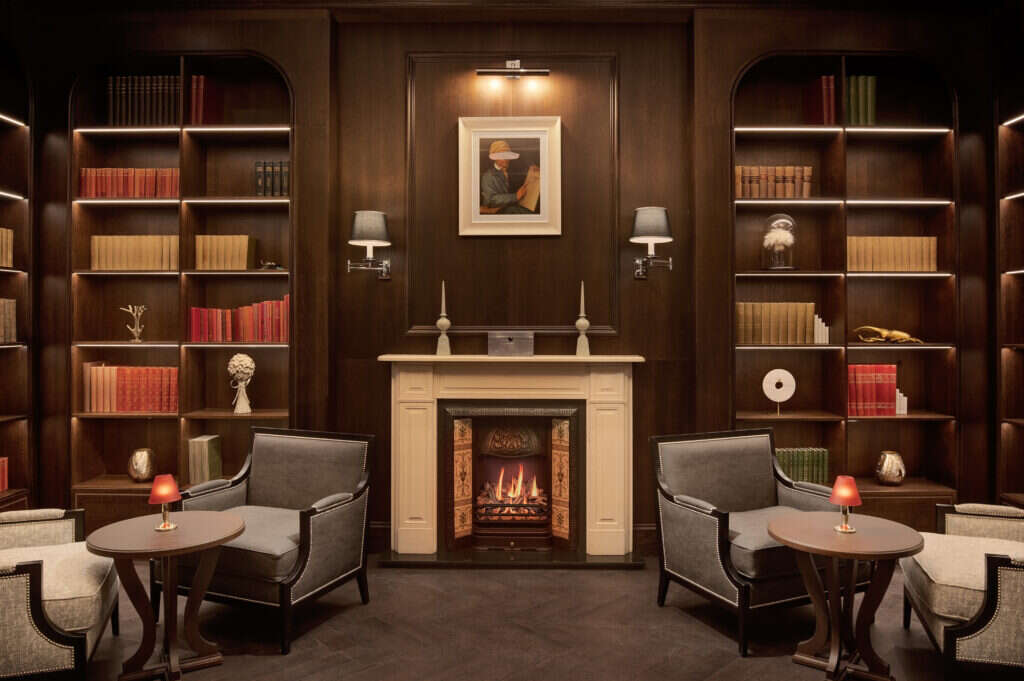 1215 — named after the signing of the Magna Carta in 1215 which occurred just a short walk from the hotel — offers fine dining overlooking the private terrace and beautifully manicured gardens. Atmospheric jazz music sets the tone while marble and black accents ooze elegance. The staff are attentive: not overbearing but rather attuned to your body language, knowing exactly what you want and when you want it.
The seven-course tasting menu is seasonal and uses locally grown produce from The Royal Farms, Windsor artisans, and herbs and vegetables from their own gardens. Expect elevated British ingredients like the Crown Estate Venison smoked in hay and served with celeriac and black pudding. For something different, Moreish offers a fusion of European and Middle-Eastern food. Order the shish kebabs with raita, zhoug, tabbouleh, and pitta bread.
Relax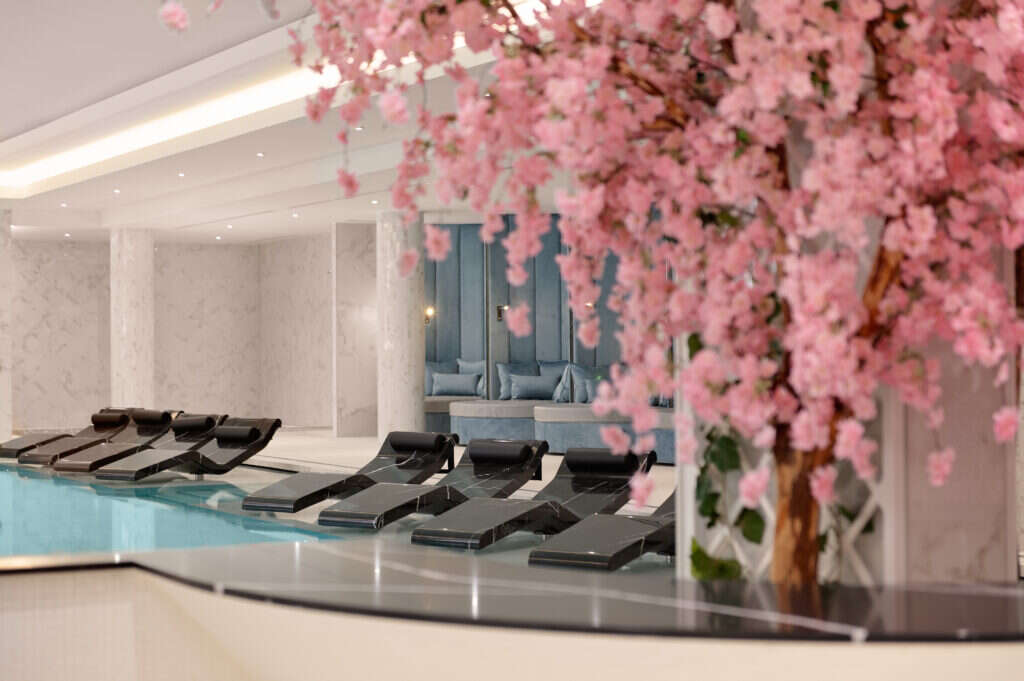 Inspired by nature, the spa feels like a serene oasis. Within the 27,000 sq ft of facilities, you'll find a 65-ft indoor pool, a gym offering multiple fitness classes, hydrotherapy and cryotherapy, and even dry floatation. The spa has a variety of treatments from its 'Rituals' which combine Ayurvedic and European practices for a complete wellness transformation, to personalized massages using hot stones from the Dordogne region and 23k-gold facials.
For those on the never-ending quest for a good night's sleep, the Savasna Deep Night's Sleep Massage might just be the ticket. Enter a sumptuous oriental-inspired treatment room and unwind as the masseuse uses herbal poultices to massage sore ligaments and calm the mind. Post-treatment, enjoy a therapy tea in one of the relaxation rooms — be sure to try out the dark room where the low lighting and soft furnishings feel like a cocoon.
[See also: Inside the Striking Rosewood Hong Kong]
Explore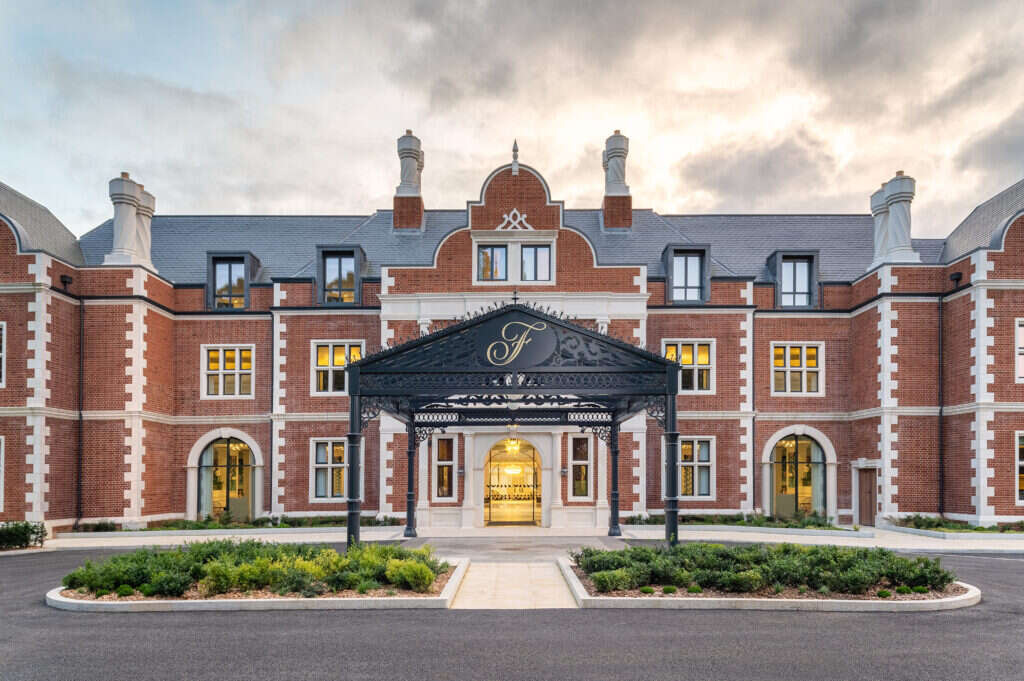 The hotel's grounds have a seemingly infinite amount of green space interspersed with lakes and soaring ancient trees. But venture outside the gates and there is even more to explore. Windsor Great Park and Savill Gardens are mere steps away and have been the setting for many films (Harry Potter and the Deathly Hallows and Disney's Cinderella and Into The Woods are just some examples) — have a leisurely stroll around and you'll quickly discover why.
To uncover more of the historical county, the quaint town of Windsor is dotted with independent shops and eateries and, of course, Windsor Castle. You're also within an hour of London if you fancy swapping the leafy locale for some big city sights. For those visiting in June, Royal Ascot is a must: Don your best hat for a spectacular day at the races.
From $500 per night. Contact royalservice.windsorpark@fairmont.com, +44 178 453 5555, fairmont-windsorpark.com
This article appears in the 06 Jun 2022 issue of the New Statesman, Summer 2022