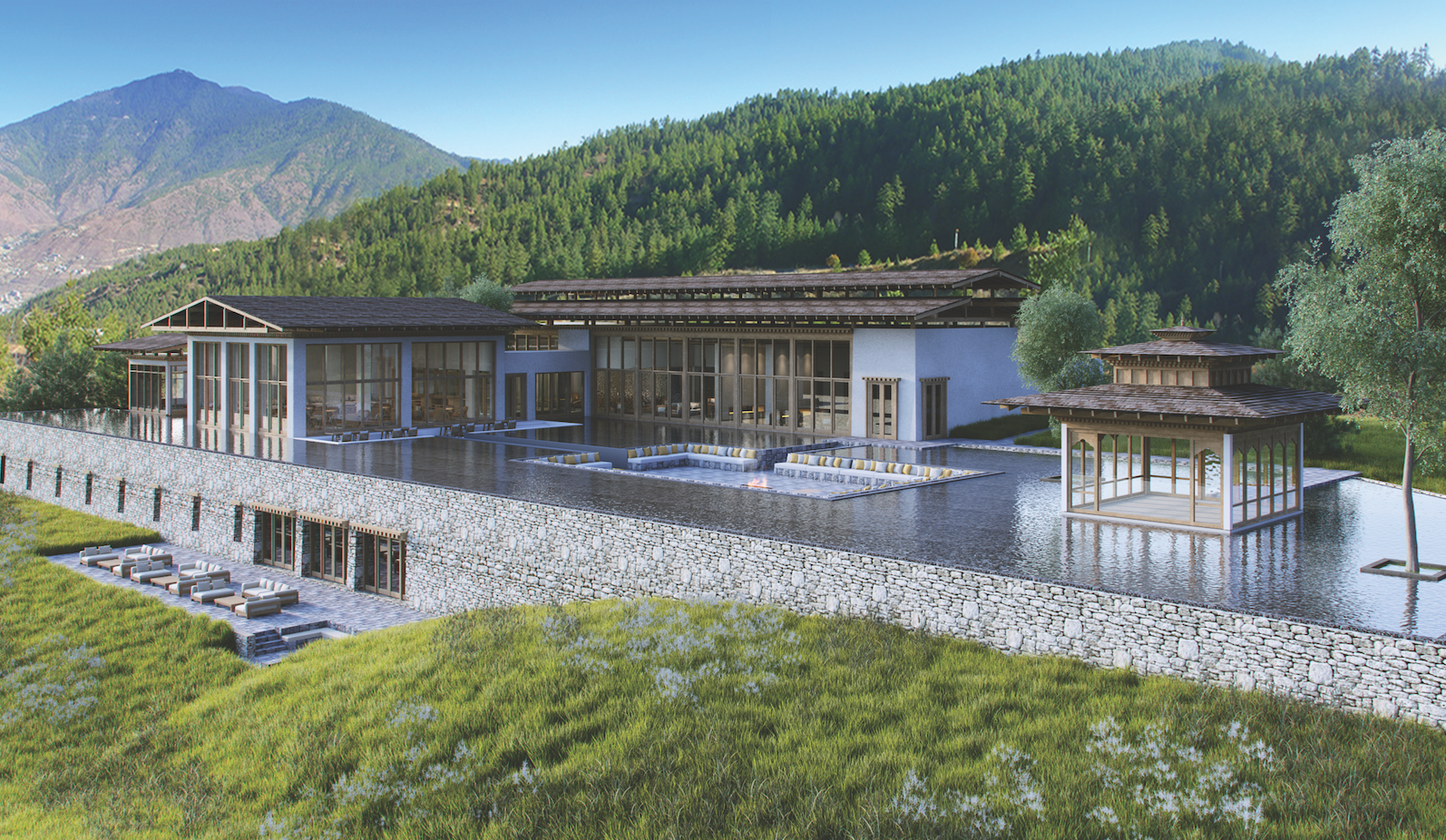 With views that sweep the snowcapped Himalayas, Six Senses Thimphu is called the 'Palace in the Sky.' Developed by the Bhutanese king's brother-in-law, Thimphu is the first of five Six Senses lodges to open across the Kingdom.
As one journeys between them, each lodge reveals more of the country's character. Bhutan is the last Buddhist kingdom, often called the happiest country on Earth, and Six Senses Thimphu, set above the capital, introduces the monumental landscapes and intimate moments that make Bhutan so moving.
It even has a resident monk who gives blessings in the incense-scented Prayer Pavilion. The lodge's villas are lavishly sized, and the spa is sprawling (ideal for acclimatizing to the altitude).
For all its grandeur, eco-friendly Six Senses suits the Bhutanese ethos (the country is carbon negative), and the lodge does its part by bottling its own water and growing organic produce with local farmers.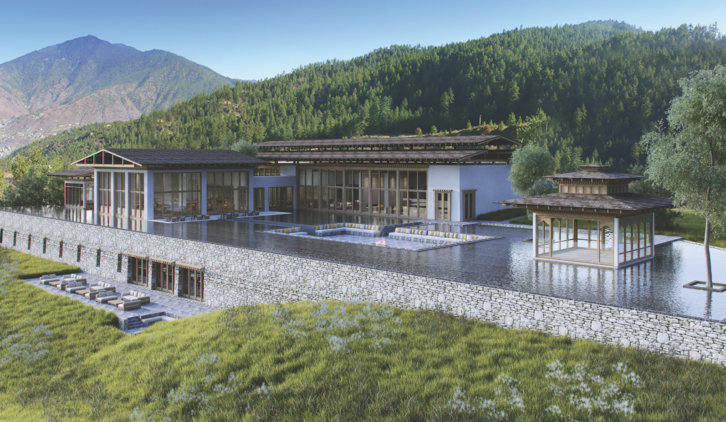 Stay
At 3,358 sq ft, the Three-bedroom Villa is one of the largest suites in the Kingdom. The sleek space has a minimalist chalet feel with warm woods, cozy knit carpets and traditional bukhari wood-burning stoves. Mountain views light up the living room, bedrooms and 398-sq-ft terrace. The in-villa spa has its own Bhutanese hot stone bath, where water is warmed with fire-roasted stones.
Dine
With wellness at its core, Six Senses excels in delicious, healthy cuisine made with organic ingredients. Namkha (sky in Dzongkha) serves superfood-packed bowls, fresh fish and momos (a Bhutanese dumpling) with fiery ezay (chili) sauce, a local favorite.
Explore
Leave the property and explore some of the area's most incredible sites with an expert guide from the hotel. Tour Thimphu Dzong, a fortress that houses the king's offices; browse richly embroidered traditional dress in Thimphu town; and have a birth-chart reading at Pangri Zampa Lhakhang, a 16th-century school of astrology.
Continue the journey and visit the other lodges, Punakha, Paro, Gangtey and Bumthang (it's recommended you spend two weeks traveling between them). Along the way, you'll visit Bhutan's most beautiful dzong in the lush Punakha valley, hike to the iconic Tiger's Nest monastery in Paro, trek through a rhododendron forest in Gangtey From top: The natural facade is in keeping with Bhutan's aesthetic; dine with a stunning view over the mountains and ride on horseback to Kencho Sum Lhakhang in Bumthang, a brilliantly painted eighth-century temple.
Relax
Ease into the altitude with a yoga and meditation session with the in-house master, swim laps in the glorious glassed-in pool, or tap into Bhutanese healing practices with a Hingsangsa Zoni bathing ritual. You'll be scrubbed clean with Himalayan salt and left to soak in a traditional Bhutanese hot stone bath before your treatment ends with a decadent full-body massage. Refreshed, settle into the wood-scented bar for a cocktail made with local pine extract, pomegranate or garden-fresh butterfly pea.
Price: Three-bedroom Villa from $4,250 per night
Contact Tashi Wangchuk, lodge manager, reservations-bhutan@sixsenses.com, +975 235 0773, sixsenses.com