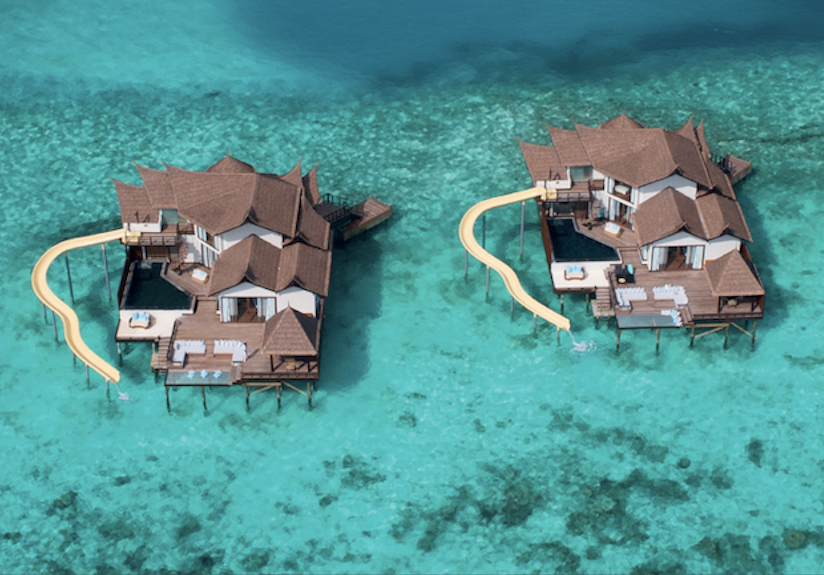 Nestled in South Malé Atoll, Jumeirah Vittaveli sits just 20 minutes by boat from Malé International Airport. As you make your way across the crystal-clear Indian Ocean aboard a motorized catamaran, your experience will soon exceed even your wildest expectations. With a traditional Maldivian welcome and more activities to fill your days than you can dream of, Jumeirah Vittaveli is the perfect place for the entire family to speed things up or slow things down. Everything the Maldives has to offer is served up in the way only Jumeirah can: watersports, wellness, diving, beachside havens — Jumeirah Vittaveli has it all, including an ice rink and wedding chapel. Walk down the glass-floor aisle and say 'yes' to your love surrounded by the stunning vistas of the Indian Ocean. The wedding chapel sits serenely tucked away in the resort's overwater fine-dining complex.
Stay
Royal Residence
– Size 37,675 sq ft
– Nightly rate from $35,000
Set on the far end of the island, the Royal Residence offers privacy and tranquility. It comprises five bedrooms and six bathrooms that span over 37,675 sq ft. Enjoy the beautifully designed sanctuary, while your family and friends can share one of two luxury one-bedroom villas or the two-story, two-bedroom guesthouse. Two private pools and a sunken lounge area provide plenty of space to enjoy quality time together. The living and dining pavilion leads out onto an expansive deck wrapped around a designer pool. There is a sunken lounge surrounded by a fragrant lily pond that looks out over the ocean. Beachside dining is available at the residence's own restaurant with views of your private lagoon.
Private Ocean Retreat with Slide
– Size 4,520 sq ft
– Nightly rate from $4,865
If you are looking for the perfect hideaway to spend quality time with your family or want to enjoy romantic moments with your loved one, the Private Ocean Retreat with Slide is the perfect choice. A retreat in the truest sense, the two-story villa is situated a heartbeat away from the main island. The completely refurbished villas come with an extended outdoor deck with overwater hammocks and sunken seating for blissful relaxation, your very own private beach for building sand castles, a second bedroom downstairs with en-suite bathroom, and a private bar set-up as well as full-size wine fridge inside the villa. The new water slides are a special highlight, stretching from the balcony upstairs down into the crystal-clear lagoon — a fun addition for couples and families alike.
Relax
Talise Spa Vittaveli means "vastness of space" and "eternal light," words that perfectly describe the island. Treatments at Talise Spa are inspired by these elements of light and space. Romantic spaces for couples offer intimate moments of true relaxation, while individual treatments are tailored to cater to your health needs. Signature treatment Kurubaa Kaashi — Gift from Nature is a gentle skin exfoliation using homemade natural coconut scrub that renews your skin's chemical balance. It is followed by a luxurious papaya-and-honey wrap that draws out impurities. This is finished with a deep-massage application of island-made coconut oil.
Dine
Swarna Swarna translates to "gold" in Sanskrit. True to its name, the restaurant is exclusive in its decor and ambience. Set in a lush garden with open-air dining cabanas, Swarna serves inspired Indian cuisine to create a unique dining experience. For its second anniversary, the Gold at Swarna menu was launched — an exquisite dining experience including rare luxuries such as Iranian caviar, known for its delicate taste; black summer truffles, picked for their distinctive aroma; as well as Khasi lamb from Jaipur in Rajasthan. The lavish meal ends with a golden dessert truffle infused with dark chocolate. Edible gold is added to each course, such as the gold-coated Himalayan pink salt or rose-gold–coated lamb patty.
Explore
Explore the stunning house reef or some of the five surrounding sunken ships from the comfort of a semi-submarine — the first of its kind in the Maldives. The large windows of the underwater hull let you enjoy spectacular views of the ocean's ecosystem. A night excursion is available as well to explore the unique nocturnal aquatic wonders. You might see minuscule polyps on the coral reefs come to life and feed on surrounding plankton, or spot eels, stingrays and sharks.
Contact
Abhijit Ghosh, general manager, vittavelilifestyle@jumeirah.com, +960 664 2020, jumeirah.com