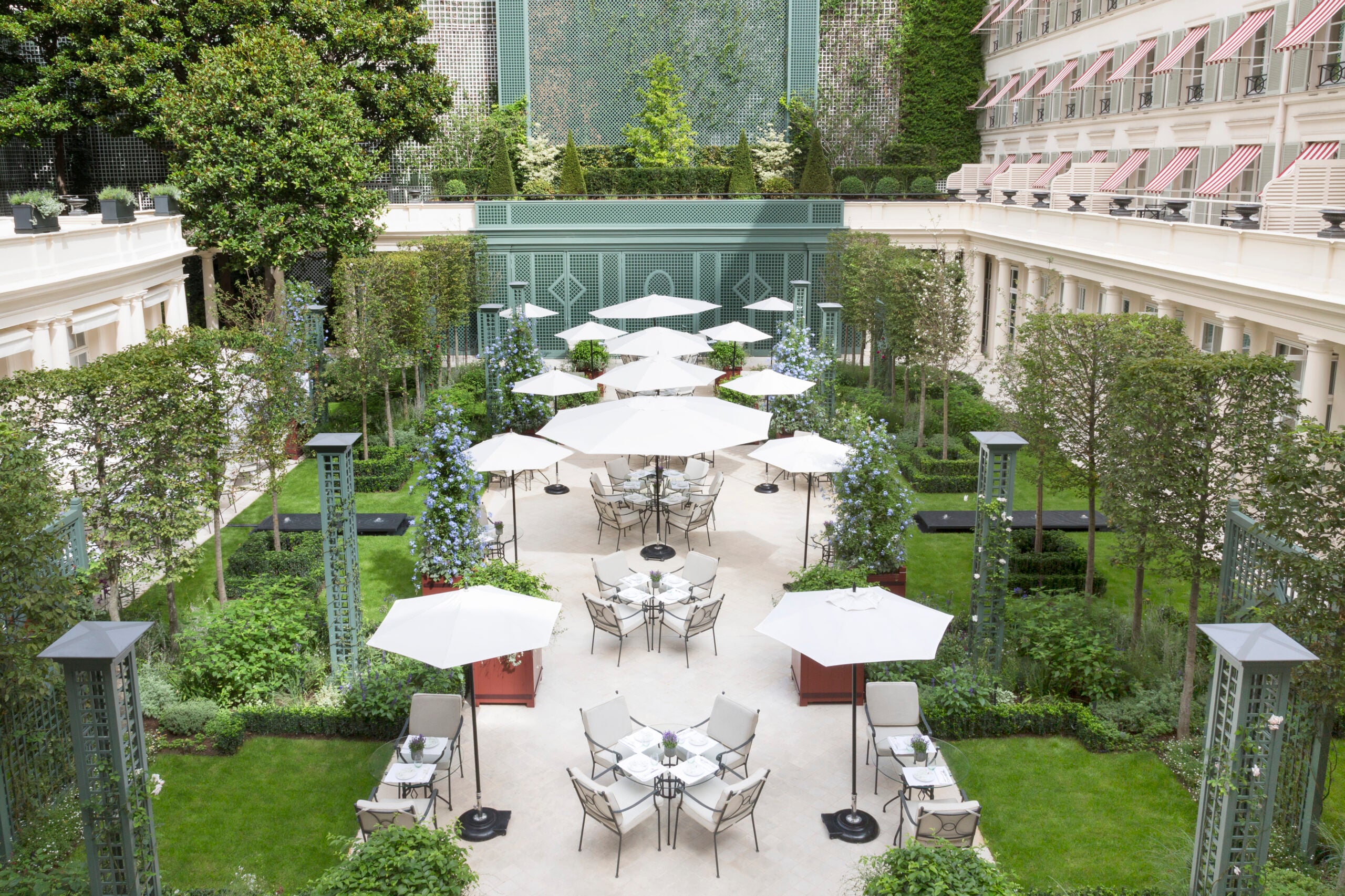 Le Bristol Paris has reopened its doors following months of closure due to the Covid-19 crisis. While the iconic hotel will have lost a large amount of income during lockdown, it has spent the time wisely by transforming its private courtyard into a stunning urban oasis.
Paris is a city more famous for its traffic jams than its green spaces and finding a quiet patch is about as difficult as finding a restaurant open in the afternoon. Le Bristol's central courtyard has long been sought out for those in the know. Its position in the very heart of the hotel means it offers a level of serenity rarely found in such a thriving metropolis.
Now, the courtyard has been completely reimagined in order to represent Le Bristol's commitment to the environment and sustainability. The hotel appointed renowned landscape designer Lady Arabella Lennox-Boyd to give the hotel's green heart a new lease of life. Lady Arabella was at all times guided by her deep respect for nature's delicacy.
All flora in the garden is native to the Paris region and is therefore perfectly suited to local conditions. The garden's complexion will also change with the seasons as different flowers blossom when the time is right. Spring will see narcissi and tulips blossom into life before pink and red roses announce themselves in summer. Fall brings ornamental grasses and copper-toned beech leaves before winter's incubation is gracefully sculpted by evergreens.
Using native flora means the garden will be maintained through natural processes alone. Le Bristol Paris has committed to using 100 percent plant-based biodegradable products that have a positive impact on the planet. Lady Arabella's genius is to balance meticulous design with the beauty of unkempt greenery. Hornbeam hedges have been placed on stilts to offer increased privacy and invite a sense of a secret garden while bespoke trellis panels have been festooned with climbing roses.
Japanese snowbell trees create an illusion of depth and in the upper garden, variegated tiered dogwoods, English Yew and evergreen Osmanthus topiaries add a sense of drama. Two fountains at either end of the garden ensure any lingering noises from the outside world never break into this peaceful enclave.
Guests can soak in the last of the summer sunshine over a morning coffee or a glass of afternoon champagne on one of the garden's tables.