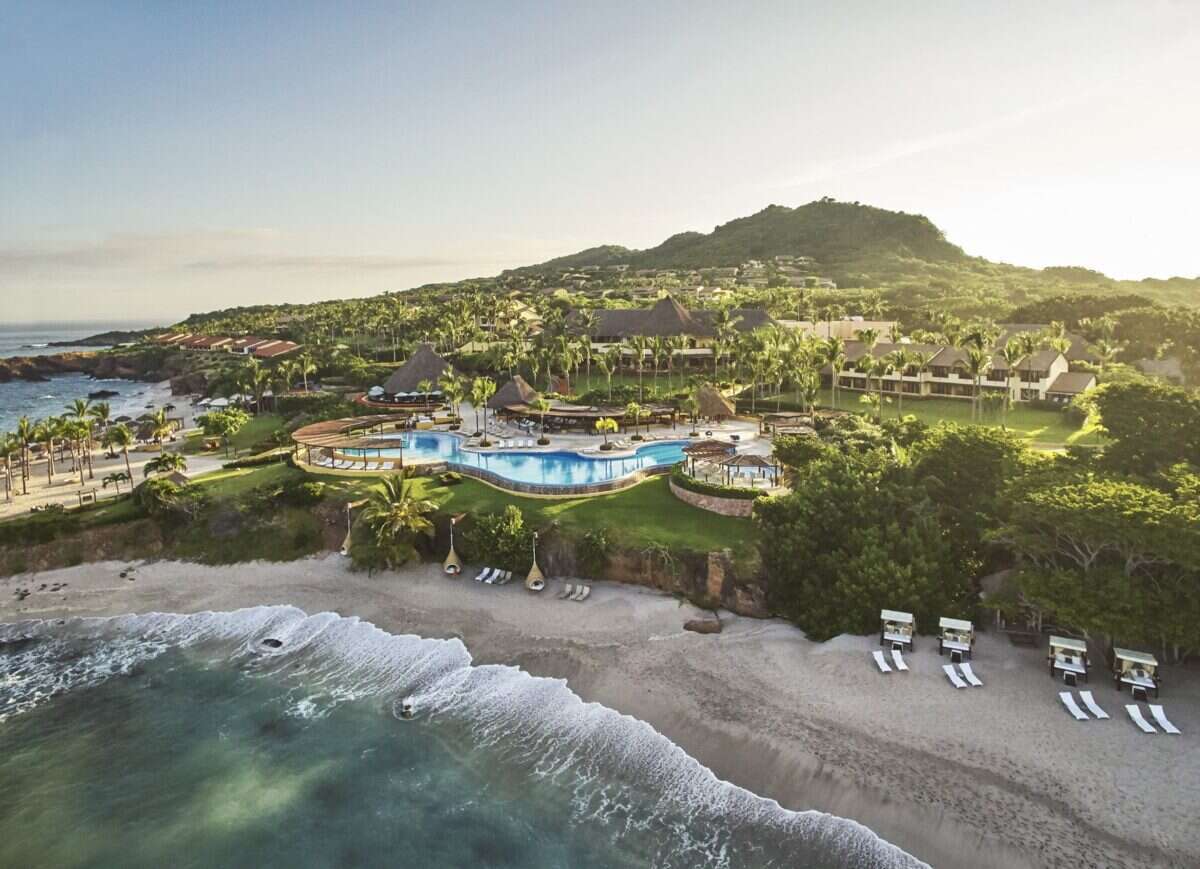 "All the world is a laboratory to the inquiring mind," wrote American author and physician Martin Fischer. As the pandemic taught us the virtues of working and learning at home, so did it inspire a coterie of hotels around the world to redefine the concept of remote learning. "Traveling is a life journey, as is knowledge acquisition. Learning can truly happen anywhere," said John O'Sullivan, general manager of Four Seasons Resort Punta Mita.
His hotel, a five-star gem located just north of Puerto Vallarta on the Pacific Coast, was among the first to institute the concept of a school vacation or 'schoolcation.' "We are here to support kids and parents in this new learning paradigm, plus inspire them with our destination," said O'Sullivan, noting that caring team members will seal the deal. Those studying at this far-flung spot can expect a tech hotline, creative work spaces (think: beach or pool cabanas), healthy snacks, tutors and study buddies. Imagine learning about science on the beach while releasing baby turtles into the sea or studying Spanish with native speakers over lunch. For extended stays, book one of the three- to five-bedroom, hacienda-style beachside villas.
Schoolcation program from $650 per week. Contact John O'Sullivan, general manager, john.osullivan@fourseasons.com, +52 329 291 6000
Montage Hotels & Resorts
Swanky Montage Hotels & Resorts didn't hesitate to incorporate distance learning into their portfolio's varied amenities once the pandemic began. Their Montage Academy was designed to support students' ongoing virtual curriculum while offering additional in-person enrichment activities for children ages six-17. At stunning beachside Montage Kapalua Bay, located in Maui, the day includes morning monitored study hall and tutors, and regionally inspired afternoon electives — perhaps physical education (including beach cleanup) or Hawaiian history.
School full day $175 per student, school vacation week $725 per student. Contact Matt Bailey, general manager, matt.bailey@montage.com, +1 808 662 6632
Family Coppola Hideaways
At the Family Coppola Hideaways, an acclaimed group of luxury resorts in Belize, Guatemala and Italy (owned by Francis Ford Coppola), Coppola Curriculum enriches sheltering families with its syllabus of immersive cultural activities. Kids supplement their school day with Coppola options, such as discovering the traditions of the Maya, hand-making Italian fare, studying sustainability and exploring new languages.
Curriculum $150 per child, per day. Contact Christine Gaudenzi, director of sales and marketing, christine.gaudenzi@ffcpresents.com, +1 877 496 6089
Auberge Resorts Collection
Auberge Resorts Collection, a global hotel group recognized for its commitment to a sense of place, answered the call when guests sought a hideaway experience that also allowed their children to continue learning safely. Remote with Auberge, designed for longer-stay guests, provides access to private tutors from acclaimed Advantage Testing, as well as regionally specific recreational activities and courses. Students' existing curriculum can be overseen by staff, or bespoke, full-schooling programs can be created distinctively at each property. One to try? White Barn Inn, Auberge Resorts Collection, located in Kennebunk, Maine.
Remote learning from $195. Contact Daniel Braun, general manager, daniel.braun@aubergeresorts.com, +1 207 967 2321
[See also: The Top Luxury Workation Hotels Around the World]