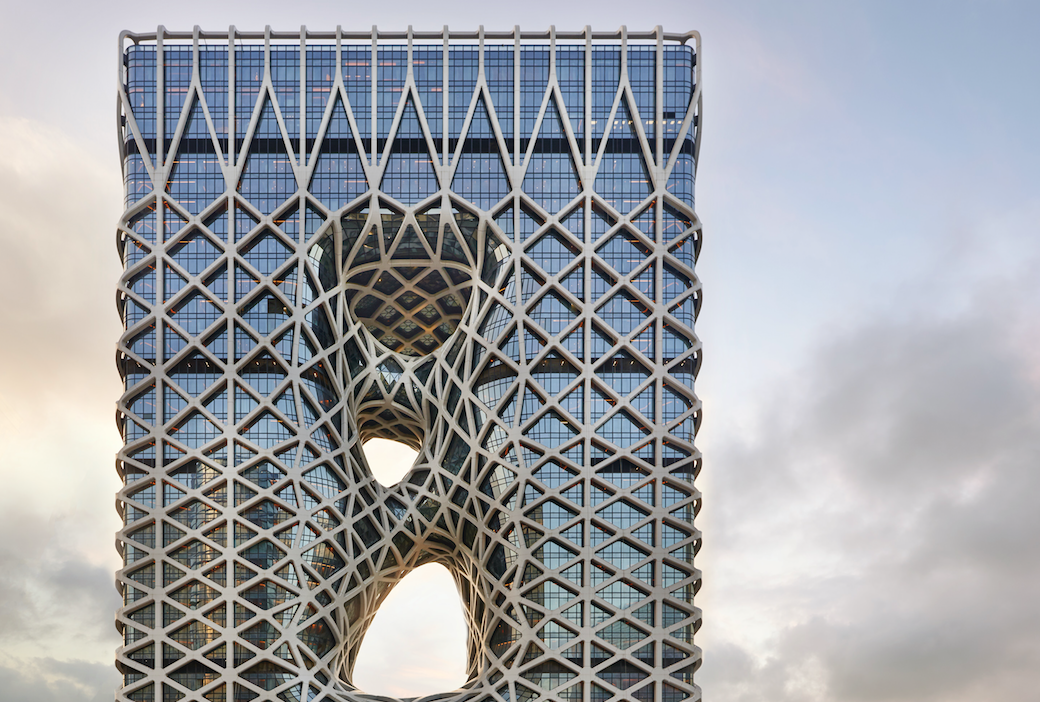 With 772 rooms and guest facilities exceeding five-star hotel standards, Morpheus promises a new kind of contemporary luxury that is sophisticated and inspiring. The flagship hotel houses three world-class specialty restaurants, a luxurious club lounge, sky pool, VIP gaming salons and duplex villas. Designed by the world-renowned late Dame Zaha Hadid, DBE, Morpheus is a compelling architectural presence that brings a new dynamic and awe-inspiring luxury to Macau.
Stay
Large Pool Villa
Size – 7,223 sq ft
Nightly rate – From $40,998
The most extravagant villa, the expansive Large Pool Villa is the Morpheus' crown jewel. Offering natural light and a palette of beige stone flooring, as well as a sleek pairing of black stainless steel with carefully selected wood finishes, the sophisticated design emulates the experience of sailing on a superyacht. The pièce de résistance is the central private pool, surrounded by lounge and dining areas, allowing you to play, eat, or relax in an ultra-luxurious setting. Enjoy custom-designed furniture throughout, including a generous oversized bathtub and exceptionally grand 23-ft sofa. The Large Pool Villa is complete with a full range of ultra-luxurious amenities curated by the world's leading brands. Your private butler is on hand 24 hours a day to indulge your every desire.
Relax
Morpheus Spa
Escape your troubles and revitalize your soul in this two-floor retreat. The Snow Garden, an inspirational centerpiece capturing the essence of Scandinavian serenity, is the first step to enchant your mind and body. Your personal spa butler greets and guides you through the wellness sanctuary, featuring six tastefully designed private treatments rooms and three suites, two of which are couple suites. Signature treatment: Margy's Monte Carlo Noble Experience
Contact: Connie Pong, director of spa, pool and gym,
conniepong@cod-macau.com, +853 654 094 14
Dine
Alain Ducasse at Morpheus
Paying homage to the great traditions and savoir-faire of French gastronomy, Alain Ducasse at Morpheus redefines fine dining with a contemporary vision. It is a place where taste is the restaurant's raison d'être and the ultimate criteria of success.
Yí
Ascend to Yí on the 21st-floor Sky Bridge to enjoy the very height of innovative fine dining, a unique blend of regional Chinese cuisine with the chef's tailor-made menu. Yí is the first Chinese restaurant in Macau offering daily eight-course tasting menus.
Voyages by Alain Ducasse
Voyages by Alain Ducasse is a celebration of contemporary multi-ethnic cuisine, with a menu that distills 30 years of culinary travels from chef Alain Ducasse from all corners of the world.
Morpheus Lounge
Enjoy the perfect sweet experience with delightful pastries, light and healthy fare, and unique plated desserts. For the ultimate indulgence, decadent delights are prepared tableside by resident pastry chefs.
Contact: Perry Yuen, vice president, VIP services and F&B gaming operations, perryyuen@cod-macau.com, +853 886 867 08
Contact
rsvnmorpheus@cod-macau.com, +853 886 888 88, cityofdreamsmacau.com