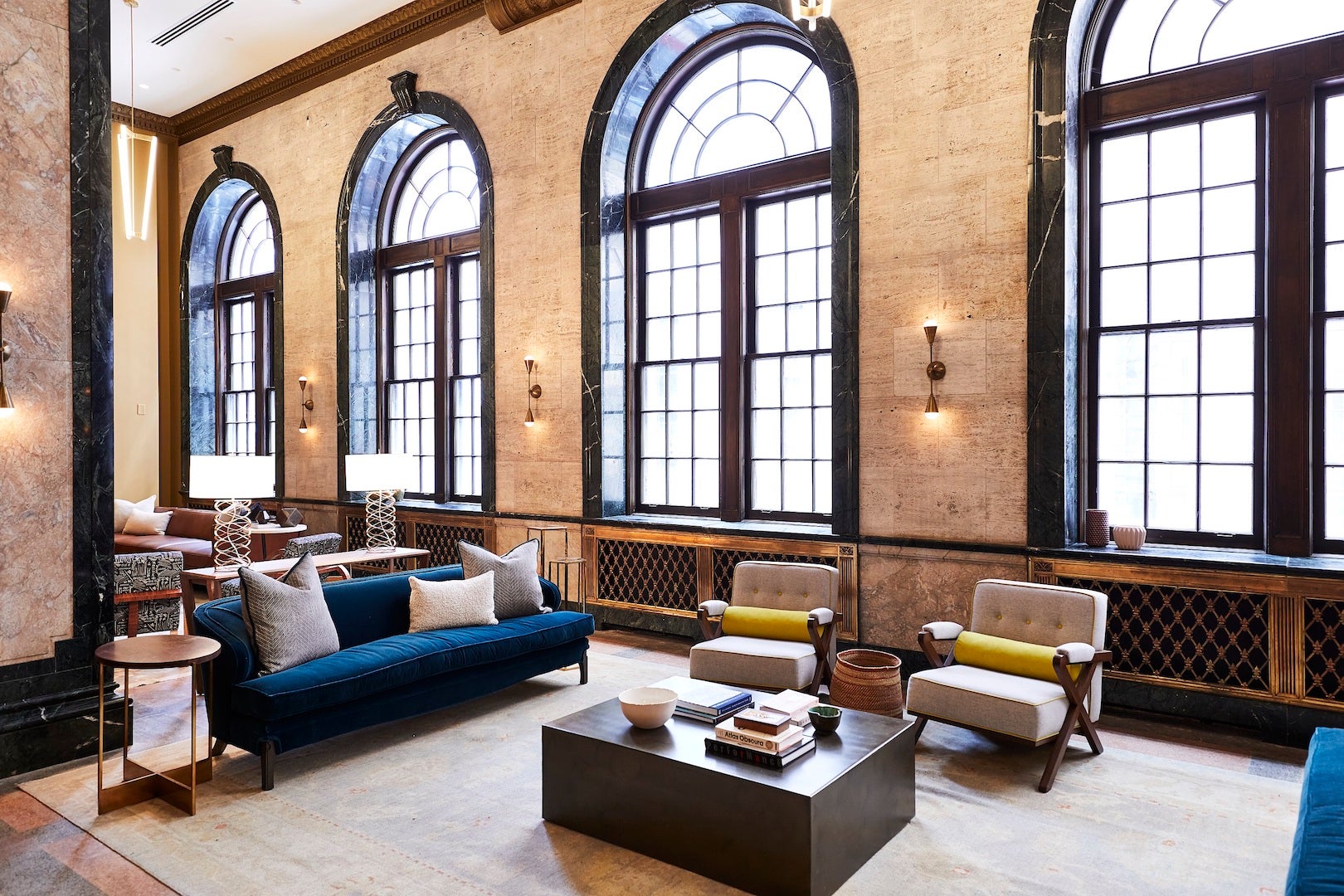 Situated on a buzzy corner on Nashville's 'Boutique Row' (home to the city's many boutique-style hotels), Noelle Nashville is a living, breathing homage to the building's storied past as one of the first luxury hotels in the city. Built in 1929 as The Noel Hotel, Noelle Nashville reopened in late 2017 and has become a popular haunt for locals and travelers alike. With its delectable restaurant, Makeready L&L; its destination rooftop bar, Rare Bird; and the speakeasy, Hidden Bar, on the lower level, there's plenty to do and see. The hotel is also home to Keep Shop, a curated collection of fashion products and accessories exclusively from Nashville-based artists and designers. There's much to explore, including an in-hotel art gallery; a historic ballroom; Trade Room, the lobby bar featuring brass handrails and terrazzo flooring from the original structure; and Drug Store Coffee, a coffee shop named after the drugstore built in the early 20th century that once stood in its place. Noelle is the perfect respite for those who admire the history of Nashville and are looking for chic accommodations in a prime location.
Stay
Penthouse
– Size 1,122 sq ft – Nightly rate from $1,500
On the top floor overlooking the lively Printers Alley, Cumberland River and a sliver of the Nashville skyline, the Penthouse at Noelle Nashville is the suite to book. The two-bedroom, two-bathroom suite is decked out in modern furnishings with white-and-navy-blue walls, wood flooring, contemporary artwork, handmade pottery and vintage-inspired light fixtures. Along with the rest of the hotel, the suite features an Art Deco style that pays homage to the hotel's history. Floor-to-ceiling windows let in plenty of natural light in the living room, dining room and bedrooms. The room also has a wet bar with a selection of premium whiskeys, beer and wine. The suite comes equipped with a vintage record player and a selection of vinyl records for your enjoyment.
Taste
Boasting some of the most spectacular views over Nashville, Noelle's rooftop bar Rare Bird is the ideal place to enjoy a craft cocktail and small bites. We recommend cozying up next to the bar's outdoor fireplace and ordering a Nashville Julep, made with Tennessee's own Dickel 12 whisky. Late nights should be spent in the hotel's speakeasy, Hidden Bar. Make your way through an unassuming door that leads you to a dimly lit space with jazz music and craft cocktails.
Enjoy
Noelle's location in the heart of downtown makes it easy to access all of the city's many attractions, from the Country Music Hall of Fame to the Grand Ole Opry and the honky tonks of Lower Broadway. The hotel offers unique experiences for its guests, including a chance to visit Any Old Iron, designer Andrew Clancey's showroom. Clancey has designed sequin- and rhinestone-heavy outfits for today's top music stars, such as Elton John, Cher, Taylor Swift and Lady Gaga. Browse and try on some of his creations a visit.
Contact
Tracy Wray, director of sales and marketing, twray@noelle-nashville.com, +1 615 610 7801, noelle-nashville.com