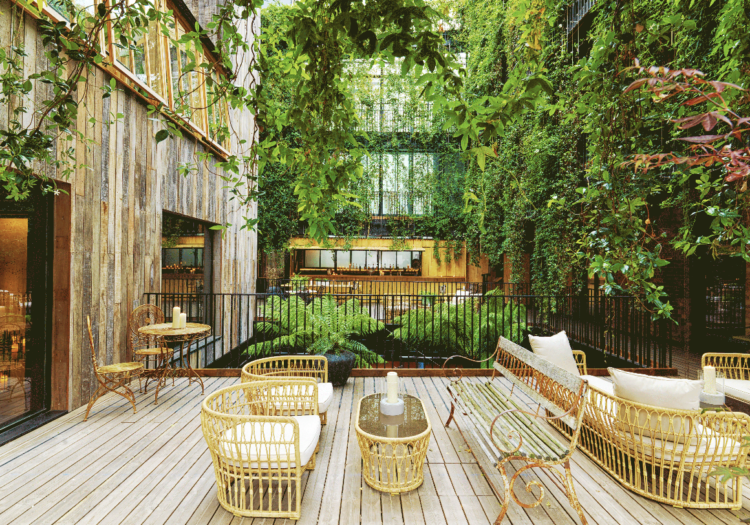 An antidote to the archetypal grand dames that dominate the hotel scene in London, The Mandrake is a labyrinth of dark sensuality. Each turn brings you face-to-face with a new and gasp-inducing work of art —be it a seven-ft ostrich with the neck of a snake, or a Game of Thrones-esque chandelier. Cozy corners decked in plush velvet invite hushed conversations over scrumptious morsels of South American fare. Alfresco escapism at its finest can be found on the Jurema terrace, where you can immerse yourself in the intoxicating scents of jasmine and passionflower that cascade down the three-story surrounding walls while enjoying an ethnobotanical cocktail.
Stay
The Penthouse Suite
Size – 1,380 sq ft Nightly rate – From $7,820
White marble, luxurious textiles, conversation-sparking objets d'art—all contribute to the undeniable charm of the Penthouse Suite at TheMandrake. It is the perfect reflection of the eccentricities of the hotel in general —with a smile to be had in every corner. The bed is so huge that there is absolutely no danger of brushing up against your companion (unless you wish to). It is encased in marble and is the centerpiece of the imposing space. The suite is also home to an eight-person dining table, ideal for hosting an intimate dinner after some drinks in the lively bar downstairs. The suite's crowning glory, however, is the six-person Jacuzzi bath. Let the water jets disperse any tension while you gaze at the stars through the retractable roof.
Dine
At the time of writing, YOPO was closed, but fear not; you can still sample the incredible and innovative South American cuisine in the privacy of your suite. Our favorites include the delectable and original empanadas, with mouthwatering filling combinations such as octopus, artichoke and olive or spinach, pine nut and ricotta. The zingy prawn ceviche is excellent and colorful, and the gnocchi served with girolles will fill and warm your belly on a wintry evening.
Relax
Instead of a classic spa, The Mandrake has curated a series of intimate and original well-being packages. Designed to rejuvenate guests after the stress of 2020, but having formed the backbone of The Mandrake's ethos of spiritual healing long before then, there are options to suit any needs. Try a Gong Bath (this doesn't involve an actual bath), and let the vibration and mystic sound of the gongs remove blockages in your mind and body. Or experience a Cacao ceremony, and drink sacred cacao from central American jungles that encourages healing.
Contact
sleep@themandrake.com, themandrake.com