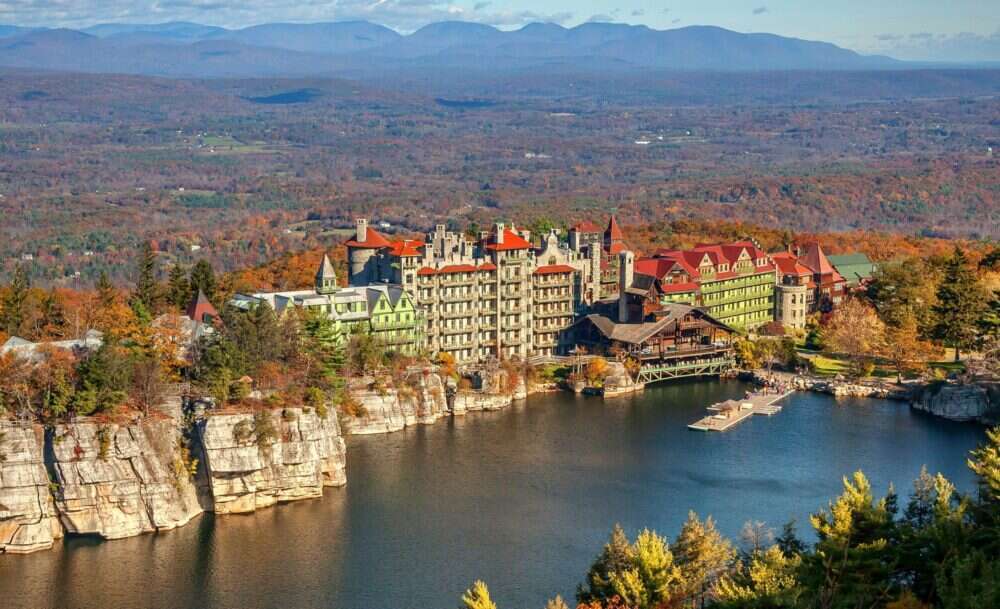 A number of life's greatest luxuries get better and better with time: Wine, whiskey and — in this case — hotels. From an ever-evolving classic in California to a hand-built inn in Arizona, these are the hotels in America that are as historic as they are spectacular.
Mohonk Mountain House
New Paltz, NY
The scenic Hudson Valley in upstate New York, a verdant swath of orchards, farms, woods, vineyards and charming villages, has been a getaway for the bon ton for more than a century. Its clean air, wilderness expanses, easy living, and outdoor offerings remain the lure for families, couples and solo travelers in search of bucolic relaxation. Owned and operated by the Smiley family since 1869, Mohonk Mountain House has long been the region's most coveted destination in which to embrace the Hudson Valley's largesse.
Surrounded by 40,000 acres of untrammeled woodland and offering abundant gardens dotted with summerhouses, the Victorian-era, castle-style hotel rises amid nature to offer an array of remodeled, vintage-intoned rooms — each evoking the past, while pleasing those with contemporary sensibilities. Think: wood-burning fireplaces, rocking chairs and state-of-the-art luxury bathrooms. With its rates, which include three meals (plus afternoon tea) and most activities, Mohonk encourages guests to try an array of adventures.
Hike, bike, snowshoe or cross-country ski across more than 85 miles of undulating nature trails. Cast a line in the on-site lake in summer or ice-skate on it in winter. Visit the spa (the eco-friendly structure is heated and cooled by geothermal power and features a green roof), practice yoga, learn to throw a tomahawk, compete in lawn games or challenge your partner to a tennis match. Rock-climb, ride horses or tee off on a nine-hole course. Theme programs abound, from culinary classes to gardening workshops. While it's extremely family friendly ('Let kids be kids' is an oft-repeated motto), Mohonk Mountain House also wows romance-seeking travelers.
Victorian Mountain View Suite from $3,200 per night. Contact Barbara Stirewalt, vice president and general manager, mohonkvacations@mohonk.com, +1 855 274 4020, mohonk.com
Hotel del Coronado
Coronado, CA
They call it 'The Del,' a nickname somehow steeped in 1950s wholesomeness, as well as bold familiarity. If it were a club, this National Historic Landmark could roll the names of its blue-blood members off its silver tongue in well-deserved braggadocio, in alto voice: Marilyn Monroe, Lyndon B. Johnson, Lucille Ball, Charlie Chaplin, Greta Garbo, Walt Disney, Bill Clinton — to name but a few.
Touted as an American treasure, this marvel by the sea was the circa 1888 brainchild of Elisha Babcock and H.L Story, who dreamed of a resort that would be "the talk of the Western world." Apparently they succeeded, because travelers continue to gab about this pampering hideaway, a beacon in Southern California. On a perfect beach, The (ever-evolving) Del now offers a variety of ambiences for travelers with a choice of what they call 'neighborhoods.' If you want to immerse in history (or perhaps see the resident ghost), choose the original — albeit totally modernized — hotel, The Victorian.
For different tastes, The Cabanas section (ideal for girlie getaways) has poolside rooms meant to be your portal to SoCal social life; The Views, a family favorite, has commodious beachside suites; while the exclusive, gated Beach Village provides a community of cottages. Finally, Shore House represents the resort's new residential option. The neighborhoods all come together, as the founders envisioned, with shared activities from dining (at eight venues) and bike riding to s'mores-making, kids clubs and water sports. There's even a class called Mermaid Fitness, where core-strength-savvy practitioners participate while wearing colorful mermaid tails.
Ocean View Villa from $1,090. Contact Patrick Cheah, director of guest experience, delreservations@hoteldel.com, +1 619 435 6611, hoteldel.com
The Hay-Adams
Washington, DC
Many believe that the walls of old buildings hoard bygone conversations within, and that if we'd only listen, those walls would have stories to tell. At the stately Hay-Adams, which overlooks The White House and Lafayette Park, those conversations surely have been legendary. Occupying the site of the Victorian-era, Romanesque domiciles designed by renowned architect Henry Hobson Richardson for Washington insiders John Hay and Henry Adams, the hotel (and its walls) may draw some of its gravitas from the illustrious salons held in those homes long before the Hay-Adams was built.
[See also: The Most Lavish Hotel Suites in the US]
As the purlieu of philosophers, artists, writers and scientists (such as Mark Twain, Theodore Roosevelt and Henry James), these spirited salons left a legacy for colloquy and confabulation that remains today. Though the hotel's discreet, subterranean cocktail bar (aptly dubbed Off the Record) has earned the slogan 'Washington's best place to be seen and not heard,' guests with a penchant for eavesdropping and people-watching will nevertheless enjoy feeling themselves part of an unfolding political drama as they tipple a martini alongside some of Washington's biggest newsmakers.
Built as a plush residential hotel in 1927, and meant to echo the grand mansions along the park, the Hay-Adams quickly evolved as the number-one place to stay to be as close to the White House as possible. Preeminent guests include past and present presidents, Nobel Peace Prize and Pulitzer winners, and luminaries. Featured in numerous productions, the Hay-Adams appears in favorites such as House of Cards and Veep. Today's guests can choose from 145 rooms and 21 suites with views of the White House, St John's Church or Lafayette Park.
Suite from $1,129. Contact Tristan Mahaffey, director of reservations, tmahaffey@hayadams.com, +1 800 424 5054, hayadams.com
The Hermosa Inn
Paradise Valley, AZ
Like most unforgettable hotels, Hermosa Inn began with someone who was larger than life. Hand-built by noteworthy cowboy artist Lon Megargee from 1930 to 1936, the soulfully nostalgic enclave of adobe casitas occupies six acres in an upscale residential area, amongst a backdrop of craggy mountains, saguaro cacti and desert terrain.
An oasis of repose, its bungalows stipple as craftily into the quiet retreat's garden as Megargee's brushstrokes enlivened his canvases — which still hang throughout the hotel. Not just an artist known for such idyllic characterizations as The Last Drop From His Stetson (still reproduced within many Stetson hats) and Cowboy's Dream, Megargee painted murals for the Arizona capitol building, created sentimental magazine covers, and executed logos with Western themes. He also multitasked as a Casanova, poker dealer, cowpoke champion roper and flimflam man. In short, he was legendary, deftly personifying the roof-raising romance of the Old West and its aftermath.
[See also: Exploring the Unexpected on the Road in Arizona]
From the secret tunnels that purportedly lie beneath the hacienda (built to ease the exit of skedaddling swillers during prohibition) to the myriad, mischievous ghost sightings in the inn's kitchen, to the atmosphere of respect for the surrounding landscape, Megargee's palpable legacy permeates the property.
Turned into a hotel in 1941, when the new owners continued to be visited by Megargee's merrymaking friends who wished to stay overnight, The Hermosa Inn continues to be a festive gathering place in its common areas — such as its acclaimed restaurant, LON's, a gastronome favorite — as well as a relaxing hideaway for solace seekers. Bikes, hammocks under the stars, sangria in the pool cabanas and views of Camelback Mountain's Praying Monk rock seal the deal.
Don't miss 'Cool Dining' in the historic, 57-degree Wine Cellar, an elegant way to escape the heat.
Deluxe Casita from $500 per night. Contact Pam Swartz, director of guest experience, pswartz@hermosainn.com, +1 602 955 7586, hermosainn.com
This article appears in the 29 Nov 2021 issue of the New Statesman, Winter 2021/22