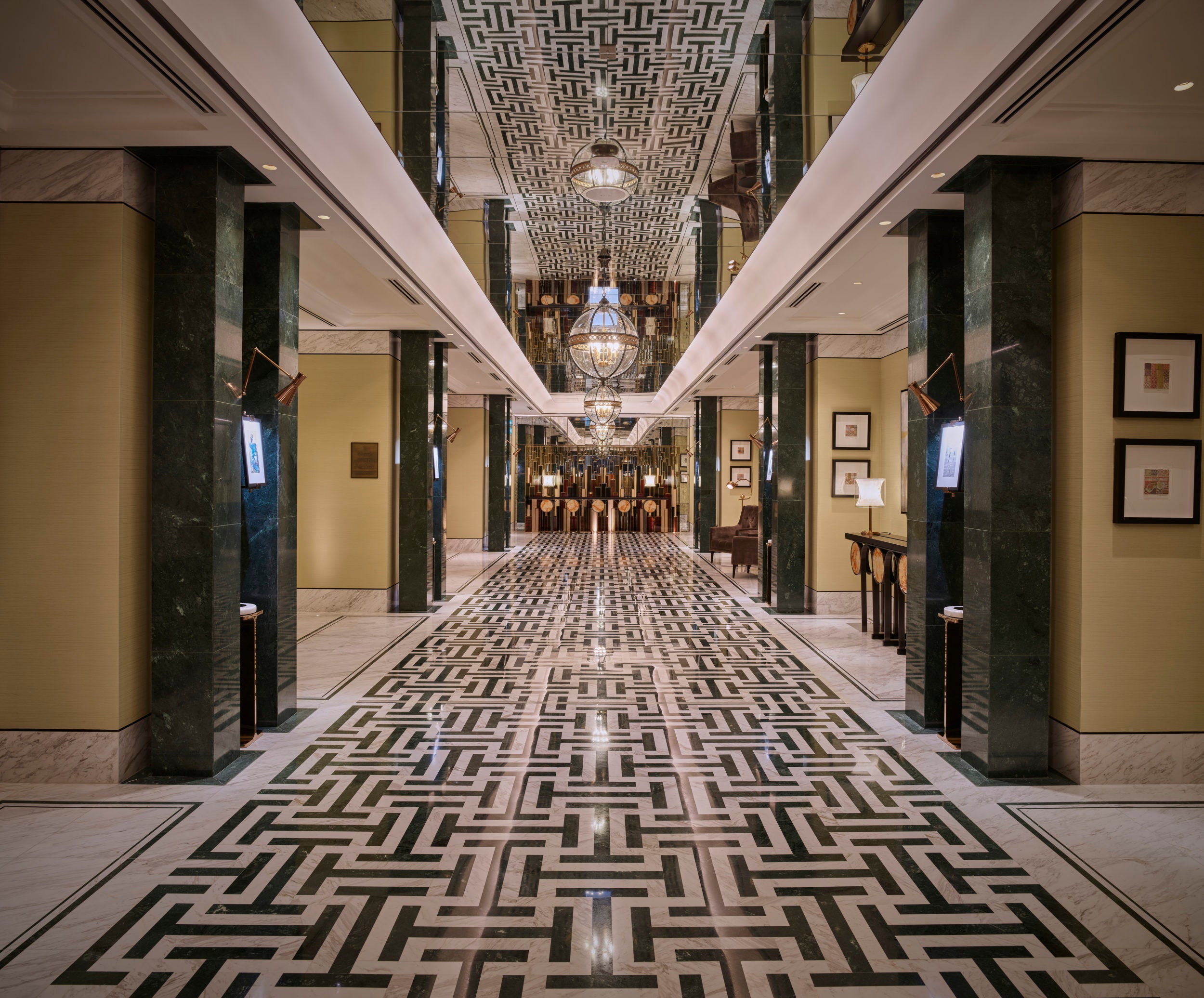 Waldorf Astoria opened its third property in the United Arab Emirates earlier this year. The new hotel promised New York glamour and ultimate luxury in the heart of the Dubai International Financial Center (DIFC). Elite Traveler was invited to see whether Waldorf Astoria DIFC has delivered.
The 275-room hotel occupies the 18th to 55th floors of the Burj Daman, a vast complex made up of residences and office towers. High-speed elevators whisk you up to an opulent lobby that appears to be taken straight out of early 20th-century New York. Marble, ebony, walnut, brass and bronze have all been generously used to make this feel something like the original Waldorf and Astoria hotels on Fifth Avenue.
Guests will be immediately drawn to the floor-to-ceiling windows, which offer widespread views out across the industrial canopy that is the DIFC. The Burj Khalifa, by far the world's tallest tower, is the obvious centerpiece of a stunning cityscape. The floor-to-ceiling windows are present in all 275 guest rooms, including 46 suites and 28 residential suites, so the view can be enjoyed in private as well.
Stay
The high percentage of suites is a testament to the elite clientele the hotel caters to. The pinnacle of luxury is the Presidential Suite, which offers 4,402-square-feet of space and all the amenities required for the ultimate retreat. It has ample living, entertainment and sleeping space as well as unrestricted views across the city, the gulf and the Arabian Sea. There is also a butler area with separate entrance, allowing for discreet yet attentive service from the expertly-trained staff.
[See also: Top suites in the world – The Mayor's Residence, Waldorf Astoria Amsterdam]
The hotel also offers a selection of residential suites for those based in Dubai for a longer period. In addition to a full kitchen with high-end appliances, the apartments also come with laundry facilities and supremely comfortable living areas. Although the apartments retain the same level of opulence as the rest of the hotel, the luxury furnishings are more subtle and therefore much more homely.
A Peacock Alley is present in all Waldorf Astoria hotels and DIFC is no exception. This is an excellent place to escape the confines of your room while remaining in an elegant and peaceful environment. Take afternoon tea whilst sitting under the traditional clock, another element found in all Waldorf Astoria hotels. There is even a dedicated smoking room with its very own humidor for those who enjoy a cigar.
Relax
Space is at an exceptional premium in this part of the world, and that is evident with the hotel's compact spa facility. At 2,852 square feet, it is certainly small but designers have ensured that every bit of space is properly utilized.
Upon arrival, guests will be asked to smell a selection of scented candles. A treatment is recommended based on which scent speaks to you the most. You then head to one of four distinctive themed suites, each offering a private and personalized wellbeing experience complete with bathroom and relaxation facilities.
The Floatation Suite is the most interesting of the four, offering a weightless experience that deceives the body into feeling as though it has had a long, deep sleep, enhanced by salt inhalation to improve breathing, lung efficiency and detoxification. It is one of the only places in Dubai that such an experience is offered by a hotel spa.
There is also a fitness center equipped with state-of-the-art Technogym machines for those needing to blow off some steam while the hotel also offers personalized yoga and meditation sessions from in-house instructors.
Drink & Dine
Walk into the hotel's restaurant, Bull & Bear, and you are immediately met by a striking statue of the two animals. The golden sculpture was hand-forged from iron and is a fitting piece for the elegant and sophisticated restaurant interiors. The use of rich blue, gold and black makes for a photogenic atmosphere. Seal yourself a table by the window to enjoy spectacular views out towards the Burj Khalifa, particularly at night as it sparkles like a futuristic space ship preparing for take-off.
The dinner menu is an eclectic affair that is clearly designed to cater to all taste buds. Head chef Giovanni Paolo Pintore presides over the kitchen and ensures signature dishes like Our Prawn Cocktail and Alligator Pear are executed to his high standards. The menu is meat-heavy (the oversized Bull & Bear Burger is a carnivore's dream) but there are some accomplished vegetarian and vegan options as well.
For dessert, Ring The Bell is a show-stopper. Your waiter will pour hot chocolate fondant over a delicate shell. It seems to take an age to melt before collapsing to reveal dulce crispy pearls, toasted marshmallow and ice cream.
After dinner, head to the hotel's very own rooftop bar St Trop for an elegant nightcap. This stylish alfresco lounge has a pool and whirlpool for a daytime dip but becomes a trendy hangout by night. With a fantastic cocktail menu and a DJ, it feels like the place to be seen in Dubai's financial district.
Explore
It may be the financial district, but there is plenty to see and do in the local area. The hotel is a stone's throw from Dubai Mall, the largest shopping mall in the world. There are hundreds of luxury boutiques to explore, but Dubai Mall is not just for shoppers. It's aquarium, ice rink and go-karting track provide entertainment for the whole family. Then, head to the Burj Khalifa's Sky observation deck on Level 148. This is a newer and more exclusive deck from the one on Level 125 and at 1,820ft is the highest in the world.
For something extra special, head out to the desert dunes and dine under the stars in a luxury Bedouin-inspired camp. Waldorf Astoria's concierge team can enlist the help of luxury events specialists Nara Desert Escapes to curate an experience that delivers on the hotel's promise to 'Live Unforgettable'. Ride camels over sand dunes, watch a trained peregrine falcon swoop on its prey and marvel at the stars before sitting down to an alfresco meal that will live long in the memory.