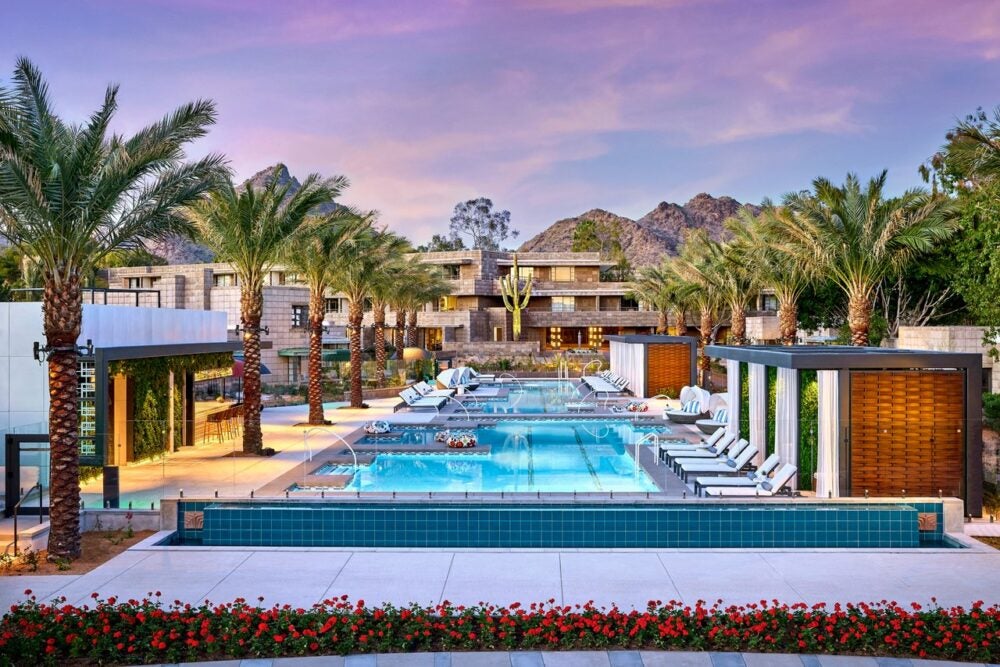 Ripened beneath a century of warm breezes and blue skies, the grandest hotel of Hollywood's Golden Age has returned better than ever. The Arizona Biltmore, A Waldorf Astoria Resort, famed for its bold Frank Lloyd Wright-influenced architecture, sophisticated comforts and celebrated guests has recently undergone an $85 million transformation bringing back the uniquely chic allure that has captivated so many throughout its sun-soaked history.
Nestled amongst palm trees at the base of the Phoenix Mountains Preserve, this much-loved resort offers exceptional accommodations from the beautiful rooms, spacious suites and iconic cottages designed to reflect the desert surroundings.
Amongst Arizona Biltmore's 39 acres of lush gardens, you'll find lavish wellness opportunities from the newly renovated spa to a well-equipped fitness center, two championship golf courses, tennis courts and bicycles for cruising. Seven pools offer every vibe from calm retreats and family fun to high-energy adult-only zones.
The bar scene is lively; both at the vibrant new Spire Bar, or cocktail hour at the eternally cool Wright Bar. Six dining options are available to suit all tastes. Here the past, present and future blend seamlessly in the glow of this legendary gem.
Stay
Cottage Suite Fire Pit King Size — 830 sq ft Nightly rate — From $1,100 – $1,500 (seasonal)
Beautifully restored to their iconic reputation as 'Hollywood splendor with a splash of cool desert chic', the cottages represent the refined new era of Biltmore glamour in every detail. Set apart from the hotel, pure peaceful privacy awaits within. You'll find they come complete with special features to create the luxury lifestyle guests have come to expect. Vintage board games and a mini-library add magical texture to the elegant design, and we're yet to find more inspiring moments than those spent gazing up at the stars around the warm, crackling glow of your patio fire pit.
Relax
With a name that honors both the earth below and the moon above, the new Tierra Luna Spa features 12 treatment rooms and a range of therapies inspired by the surrounding Sonoran Desert. Unique experiences to try include the mud and crystal bar and an onsite astrologist blending birth-charts and cosmic forces into personal revelations.
Awards & Ratings
Condé Nast Traveler Top 15 Resorts in the Southwest: Readers' Choice Awards 2021
Sunset Travel Awards Rad Hotel Redesigns
Gold Key Awards 2021 – Best Lobby Luxury / Best Suite / Best Resort
World Travel Awards Arizona's Leading Resort 2021
Architecture Press Release Global Future Design Award 2021
International Property Awards – Hotel Bar Interior / Hotel Interior / Hotel Suite Interior
Contact
Tyiesha Thaxton, Director of Leisure Sales, tyiesha.thaxton@waldorfastoria.com, +1 602-954-2544, arizonabiltmore.com