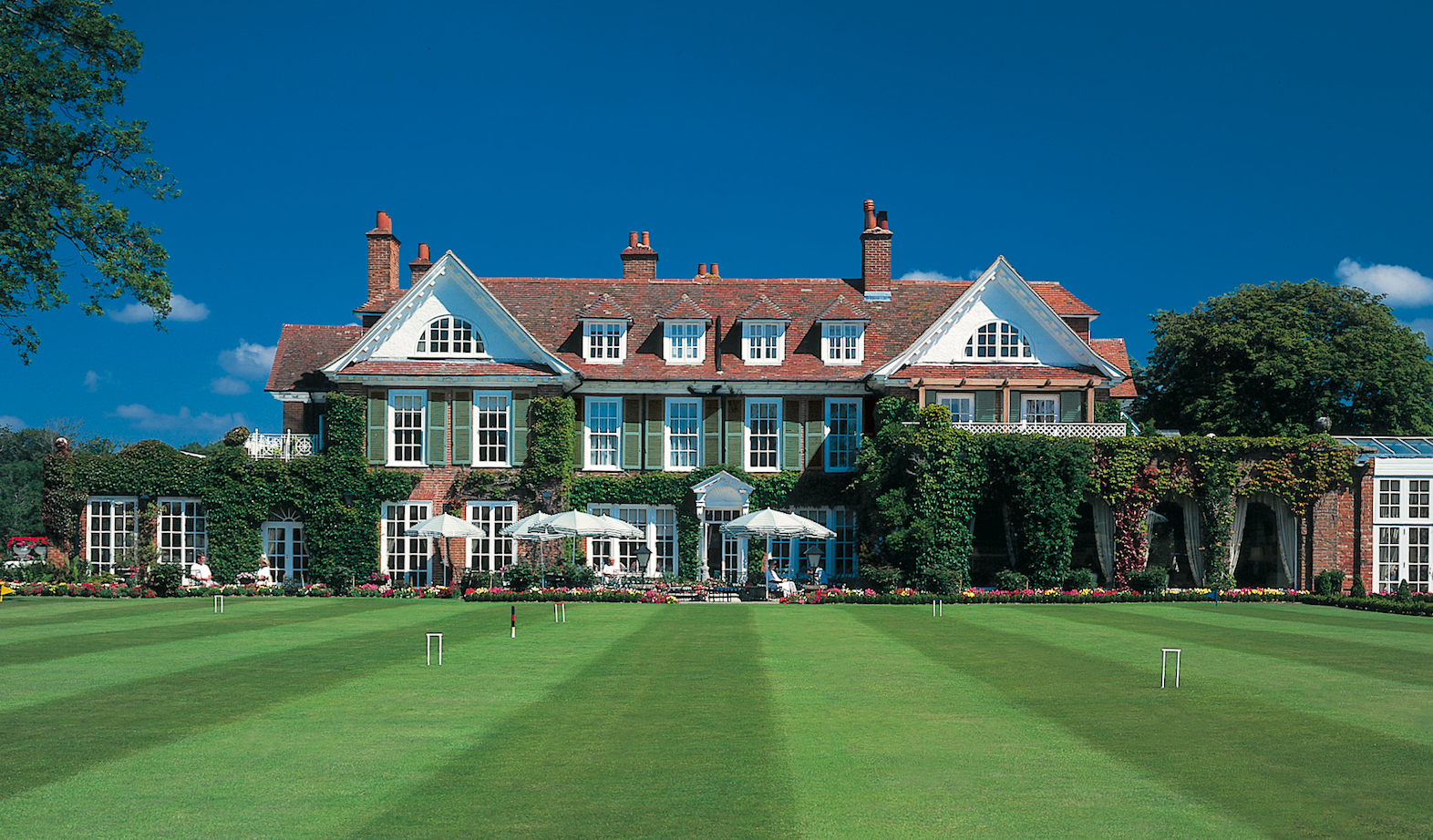 A Relais & Chateaux property and the sister hotel to the historic Cliveden House, Chewton Glen is a bucolic beauty in New Forest, Hampshire. It's refined, yet warm and welcoming, and is ideal for jaunts out of London. It's set within 130 acres of countryside and has a charming herb and organic garden (the produce is used in The Kitchen restaurant and for the famous cooking school). The country-house vibe extends to the interiors; think plush velvet, grand pianos, cozy armchairs and many a crackling fire. There's an award-winning spa, two divine restaurants, a nine-hole par-three golf course, tennis courts and a croquet lawn.
Stay
The Treehouse
– Size: 1,722 sq ft
– Nightly rate from $3,700
Evoking fond childhood memories but with the cushy amenities your grown-up self needs, the treehouses are separate from the main hotel and, as you might imagine, they sit atop towering stilts and are surrounded by trees. The decor is woodland chic with a log-stump coffee table, tweed furnishings and hardwood floors. There's a wood-burning fireplace, which will be prepped and ready for you to light (or the treehouse's concierge can light it for you), and on the Chewton Glen's vine-covered exterior wide, wraparound terrace there's a bubbling hot tub. Even in the occasionally bracing British weather, it's a blissful way to unwind with the soundtrack of chirping birds and rustling leaves. The bathroom has a freestanding tub next to floor-to-ceiling windows so you can take in the forest as you soak or, if you'd prefer, there's a television at the foot of the tub. When morning comes, a delightful breakfast hamper of croissants, homemade jams and juice and the daily special (you can order hot food if you wish) will be discreetly deposited in a hidden cupboard near the front door of the suite, without you having to see another soul.
Relax
The spa has a glorious 55-ft swimming pool set beneath a painted fresco on the ceiling, complete with fluffy white clouds. The Orangerie, next door to the swimming pool, has a large hydrotherapy indoor pool. There are six therapy options, each one activated by waving your hand over the silver disk sensors — the swan neck jets provide a powerful massage ideal for aching shoulders. An outdoor hot tub surrounded by forest is near The Orangerie. And there's an extensive treatment menu; if you opt for a facial (which we recommend), expert therapists will assess your skin type and recommend a suitable treatment.
Taste
A buggy will take you down to The Kitchen for locally sourced, freshly made fare. Try the tasty sourdough or tangy olive and rosemary focaccia fresh from the oven, or a superfood salad with estate honey and sesame marinated chicken. Feeling inspired? The Kitchen runs an excellent cooking school that explores the flavors of Mexico, Thailand, Ireland, Italy and beyond, as well as classes for teens and children. Esteemed chef James Martin heads up the cooking school and visits once a month to lead classes and to host a dinner. The Dining Room is a more elegant choice; don't miss the Sunday roast lunch, served on a silver trolley.
Enjoy
Don a pair of Hunter Wellingtons (the hotel has a neat row lined up by the entrance, ready for kids and adults to borrow) and amble through the pretty grounds past trickling brooks, lily-pad ponds and fairytale-like wooden bridges to the Chewton Bunny and down to the Chewton Sound. It's a 15-minute walk down to where the green grass gives way to the sand dunes and beach. Back at Chewton Glen, there's a croquet lawn for a quintessentially English afternoon.
Contact
Adam Dyke, operations director, adyke@chewtonglen.com, +44 1425 275 341, chewtonglen.com