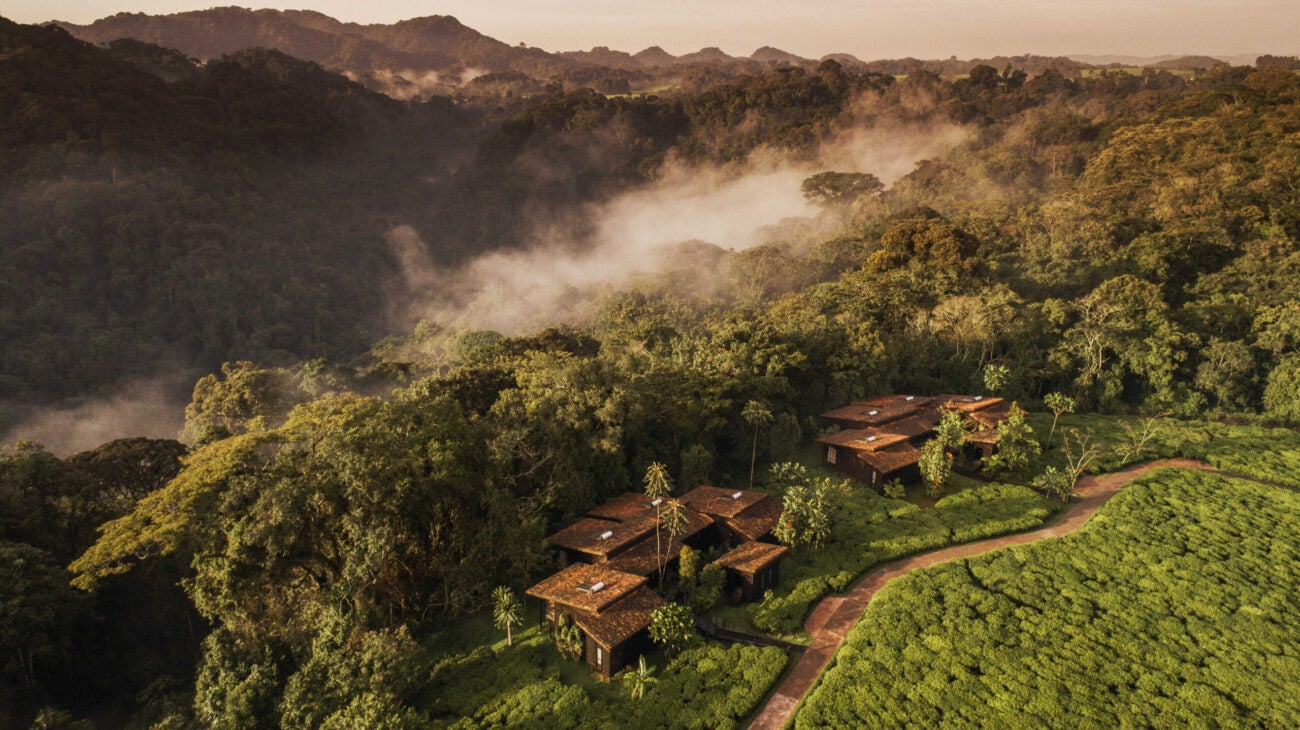 One&Only Nyungwe House is encircled by a working tea plantation, an ancient rain forest and a charming local community. With a boundless link to the vibrant energy of the natural world, it's a place where borders are removed, making way for life-changing, joy-filled moments. Spend long days perfectly attuned to and absorbed by the seasons, where meals tell a story of the day; slow-moving mist captures your eyes and thoughts for hours; a burst of dramatic rain makes a canopy walk more exciting; and the pull of spear throwing, archery or a run through meandering tea plantations creates endless opportunities for adventure.
Stay
Two-bedroom Forest Suite Size 1,410 sq ft Nestled between lush rain forest and verdant tea plantations, the luxury Two-bedroom Forest Suite offers a warm, welcoming respite to adventurers. The master bedroom boasts a four-poster king-sized bed, while the second bedroom includes queen-sized twin beds. Both bedrooms have wood-burning stoves and en-suite bathrooms, plus private decks with hypnotic views. Much of the art and decor in the rooms have been produced by local artisans and cooperatives, like the handwoven plates or 'plateaus' sourced from Indego Africa, a local cooperative that works with women from Rwanda and Ghana.
Explore
Guests can select from an array of carefully curated experiences during their stay. In addition to trekking chimpanzee and rare monkey populations through the ancient forest, guests can enjoy a wide range of remote outdoor pursuits, from bird-watching to a canopy treetop walk at the very top of the rain forest. Hiking trails lead from the resort deep into the jungle; the easy sparkling-quartz Karamba Trail begins in the open-air site of a former gold mine. The more challenging Mount Bigugu Trail covers the highest peak in the park with stunning views of Lake Kivu, dramatic hills, and colorful flora and fauna. Other signature activities include stargazing and nocturnal field walks, swooping over the panoramic African landscapes by helicopter, jungle boot camp workouts, spear throwing and archery lessons, an introduction to the African kitchen garden, and insight into the Secrets of African Tea.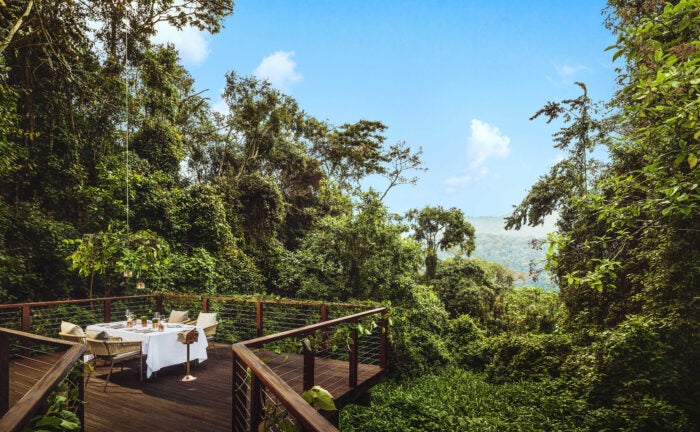 Relax
One&Only Spa
In partnership with South African luxury organic natural skincare brand Africology, each treatment at the spa combines the wisdom of holistic therapies with the power of the purest natural ingredients.
Dine
Dining Room
Enjoy nutritious breakfasts, leisurely lunches and locally inspired dinners in the elegant Rwandaninspired Dining Room, with its idyllic plantation views. The daily changing menu showcases the best of local producers.
Tea Lounge
The Tea Lounge is a place to relax, take in the panoramic treetop views and discover a book from the curated library. It's also the location of the daily tea ceremony.
Contact
Natalie Fynn, resort manager, natalie.fynn@oneandonlynyungewhouse.com, +250 788 315 088, oneandonlynyungwehouse.com
[See also: Top 100 Suites – Silverback Suite, One&Only Gorilla's Nest, Rwanda]