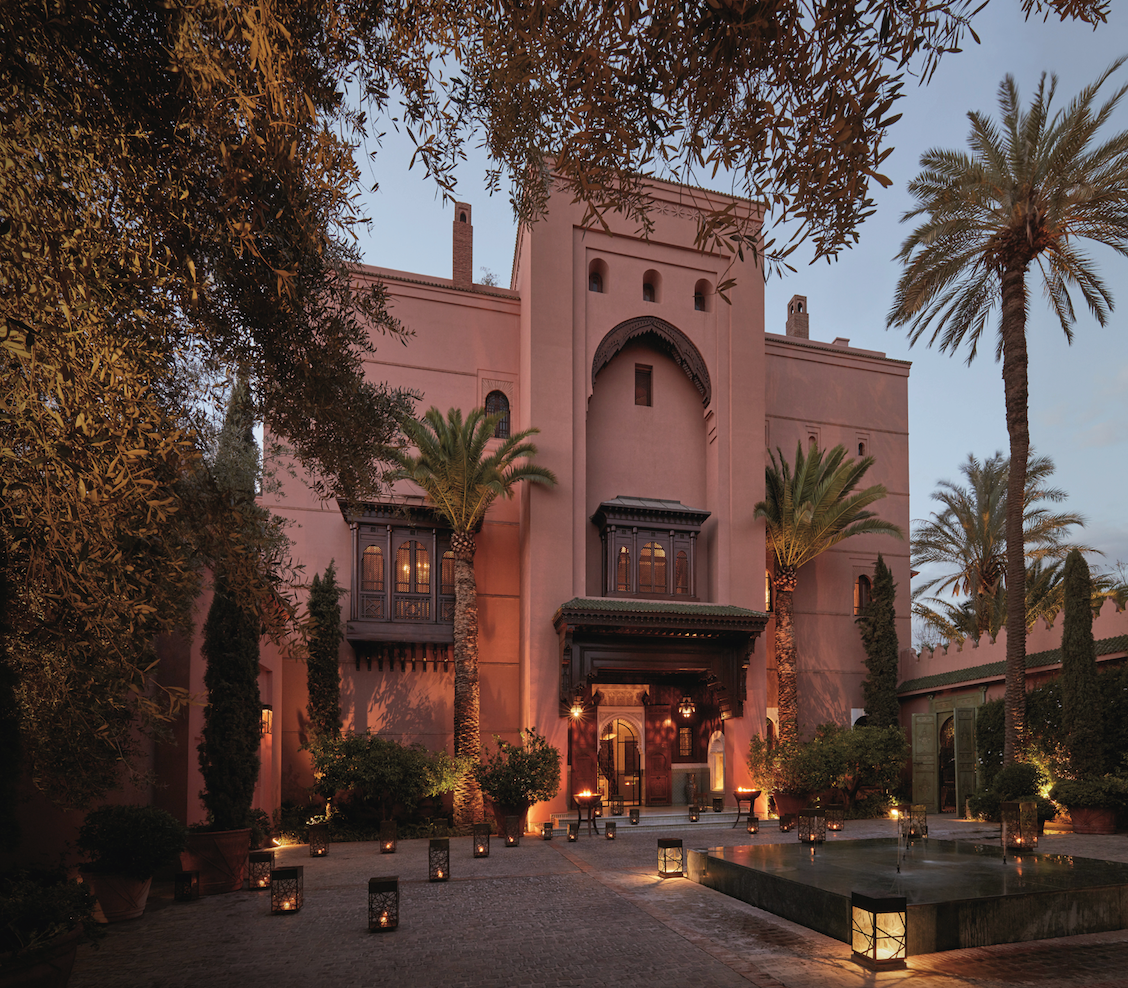 Set within the walls of Marrakech's old city, the Royal Mansour Marrakech is an oasis of 53 private riads, an award-winning spa, quiet courtyards, lush gardens and fine restaurants overseen by chef Yannick Alléno. The Royal Mansour Marrakech is a magnificent blend of extravagant Moroccan style and modern luxury. Service is polished and discreet; an underground network of tunnels for staff leads to the private riads, ensuring absolute privacy. Following an extensive renovation that expanded the property by nearly two acres, the hotel introduced a new alfresco restaurant, extended gardens, a 6,500-sq-ft swimming pool and seven pavilions. The Spa creates an intimate universe of its own; it is entered via an impressive atrium of white-washed metal latticework, which evokes a giant birdcage. Here, highly qualified massage and beauty therapists, sports coaches, hairstylists and colorists share the same goal: the utmost well-being of their guests.
Stay
Grand Riad
– Size 19,375 sq ft – Nightly rate from $35,000
A hotel within the hotel, the Grand Riad is hidden in the medina and gardens of the Royal Mansour Marrakech and offers the intimate setting of a private residence. More than just a peerless place to stay, it is a journey into the Moroccan art of living. As well as a comfortable study where you can focus on business affairs, the Grand Riad offers many handsome spaces devoted to fun and relaxation. There's a snooker table for competitions, and a cinema area set up with a giant screening wall for movie lovers. The Grand Riad has its own fully equipped professional kitchen to be used by one of the Royal Mansour's chefs. The roof terrace is spread over two levels and has an exceptional view over the Medina, the Atlas Mountains and the famous Koutoubia. The terrace features its own gymnasium, hammam, home cinema, relaxation room, dining area, separate living area, bar, bathroom and swimming pool.
Relax
Spa Royal Mansour Marrakech
The spa is a 26,900-sq-ft space on three levels, devoted to relaxation and well-being. A magnificent white birdcage atrium bathed in natural daylight is striking yet calming, and the facilities are scattered carefully and discreetly. The indoor heated pool spreads out like a lagoon in an old-world orangery greenhouse. The Spa Royal Mansour is a place where time definitely stops and where total tranquility begins. In the grand tradition of the Moorish bath, the Hamman experience is the signature treatment of the Spa Royal Mansour Marrakech. The authentic hammam provides guests with a bathing ritual that combines heat, fragrant steam, warm water, marocMaroc hammam products and a cold plunge pool to revitalize the body and soul. The traditional hammam ritual includes a black soap application and a deeply cleansing full body scrub, using a traditional Kessa mitt, while you lie on hot marble. There, among the sounds of soothing water, hazy steam will give you a feeling of true rebirth.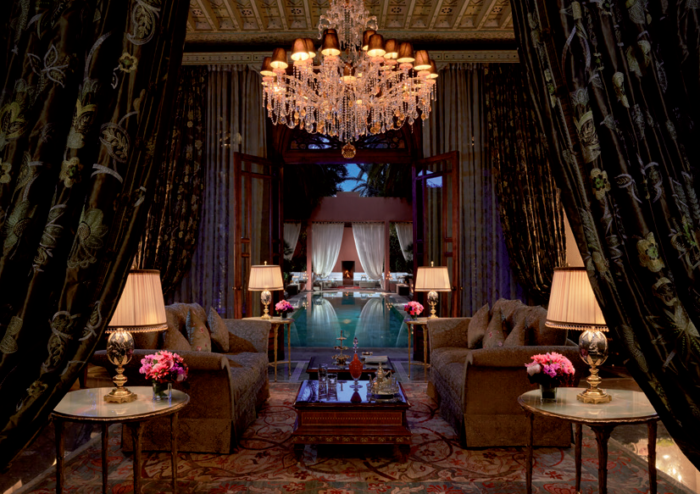 Dine
La Grande Table Marocaine
Since day one, chef Yannick Alléno has called on his chefs to make La Grande Table Marocaine a standardbearer for Morocco's culinary reputation. His respect for tradition, understanding of Morocco's fertile terroir and its wonderful produce, plus Alléno's celebrated savoir faire, make this one of the country's top gastronomic destinations. La Table offers Mediterranean fare in both an interior and open-air setting, while Le Jardin serves Asian and Mediterranean-inspired cuisine on a shaded terrace.
Contact
Reservation service, reservation@royalmansour.ma, +212 529 808 080, royalmansour.com
Photos: Issac Ichoul