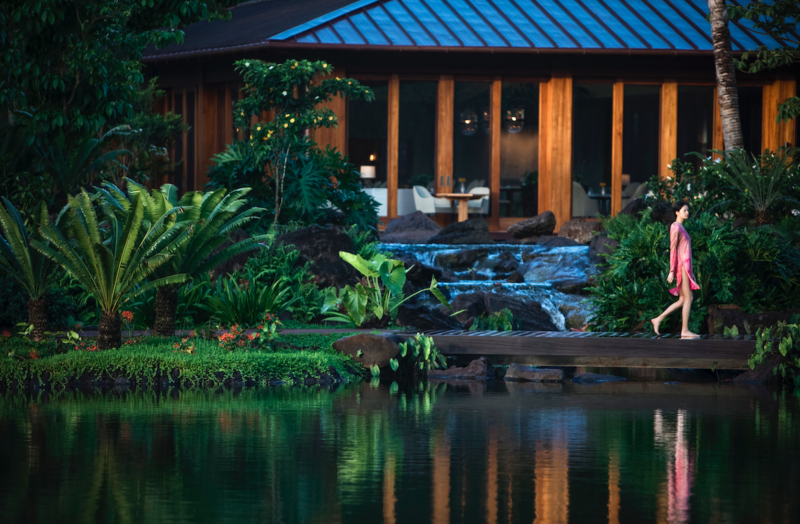 In his quest to constantly raise the bar, Larry Ellison partnered with Dr David Agus to form a well-being company, Sensei, and bring that experience to one of his resorts by Four Seasons on Lāna'i. The premier wellness resort helps people learn daily practices to live longer, healthier lives. 'The SenseiWay' philosophy focuses on three paths: move, nourish and rest. A team of diverse and highly trained practitioners support the guest throughout their stay, allowing seamless integration to tailor and optimize each guest's program and advancement. Surrounded by lush foliage, pine-covered mountains and fresh tropical breezes, the resort offers 96 light-filled rooms and suites opening onto a private balcony or lanai; a soaring Great Hall; Sensei by Nobu restaurant and Koele Garden Bar; a salon and wellness facilities including 10 private spa hales, gym, movement and yoga studios; an 18-hole putting course; outdoor pool with lap lanes; tranquil onsens tucked away along wandering paths; and lush gardens featuring tropical trees and flowers sharing space with a world-class sculpture collection.
Stay
Kaiholena Suite
Size –1,200 sq ft
Nightly rate – From $1,200
This light-filled, one-bedroom suite is relaxing, with vibrant colors from nature outside against a serene palette, offering a harmonious and balanced setting for a journey to well-being. The suite has an in-room fireplace and separate living/dining area featuring an extra-large LED television and commissioned artwork throughout.
Explore
Every reservation includes 12 daily well-being activities. This rotating collection features small-group activities such as sunrise hikes, yoga, fitness, meditation, art and nutrition. The Guided Sensei Experience begins with a pre-arrival questionnaire about current lifestyle, abilities and interests. A pre-arrival specialist and personal Sensei guide rely on proprietary health technology and expert insights to create a tailored itinerary. A curated stay includes daily credits to use toward the Experiences Menu of private one-on-one instruction, spa hale services and adventurous island excursions across the 90,000-acre, semi-private island with an incredible array of activities. Many of the island activities are managed by Four Seasons including snorkeling, sailing, horseback riding, tennis, biking, archery and sporting clays, Hawaiian Cultural Tours and an Aerial Advenures Course park.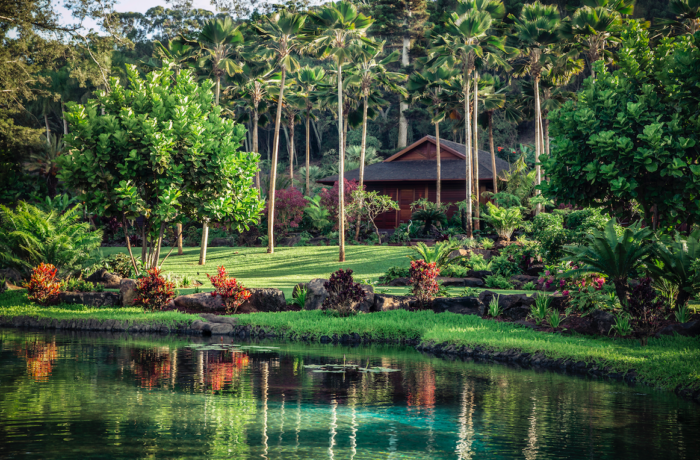 Relax
Sensei Lāna'i The 1,000-sq-ft private spa hale is a personal sanctuary to enjoy spa treatments or simply unwind at one's own pace. It includes an Ofuru tub, infrared sauna, garden and warm outdoor pool. Sensei combines the wisdom of ancient healing traditions with modern technology and science to provide customized treatments for each guest. Signature treatments include Thermal Body Mapping, where a therapist will utilize Sensei-developed thermographic technology to create a visual map of the body, providing a custom massage that targets sources of tension. The Sensei Featured Experiences are a collection of 120-minute treatments showcasing movement, nourishment and rest. For example, the Rest Body Treatment begins with therapist-guided Rejuvenate in a private hale The serene sculpture garden breath work to trigger an intentional mind-body shift. This is followed by a bespoke fully-body massage and a vigorous scalp massage to stimulate circulation, both with pure, natural products from Italy. Finally, sink into the rejuvenating waters of the Ofuro bath for a tranquil soak.
Dine
Sensei by Nobu
From locally grown produce to sustainable practices, Sensei is passionate about food and its impact on the body. Delight in menus designed by world-renowned Japanese chef Nobu Matsuhisa and his team in close collaboration with Dr. Agus, utilizing an evidence-led approach to nutrition within the context of full body health.
Contact
David Emig, resort manager, david.emig@fourseasons.com, +1 800 321 4666, fourseasons.com/sensei