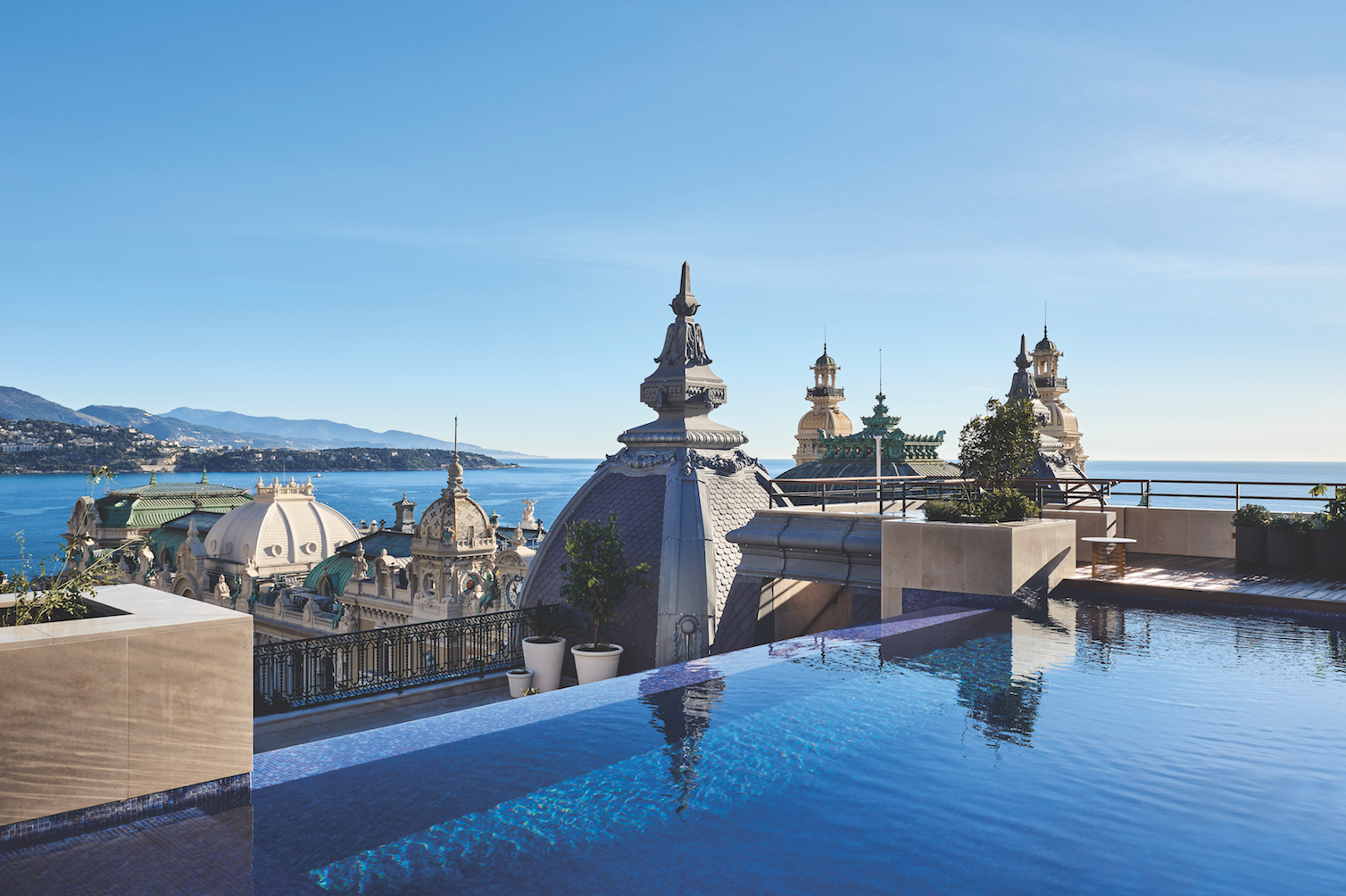 If the walls of Hôtel de Paris Monte-Carlo could talk, they'd be bursting with tales of glamour, love and war.
Founded in 1863, the hotel is simply iconic, and now, after a four-year-long renovation, it has unveiled sparkling new additions as well as careful updates.
It remained open during its $280m makeover that includes the famed Princess Grace Suite and the brand-new Prince Rainier III Suite; a new Alain Ducasse restaurant, Ômer; and the gorgeous tree-lined interior courtyard housing Graff, Harry Winston, Omega and Stardust boutiques — most stocking pieces that are exclusive to the hotel.
Stay
The Princess Grace suite is as chic and generous as the late Princess herself, and since opening in 2017, it's been the place to stay in Monaco. It has two bedrooms, two sitting rooms, living room, dining room, kitchen and large terrace with swimming pool and Jacuzzi.
Now, the penthouse suite has a royal counterpart: the Prince Rainier III Suite. The 5,650-sq-ft suite is the largest in the hotel and has a 1,455-sq-ft, split-level terrace with a 32-ft infinity pool overlooking Place du Casino. If you're in town for the Grand Prix next year, this is the best seat in the house.
While the suite is certainly impressive (two bedrooms, large main lounge with a bar area, smaller lounge and library, dining room and office space), it's the little touches that make both suites truly special: a floral frame made by Princess Grace Kelly; La Prairie products left on your pillow during turndown; and limited-edition Montblanc monogrammed pens.
Dine
Monaco and chef Alain Ducasse go hand in hand — Le Louis XV is a pilgrimage for gourmands and has held three Michelin stars since 1990, as well as being a regular entry in Elite Traveler's Top 100 Restaurants.
When it opened in 1987, Ducasse had it written into his contract that the restaurant would get three stars within four years; he managed it in two years and nine months. It has returned to its original home next to Place du Casino, and the gilded decor and frescoes have been carefully restored to their original glimmering glory.
Ducasse's new restaurant, Ômer, serves a vibrant mix of Lebanese, Greek, Turkish and Moroccan delicacies that are meant to be shared: Order a selection of mezze plates to start — the feta-filled pastries are particularly lovely. If the sun is shining (as it often is in Monte Carlo), grab a table on the terrace and sit under a domed pergola, surrounded by lush foliage.
Come nighttime, head to the famous Le Bar Américain for a très fun evening: the elegant Art Deco interiors are by Pierre Yves Rochon, and, paired with live jazz, you'll be transported back to the 1930s.
Wine
Hidden some 40ft beneath the hotel is an enormous wine cellar; it's one of the largest private cellars in the world. The stone-walled labyrinth is home to around 350,000 bottles with 4,000 different labels and it is not open to the public — only very special guests, winemakers and royalty are permitted inside.
It was built in 1864 and has a fascinating history: Many bottles were saved during World War II when the wine master hid the most precious bottles in one of the cellar's many rooms and blocked the corridor with empty bottles to trick raiding Germans.
It's easy to get lost exploring the different chambers and the stories they hold: Discover dust-covered champagne dating back to 1803, and see the cellar where Prince Rainer and Princess Grace had their 20th wedding anniversary dinner among the bottles.
If you fancy holding a soirée of your own, there is a larger space that can be rented for a special event.
Prince Rainier III Suite from $50,750 per night; minimum four nights.
Contact
Ivan Artolli, managing director
Tel: +377 980 630 00
Email: resort@sbm.mc
Website: montecarlosbm.com
Images courtesy and copyright of Hôtel de Paris Monte-Carlo.