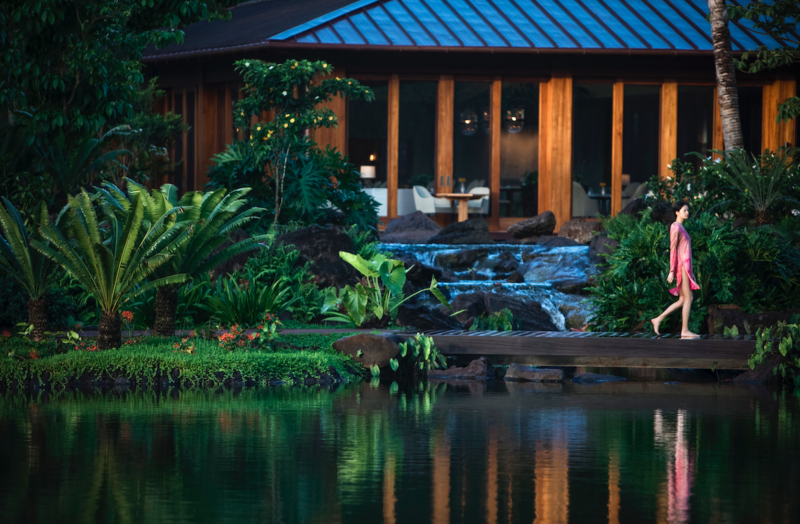 Sometimes life calls for a sensei — a wise person revered in Asian cultures for their sage wisdom and guidance. At Four Seasons Lanai at Koele, a Sensei Retreat, which was rebranded, reimagined and reopened in November 2019, every guest has a dedicated sensei to escort and tutor them during a transformative wellness stay.
Set up-country on the sleepy island of Lanai, ensconced in Eden-like gardens, this redo of the Lodge at Koele was masterminded by hotel (and island) owner Larry Ellison, in collaboration with Dr David Agus and chef Nobu Matsuhisa, as an upscale fitness and wellness retreat like no other.
[See also: Top Suites in the World – Alii Royal Suite, Four Seasons Resort Lanai]
Completely personalized via ongoing consultations between each guest and their sensei (highly trained experts in fields that range from sports psychology to physical therapy), daily itineraries are created to achieve a preset goal, from a digital detox to weight loss to pure relaxation.
With a pleasing Japanese design aesthetic and a zen mood throughout (not to mention that every meal comes from Nobu's bag of tricks, including omakase dinners), the all-inclusive Koele manages to combine the highest standards in hostelry with simple Hawaiian soulfulness.
[See also: Four Seasons Reveals 2022 Private Jet Itineraries]
Experience
Your visit begins by phone before you arrive with a one-on-one interview with your sensei. It continues as you fly from Oahu to Lanai on one of Ellison's own planes and are greeted at Lanai's small airport by a chauffeur-driven Tesla X. The life-changing adventure evolves with every moment spent at the resort. A place so evocative that many guests never leave the property, Koele offers 10-16 unique activities each day, serves some of the world's finest food, and coddles guests with state-of-the-art equipment and wellness guidance.
Conceived to feel like a sanctum, Koele draws tranquility from its vast garden complex. More like an oversized home in mood than a hotel, it has 96 rooms and suites — but it feels more intimate, as it has just one restaurant, an immense lobby and a cozy bar. While guest rooms have soothing, elegant decor, their understated vibe ensures visitors will take advantage of the property's lush grounds and amenities, where they can connect with nature, enjoy fitness classes or yoga, lounge by the pool, meditate in any number of secret locations or soak beneath the stars in the warm onsen pools.
Various outbuildings, all featuring Japanese architectural components (such as sloping roofs, tatami mats, sliding doors, plenty of wood and eye-catching water elements), punctuate the expanse, while a shimmering lake anchors the green space. Masterworks of art abound inside and out, with pieces by artists such as Fernando Botero, Marc Quinn and Claude Lalanne.
Spa
By far Koele's pièce de résistance, its 10 stand-alone spa hales line the edge of the verdant grounds in the shadow of the adjacent mountain. Possibly among the finest enclosures ever built for spa treatments, each of these restorative, Japanese-Hawaiian cottages holds a commodious great room complete with two massage tables, an ofuro (deep, wooden soaking tub), a table and chair set, plus an infrared sauna and steam shower. Through a sliding door, a private garden with onsen pools and an outdoor shower awaits. Enjoy unlimited spa treatments during your stay, including some that use the resort's own oil blends.
Explore
Quiet, sparsely populated Lanai has the vibe of a bygone Hawaii. It has no traffic, stoplights, chain stores or malls — just a tiny, nostalgic village. Most visitors choose Lanai for its slower pace, and they are charmed by the quietude. Koele requires a minimum stay of three days, which isn't quite enough to do everything; guests leave wishing they had stayed longer. Activities, on property and off, include a variety of fitness, yoga and meditation classes, personal training, sunrise hikes, snorkeling and diving expeditions, educational seminars, horseback riding, ATV adventures, art classes and a sunset cruise to Sweetheart Rock. Next door, a zip-line facility and adventure park built to disappear into the terrain invites adventurous play.
From $4,500 per night.
Contact David Emig, hotel manager, david.emig@fourseasons.com, +1 808 565 3132, fourseasons.com/koele Photos: Robb Aaron Gordon