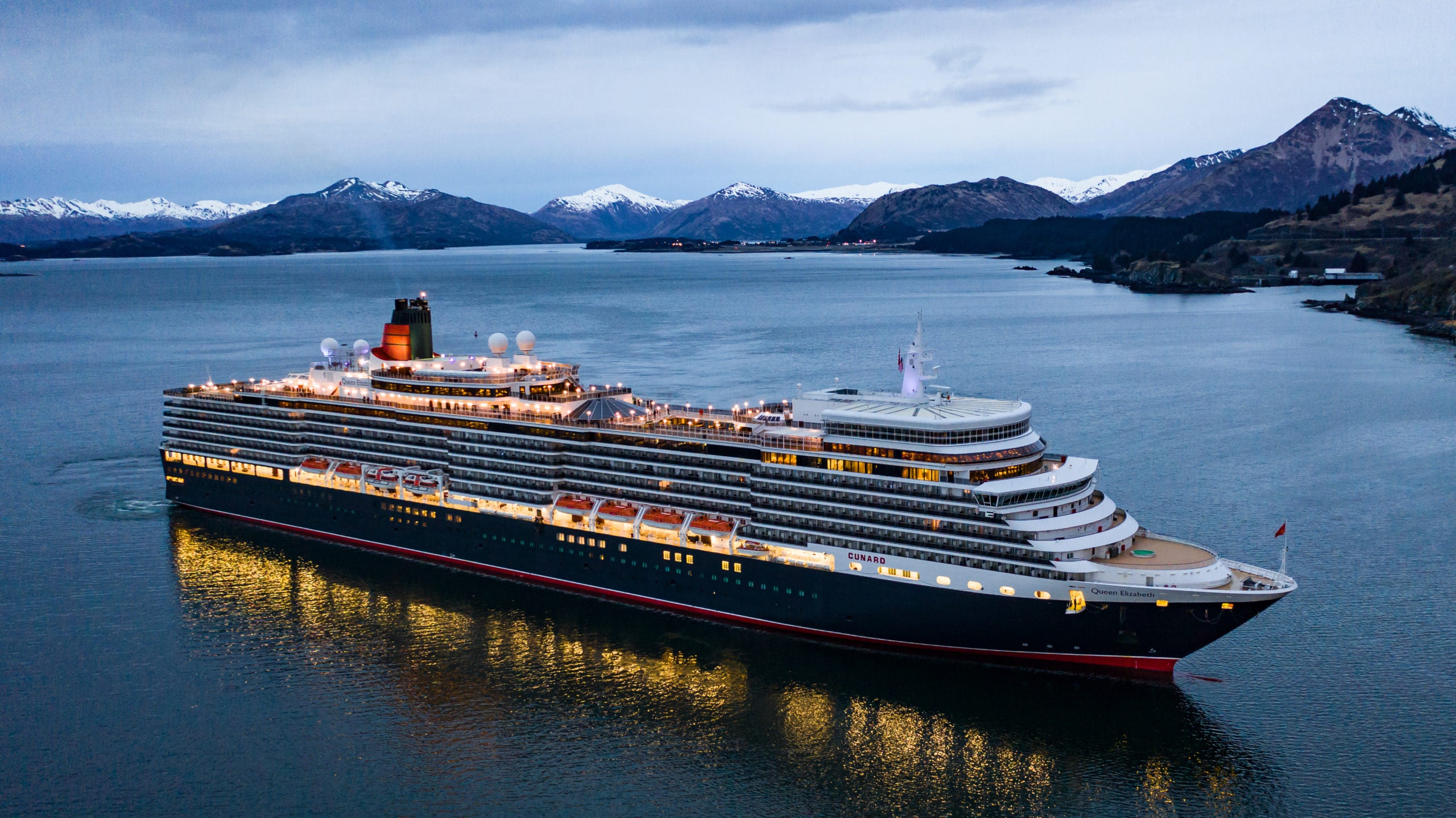 Cunard has returned to Alaska after a two-decades-long absence, and voyages aboard the cruise line's regal Queen Elizabeth prove that not all Alaskan cruises are created equal.
As the Queen Elizabeth floats in Disenchantment Bay, her majestic navy, white and red profile — all 965ft of it — is dramatically framed by the snow- and ice-capped ridges of Alaska's Saint Elias Mountains in the distance. Yet, all of the sightseeing passengers aboard the St Theodosius, an 84-ft, custom-built catamaran-style excursion vessel, are looking intently in the other direction.
Those sightseers, all of whom are in the midst of a 10-day cruise aboard the aforementioned ship during Cunard Line's first return season to Alaska after a 20-year absence, are instead enraptured by the sheer face of the Hubbard Glacier rising hundreds of feet above the water, only about half a mile away.
With a thunderous crack!, a sliver of the glacier's gradually advancing face breaks away and violently crashes into the frigid, ice-strewn waters below, as "oohs" and "ahhs" are murmured and digital cameras equipped with telephoto lenses quietly capture the scene.
An Alaskan cruise introduces travelers to a vast and largely untouched part of the world — even the port cities and neighboring towns conjure up a sense of pioneering adventure.
As cruisers embark on excursions along the Inside Passage to track down the region's brown bears, for example, they pass through villages that are home to only 700 year-round residents, which makes the larger voyage feel as if it's not just an expedition to a wild territory with dramatic terrain, but a journey back in time. And that makes Cunard the ideal cruise line for such an adventure.
The British-American company embraces and promotes its history — from its origins in the mid-19th century, through its affiliation with the White Star Line (of Titanic fame) to today.
With its Art Deco-inspired interior design, today's Queen Elizabeth transports guests to a bygone era. She reinforces that history with mandatory semi-formal attire in the evenings, big-band-led ballroom dancing, black-and-white and masquerade balls, Roaring Twenties-themed parties and afternoon tea service. The juxtaposition of Klondike adventures with costumed balls and their requisite pageantry makes for a dynamic, 10-day vacation.
"Even though we're getting more modern in a lot of things that we do and offer, we take guests back to an iconic age that is still with us," says Paul O'Loughlin, Queen Elizabeth's entertainment director. And in an area of the world where the bells and whistles of the digital age are less prevalent, that journey feels authentic.
It's also one worth taking — especially in 2020, as Cunard has secured permits to visit both the Hubbard Glacier and Glacier Bay, two protected destinations that rarely appear on the same cruise itinerary.
From $15,000 per person in Queens Grills Master Suite, cunard.com