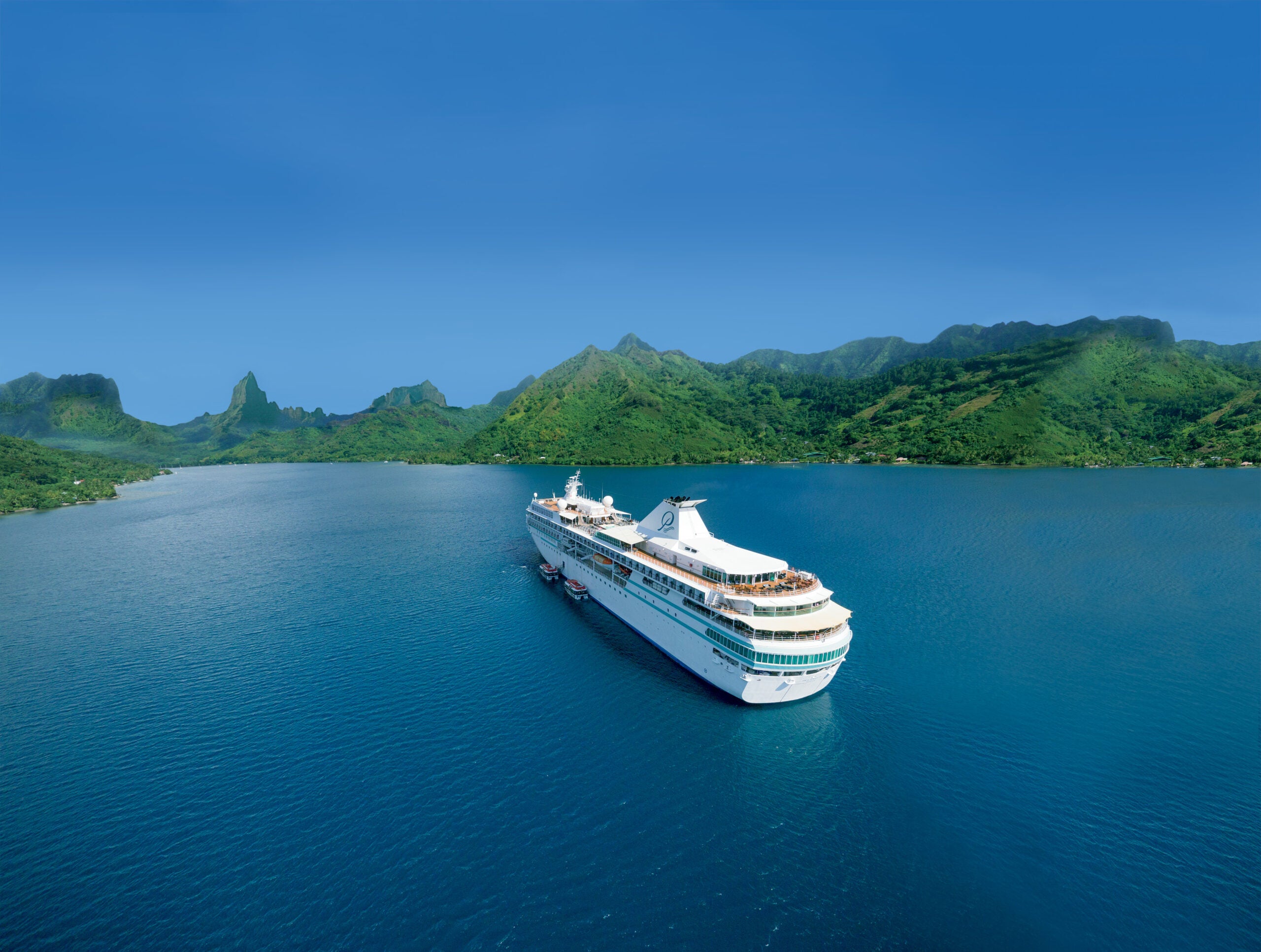 When you've already seen enough of the Caribbean or Europe, it's time to head down the road less traveled. There are plenty of luxury cruises that allow you to explore the most remote destinations on Earth without sacrificing on luxury. If adventure is something you cherish, read on for the best cruises in remote locations by river and ocean.
Paul Gauguin
South Pacific: Marquesas, Tuamotus & Society Islands
Spend two weeks cruising the South Pacific (Paul Gauguin's speciality) visiting the Marquesas, Tuamotus and Society Islands (which includes Tahiti, Bora Bora and a selection of other small islands). This specific itinerary is focused on discovery, from rainforests to pristine pink-sand beaches to rugged mountains. During the two-week cruise, you'll experience many on-shore excursions where you'll see rare birds, plants and crustaceans and large stone sculptures in Marquesas, as well as views of Mount Otemanu in Bora Bora. Discover ancient tribal lands, partake in watersports and, of course, enjoy all the on-board gourmet dining and cultural activities available to you.
From $7,795 per person, pgcruises.com
Lindblad Expeditions
Wild Galapagos and Peru Escape
As part of its Wild Escapes collection, Lindblad Expeditions is launching 11 shorter voyages that allow guests to experience wilderness, wellness and wonder. Each program is less than seven days and travels from tropical rainforests to the Sea of Cortez to the wilds of Alaska and beyond. The Wild Galapagos and Peru Escape on offer is particularly interesting: On this nine-day adventure, you'll start in Lima, Peru before spending two nights in the Sacred Valley. You will see Machu Picchu, Cusco, imperial capital of the Inca and then travel for five days to Galápagos, exploring both land and sea. This trip isn't for the faint hearted – enjoy walks, hikes, paddle boarding, kayaking and snorkeling. Available May, July, August, September, November and December 2019.
From $6,570 per person, expeditions.com
Crystal River Cruises
Grand Journey: Southeast Asia & Africa
To celebrate Crystal Cruises 30th anniversary, the cruise line has announced 30 new sailings in 2020 onboard its Ocean, River, Yacht and Expedition ships. Aboard the Crystal Symphony ship, sail from Bangkok to Cape Town for 75 nights. During this journey you'll visit Thailand, Vietnam, Singapore, Malaysia, Myanmar, Philippines, Sri Lanka, Seychelles and Africa. There's nothing more remote than cruising the South China Sea and Andaman Sea, the Malacca Strait or the Gulf of Thailand. Along the way you will also stop in the Maldives, Brunei, Mozambique and sail along the coast of Africa before disembarking in Cape Town.
From $23,360, crystalcruises.com 
Viking River Cruises
Egypt: Pharaohs & Pyramids
Aboard Viking's new luxury River ship, Viking Osiris, you will see some of the remaining wonders of the world sailing the Nile River. Though the river is beautiful, the real exploration happens when you disembark the ship. You will sail near Cairo and spend three days exploring city (including seeing the pyramids atop a camel's back through the desert) before visiting Luxor, Egypt on the east bank of the Nile, Qena, Esna, Aswan (known best for its spice marketplace), Edfu and back to Cairo. One of the most culturally vibrant cities in the region, this specific itinerary is not to be missed. There are only 41 staterooms, including the spacious Veranda suites – rest assured this cruise is incredibly private. And if it's a world cruise you're after, look no further than the Viking Sun.
From $4,899, vikingrivercruises.com 

Oceania Cruises
Alaska
Oceania Cruises is known for its Alaskan voyages and there are plenty to choose from this year, including Glaciers & Gardens (June 19), Wildlife & Frontiers (July 26) and Great Outdoors (August 6-14). These journeys through Alaska, hitting Ketchikan, Juneau, Skagway, Icy Strait Point, Sitka and Nanaimo, Canada. Expect the bluest of glaciers, including the Hubbard Glacier and those along the Inside Passage, as well as adventurous shore excursions, including exploring a glacier on foot and by helicopter. New and unique Alaskan experiences this summer including crabbing in the Bering Sea and kayaking Icy Strait Point (if just sailing near it isn't enough).
From $2,299 per person, oceaniacruises.com