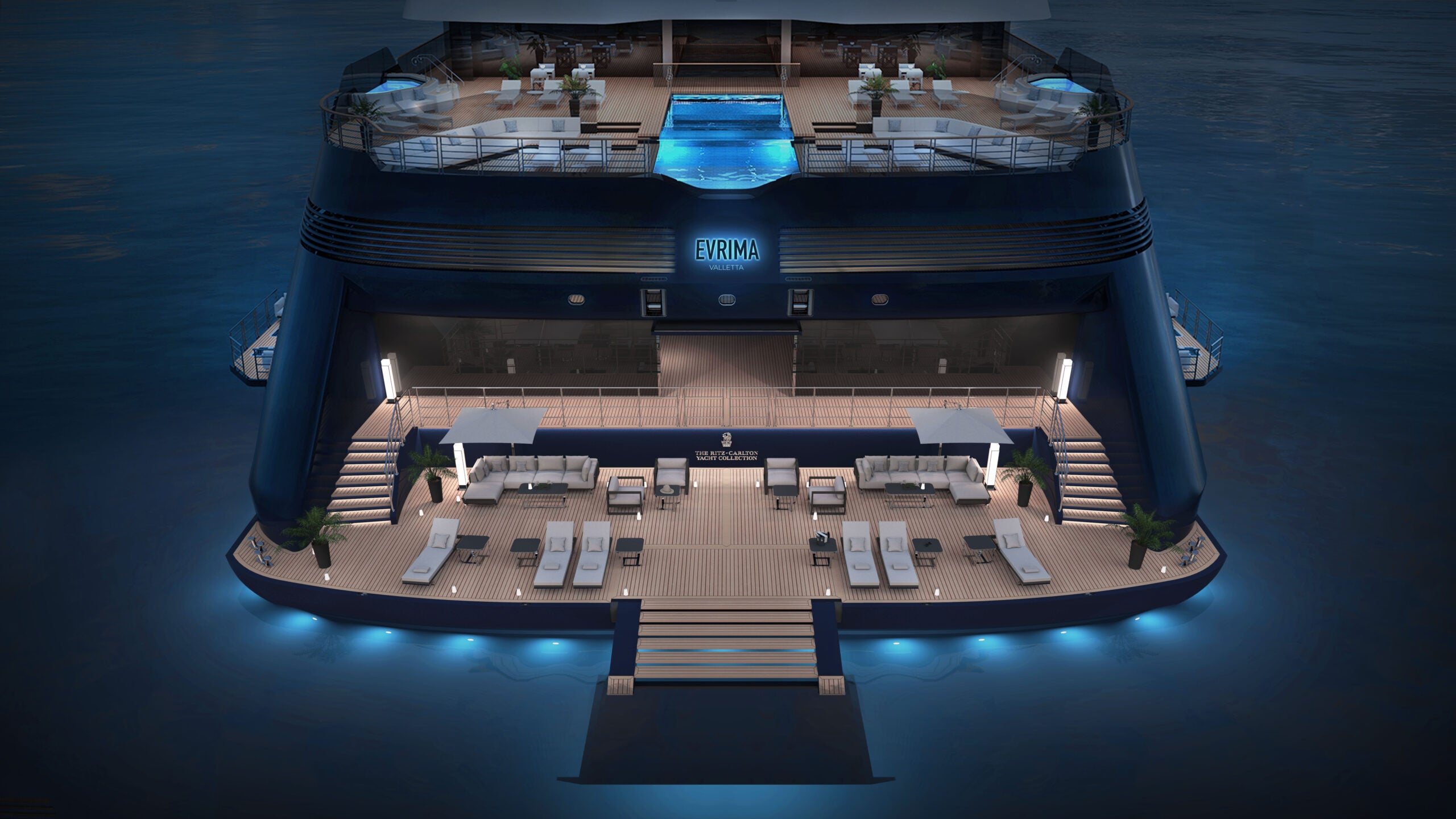 The Ritz-Carlton Yacht Collection sets sail on its maiden voyage in April 2021. The ambitious project, which will take one of the world's most renowned luxury hotel brands to sea for the first time, has been almost a decade in the making. Aboard the brand new 623-ft vessel Evrima, guests will enjoy a superyacht lifestyle and experience the five-star Ritz-Carlton service while traveling to the yachting capitals.
As CEO, Douglas Prothero has overseen The Ritz-Carlton Yacht Collection from the very beginning. With over 35 years in the maritime industry, he was well placed to deliver such an ambitious brief. Here, he speaks to Elite Traveler about his own experience in the maritime industry, his hopes for the Ritz-Carlton Yacht Collection, and why it is likely to thrive despite the Covid-19 pandemic.
You have over 35 years of experience in the maritime industry. Tell us a bit about your background and how it led to your current position.
Growing up, my family was involved in shipping and maritime activities, so I had access to the industry from a young age and have been a shipmaster since 1989. With over 35 years in the marine industry, I've developed, owned and run all facets of maritime businesses involving both commercial vessels and private yachts with lead responsibility for product development, ship design, construction and marine operations. During my time as a partner at a boutique investment bank, I established an extensive professional network through my work advising financing sources and ship owners. These relationships eventually presented me with the opportunity to found and develop The Ritz-Carlton Yacht Collection, which has been a project I've been dedicated to for over eight years.
What, in your eyes, defines a "typical" Ritz-Carlton experience and how will that be brought on board the yachts?
One of the hallmarks of The Ritz-Carlton experience is the unparalleled service of the Ladies and Gentlemen. The warm, anticipatory and thoughtful approach to hospitality will be an integral part of the journey. It will be one of the defining features that will set The Ritz-Carlton Yacht Collection apart and is something that makes us very proud.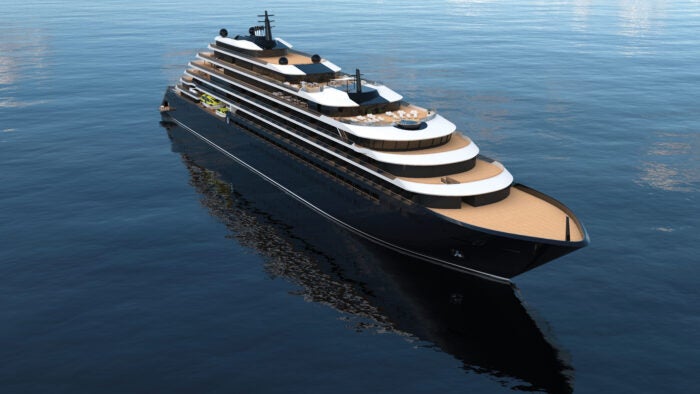 The Covid-19 pandemic has hit the cruise sector harder than most. Has there ever been any doubt about the project's launch in 2021?
We are making great progress and are looking forward to a timely completion well in time for the maiden voyage in April.
And what changes (if any) are you making to ensure the yachts meet any of the requirements that we are living by today?
With our first sailing departing on April 22, we have the benefit of time to fully understand the best practices within the industry and adapt the onboard protocols based on how the situation continues to evolve. The yacht was always designed to offer an intimate experience and has the advantage of one of the highest space ratios at sea which will allow us to ensure social distancing can be maintained across all areas. We will continue to monitor and follow the guidelines set forth by the Centers for Disease Control and Prevention and the World Health Organization, and are working closely with Public Health Consultants and our partners on the Marriott Global Cleanliness Council to evolve our sanitation efforts and guest interaction protocols as new and proven learnings arise.
Away from Covid-19, what are the biggest challenges you expect to face in the opening months?
Bringing a new experience to sea certainly comes with its challenges, but we embrace these as opportunities. With a brand such as The Ritz-Carlton, which is already synonymous with land-based luxury, guests know what to expect before they even step on board. This notion that we can bring people into cruising who would have never considered it before is very exciting – and also comes with extremely high expectations. Exceeding those expectations in the opening months and beyond is our opportunity, and we look forward to offering guests a new and unique way to experience the brand and explore the world for years to come.
For a loyal Ritz-Carlton customer, who regularly stays at your resorts and loves the service, why would they choose a Ritz-Carlton cruise over a stay at their favorite resort? 
The Ritz-Carlton Yacht Collection blends the best of both worlds, combining the lifestyle of the resorts of The Ritz-Carlton with the casual freedom of a yachting lifestyle vacation. The onboard experience will reflect the comfort and unparalleled level of individualized service for which the brand is recognized. Translating that experience to sea will mean travelers will enjoy exploration of a range of destinations, and each itinerary will feature unique programming, inviting guests to wholly explore many vibrant cultures.
And for the regular cruiser who currently travels with your soon-to-be competitors, what will convince them to go on a Ritz-Carlton cruise instead?
All elements of The Ritz-Carlton Yacht Collection were designed to place us in a new space within the industry. The onboard guest experience will pave the way for a new era of cruising and is central to everything we are creating. Among the highest in the industry, the staff to guest ratio will create a more personalized journey and allow travelers to make the most of their yachting experience. Additionally, Evrima's smaller size will create a more residential feel, with suites boasting floor to ceiling windows and greater ceiling heights resulting in flowing, spacious accommodations.
It is important to also mention our itineraries. Evrima will stop at both intimate and signature destinations and shore excursion tracks have been thematically crafted so guests can easily pick a category that fits their interests and activity levels. All shore excursions take advantage of local guides who have been handpicked for their insider knowledge, ensuring a highly personalized journey while exploring each destination. Additionally, our intimate ship size means we can sail right into city harbors, while others may be anchored offshore, and with a relaxed pace, there is ample time for our guests to enjoy each port.
Is there any part of the Ritz-Carlton Yacht Collection that you are particularly excited to share with the world? 
All aspects of the guest experience have been a labor of love. I am particularly excited about the design and the onboard experience. We have put so much attention and care into curating what will be entirely unique within the industry and we are so looking forward to welcoming guests onboard to enjoy it all firsthand.
If you could travel on just one of The Ritz-Carlton Yacht Collection itineraries, which one would you personally choose and why?
Each season has itineraries designed around an amazing range of destinations and with our guests in mind so this is a tough question! Our 2021 season offers ports-of-call in the Greek Isles, Azores, and St. Barts to name a few, while our newly released 2022 season offers opportunities to explore the Bahamas, Morocco, the yachting playgrounds of the French Riviera and extended time in the Mediterranean to visit Istanbul and Jerusalem. I would be remiss to not highlight the beautiful Saint Lawrence region and our Canada / New England series of voyages. The scenery is incredible and these include so many culturally rich seaports such as Montréal, Québec, Halifax and Boston along with truly unique small port calls like Tadoussac, Louisbourg and Lunenburg.
ritzcarltonyachtcollection.com