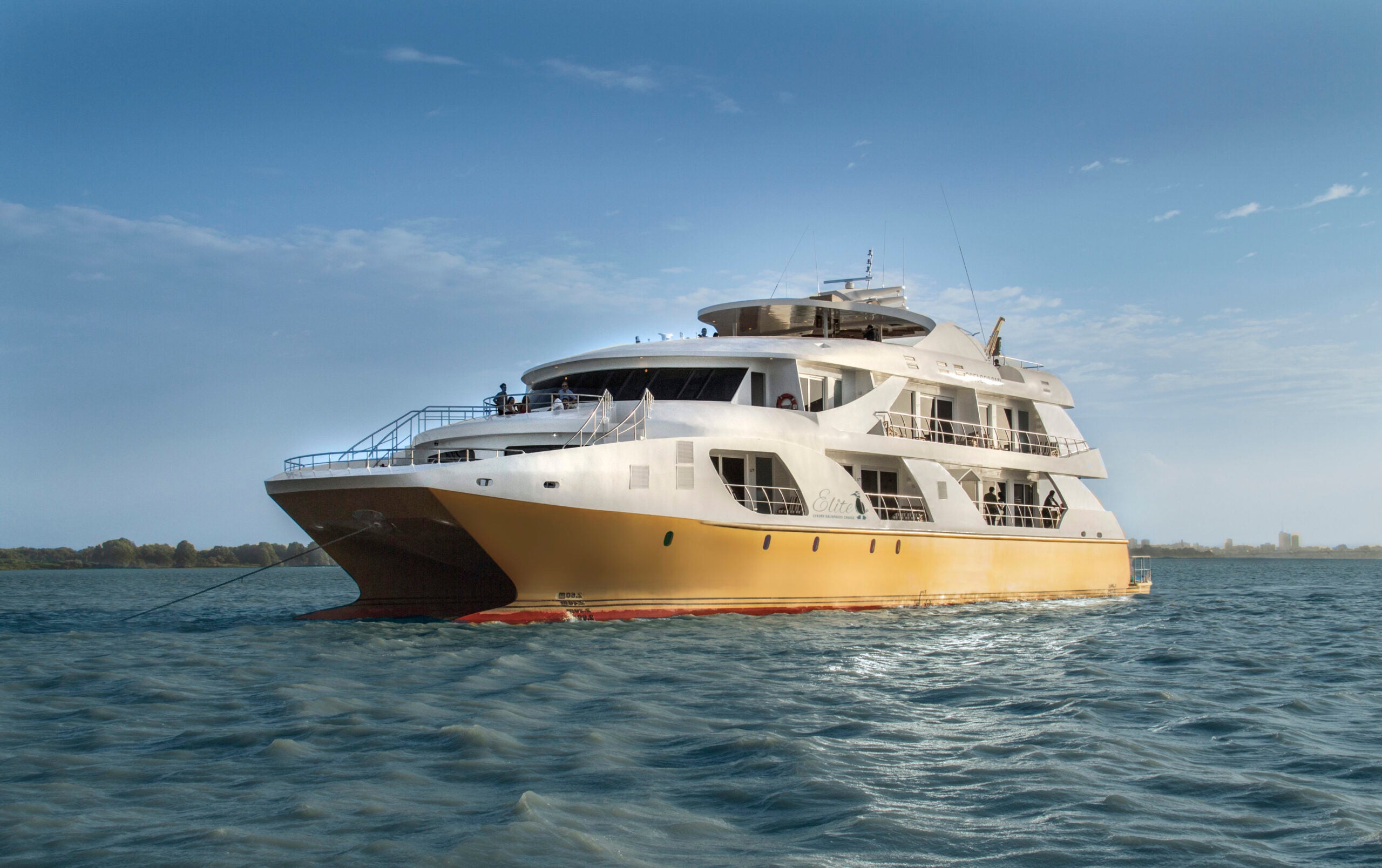 Golden Galapagos Cruises has responded to the growing demand for luxury cruises to the Pacific archipelago by introducing a state-of-the-art mega catamaran called the 'Elite'.
The Ecuadorian boutique cruises and tour operator expands its fleet of luxury ships at the perfect time after winning the coveted Achievement Award by the Latin American Travel Association (LATA).
The 123-foot Elite has just eight ocean-view suites and a capacity of 16 passengers. The sleek, twin-hulled catamaran has a semi-covered sky deck on which multi-course dinners will be served al fresco. There is also a bar and Jacuzzi sun terrace for cocktails and a BBQ after a day of exploration.
Golden Galapagos Cruises have experienced huge demand since launching its first Galapagos Island itineraries in July last year. The Endemic, a 115-foot ship, was one of the first luxury cruise ships to operate in the world-famous nature reserve.
Tourism around the Unesco world heritage site is strictly regulated with only a handful of commercial ships allowed each season. Its awe-inspiring biodiversity and multiple species of wildlife are rightly considered to be a precious natural wonder.
Together, the Endemic and the Elite make up the most modern luxury vessels to sail around the archipelago. Each has a dedicated cruise service officer who takes care of the guest's individual requirements while on board. In addition, an experienced nature guide leads the exciting group excursions. This may include visits to lava fields or snorkeling around coral reefs.
The boats themselves are also the height of luxury. Each suite comes with floor-to-ceiling windows to ensure the spectacular views are never far away. The local crew are hand-selected and, with a guest to staff ratio of 1:1, satisfaction is more-or-less a guarantee.
The company was recently rewarded for its environmental efforts by LATA. The Achievement Award for Cruise Operator of the Year was a recognition of the company's commitment to high-quality cruising and reducing plastic water bottle usage by 25,000 bottles in just over nine months.
For more information, visit goldengalapagoscruises.com