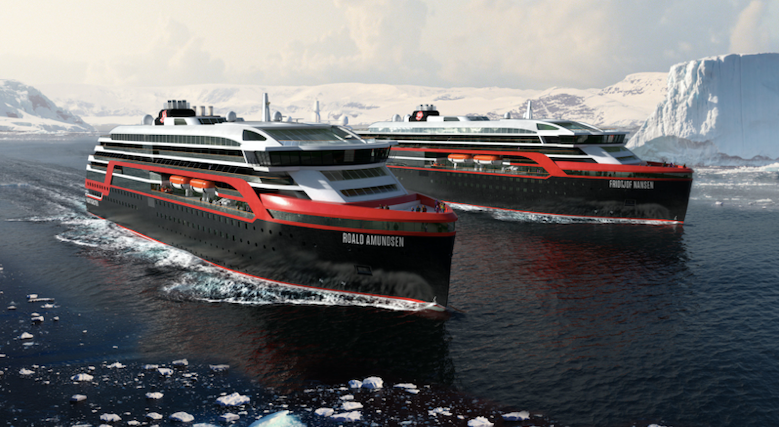 Norway-based exploration company Hurtigruten is committed to bringing eco-friendly expedition cruising to the high seas. In late 2019, the company (which offers both cruise itineraries and on-land adventures) launched the world's first hybrid expedition ship, MS Roald Amundsen, which uses electric propulsion and low-sulfur diesel fuel as a backup, cutting emissions up to 20 percent.
At the end of this year, her near-identical sister ship, MS Fridtjof Nansen, will launch and travel to several polar and arctic regions, such as: Antarctica, Patagonia, the Falklands, Greenland, Iceland, the Norwegian fjords and parts of western Europe.
True to their Scandinavian heritage, the ships have minimalist interiors with natural materials, and there are chic fireplaces in common areas. Each ship can host up to 530 guests, and many of the spacious suites have private balconies and outdoor hot tubs.
The three restaurants serve Nordic cuisine, and there's a wellness center; outdoor observation deck with an infinity pool and hot tub to watch the Northern Lights; and custom-built adventure equipment. There's even a scientific discovery center where guests can learn more about wildlife, research and the local culture.