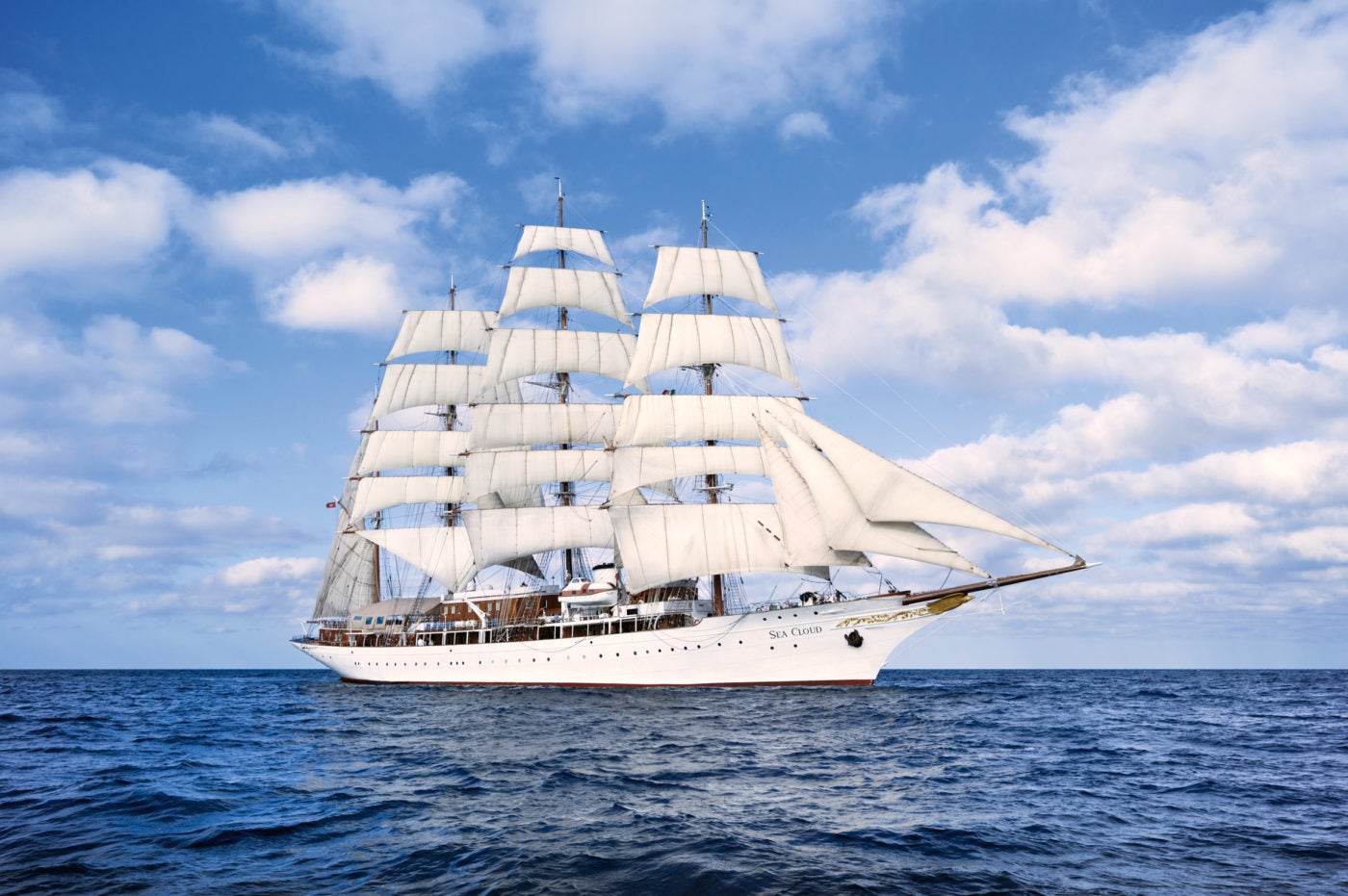 [Editor's Note: The Sea Cloud Spirit's production and launch has been delayed due to the Covid-19 crisis. Once it is built, the ship will remain in the Canary Islands until April 2021, and guests are able to book winter vacations on the ship.]
 Travel back to the golden age of sailing when masted sailboats with grand, white sails and wooden decks dominated the high seas. Unlike today's motor yachts and cruise ship companies, Sea Cloud Cruises operates passenger sailing ships that are rigged and sailed completely by hand, without compromising on modern-day luxuries.
In fact, the company's first ship, Sea Cloud, is a relic of the past; the ship was first built in 1931 for American businesswoman and socialite Marjorie Merriweather Post and her financier husband, Edward F Hutton, as the largest private yacht in the world. Sea Cloud Cruises currently sails Sea Cloud and Sea Cloud II, and will be launching a third ship, Sea Cloud Spirit, that will set sail in August.
Despite Sea Cloud Spirit's elegant, old-world features, the three-masted, fully rigged ship feels like a luxury yacht once you're onboard. There are 69 cabins, including three Owner's Suites, all traditionally outfitted with dark, lacquered wood, red-and-yellow furnishings, ample lounge space and plenty of natural light from oversized windows.
The ship has a spacious lounge and library; fine-dining restaurant with a 180-degree panoramic view of the ocean; bar and bistro; sun deck with loungers; boutique; spa with two treatment rooms, a Finnish sauna, steam bath, beauty parlor and salon; fitness room; swim platform with water sports; and four Zodiacs for day excursions. There is a crew of 85, so exceptional service is guaranteed. Both casual and fine-dining options are available, each with a strong focus on fresh and organic food from local suppliers. And though the ships are elegant enough to host black-tie affairs, there is, refreshingly, a casual dress code.
Sea Cloud Spirit prides itself on its eco-friendly offerings: When sailing isn't possible, the ship relies on environmentally conscious diesel-electric drives, which use low-sulfur marine diesel in place of heavy oils. And because of its size, Sea Cloud Spirit can travel to smaller, less-frequented ports in Nicaragua, Honduras, Belize, Costa Rica, Panama and throughout Europe. The inaugural sail this August will take you to the western Mediterranean for a 13-night voyage, and future trips will sail to the South of France, Spain, Morocco, the Canary Islands and the Caribbean.