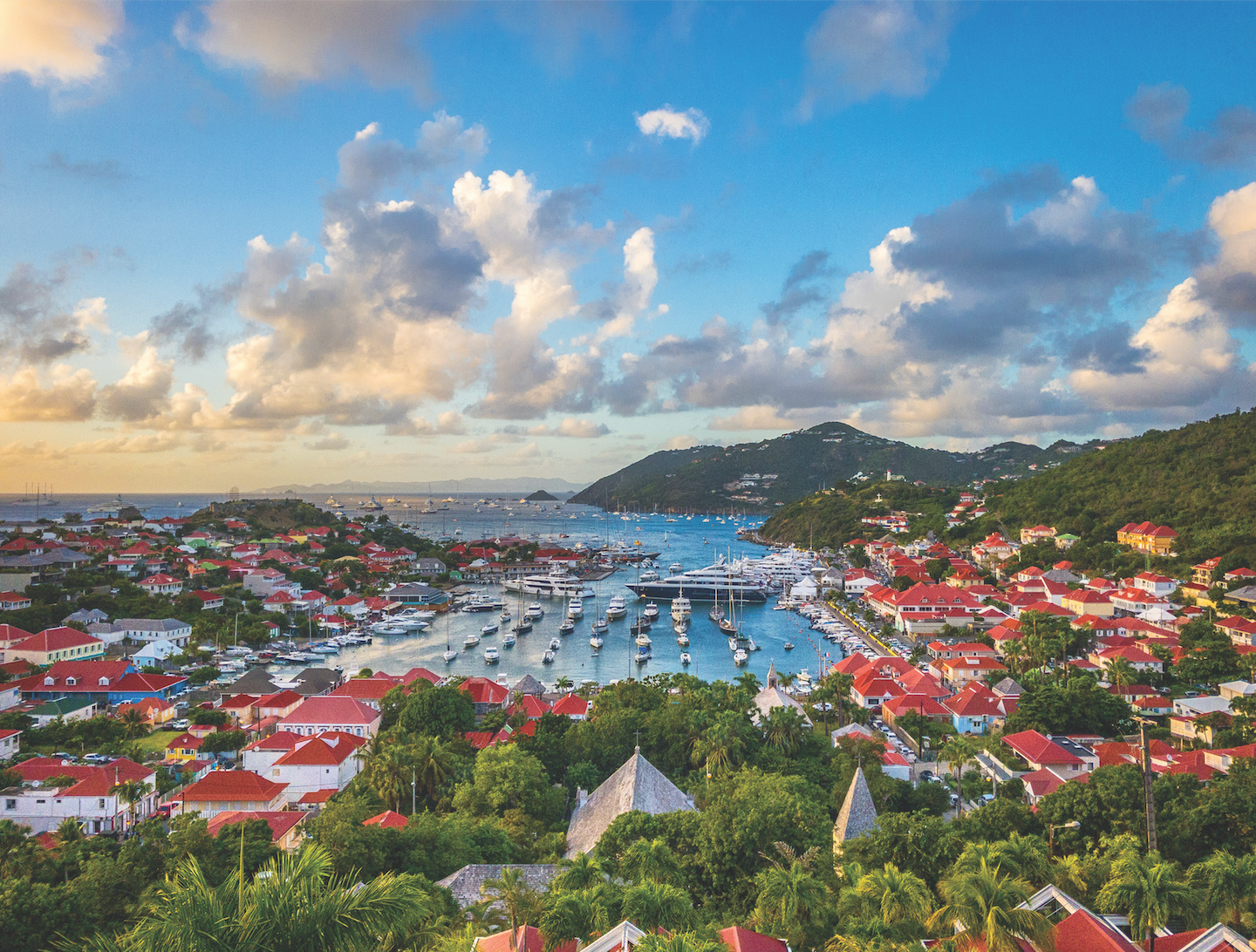 St Barths has long been touted as the ultimate winter escape, an exclusive playground to which the rich and famous flock year after year. It's a see-and-be-seen kind of place that attracts fashionable crowds from all over the world.
From the moment you step foot on the island, you'll feel like you've joined one of the world's most exclusive clubs. Yet behind the superyachts that dominate the marina and nightly soirées that don't stop until the sun rises, lies an island with a classic, laissez-faire Caribbean attitude and feet-in-the-sand luxury.
It's a place where designer-clad glitterati and French-speaking locals sit side-by-side in shoes-optional, beachside restaurants, and where renting a car or Mini Moke is a requirement for exploring every coast, beach and cliff on the eight-square-mile island.
Hurricane Irma devastated the island in 2017 — the island's crown jewel hotel, Eden Rock, will reopen at the end of this year — but it has bounced back with beautifully reimagined hotels, restaurants and villas.
There's no better time than now to visit St Barths and marvel at its glamorous party scene and natural beauty, from the Jurassic Park-esque mountainscapes and pristine beaches to St Jean's splashy clubs and out-of-this-world, French- Caribbean cuisine.
Getting There
After landing in St Maarten or Puerto Rico, take a puddle jumper to St Barths' Gustaf III Airport (no large passenger planes, private planes included, can land on its 2,170-ft runway — one of the shortest runways possible).
It's touted as one of the most hair-raising landings on the planet: As the pilot turns off the engine as you coast through two peaks, the propellers guiding you down to safety just feet from St Jean Beach.
tradewind.com, stbarthscommuter.com, winair.com
Beach Bites
Unlike most resort-bound Caribbean vacations, the culture of St Barths is best discovered through its endless epicurean delights. One of the swankiest dinner spots is Bonito St Barth, perched just above Gustavia with whitewashed, Hamptons-meets-St- Tropez decor. It's best known for inventive cocktails and delectable truffle ceviche, with an upscale ambience and upbeat music.
On the other side of Gustavia, French-Caribbean Maya's attracts the who's who of the island, though you'd never expect it due to its tucked-away location. If you can't make it here for dinner, stop by Maya's To Go across from the airport for sandwiches and frîtes to take to the beach.
Locals consider Sante Fe their best-kept secret — come for the dover sole, clams and grilled langouste (spiny lobster) caught daily. Set along the road to Gouverneur Beach, its quaint Caribbean vibe and sublimely understated colonial decor transport you to the island's early days.
A can't-miss, Italian haunt, L'Isola, wouldn't be out of place in Rome, where the chef is from. But if you're looking for something more casual, try sister restaurant L'Isoletta, a quick-fix for alfresco pizza (some say the best on the island) and people-watching in Gustavia.
To enjoy the true island spirit, the half-outdoor L'Esprit, an island mainstay for more than 20 years, is both romantic and tasty — you can't go wrong with the veal, pigeon or mahi-mahi. Just down the street, tiki-torch-lit Tamarin transports you to a rain forest.
Teak walkways guide you to your private table as you stargaze between bites. If it's sushi you're after, it has to be Baz Bar. Overlooking Gustavia harbor, the restaurant has live music every night — it's not uncommon to see Jimmy Buffett or Jon Bon Jovi take the stage to perform in this intimate venue after dinner. While there, order Baz's Roy's Special roll. A night of rock 'n' roll indeed.
Photos: Guirec Pouliquen, Romeo Balancourt
Island Life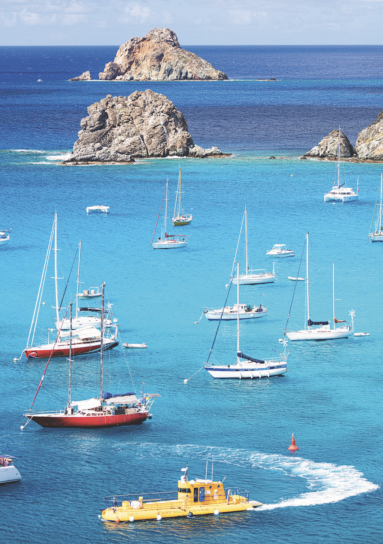 Charter a Private Boat
To see the island in all its glory, have your villa or hotel concierge set up a private catamaran or yacht rental for a day of fishing, diving or snorkeling in the surrounding turquoise waters. There are plenty of reefs with flourishing marine life around the island, including Colombier Beach (which is only accessible via a half-hour hike or boat), as well as just off the shore of Shell Beach.
Watersports
Each side of the island offers different activities in the crystal-clear water. St Jean is ideal for beginner kitesurfing and leisurely paddleboarding; beginner surfers head to Lorient and Anse de Cayes (there's a small surf school on Lorient where you can take private lessons); and Pointe Milou, Petite Anse and Anse Toiny are where the serious surfers come to play. Spend a day deep-sea fishing, snorkel or rent jet skis and cruise the perimeter of the island.
Shopping
St Barths has classic luxury shops from Hermès to Cartier, but it's the local style and flair that bring a certain je ne sais quoi to the island. St Barths style is nothing without Poupette, known for printed silk dresses that must be worn for a day of dancing at Nikki Beach. Or, spend sunny days lounging in gauzy sets from Sunday's paired with a colorful straw bag.
Lolita Jaca's beach cover-ups and kimonos with handmade beaded details are a dream. Hartford carries the quintessential men's St Barths uniform: soft linen shirts and brightly colored pants. Be sure to take home a piece of St Barths from Donalé, a French-Caribbean home decor store, or exclusive pieces from Clic.
Party
The table-dancing tales are true: St Barths is a place where everyone lets loose, and even the most unassuming folk will get swept up in the hedonistic frenzy. Nikki Beach St Barth is a terrific party on the island, as is Le Ti, a restaurant that starts with a burlesque show, then becomes an all-out party after dinner.
Bagatelle is perfect for dinner, but the real party starts around 11pm, when you'll see bottle-service performances and magnums of Dom Pérignon poured more frequently than water.
For later nights, Casa (Nikki Beach's Gustavia outpost) is open until 5am, and St Jean's intimate Modjo nightclub is known to party into the wee hours of the morning.
Villa Vacation
Villa Wake Up
Villa Wake Up Unlike most villas on the island, the 16,145-sq-ft Wake Up has direct beach access from its prime location just off Flamands Beach. It has three levels with six bedrooms, living area, kitchen, office, cinema, sauna and hammam, massage room, gym, staff quarters and a courtyard screen for watching movies under the stars. The ultra-modern decor features a calming color palette of neutrals and dark, smoothed wood, all complemented by marble and travertine. Artwork by local St Barth artist Kay Quattrocchi hangs throughout.
Weekly rate from $150,000.
Contact Wimco, Stiles Bennet, president, stiles@wimco.com, +1 401 849 8012, wimco.com
Palmier Royal Estate
This sprawling 13-bedroom estate is without question the largest and most opulent villa on the island — if you can even call it just a villa. Located within a private gated neighborhood, Mont Jean, it's a three-part compound with three pools, mountaintop views and direct beach access via a private road. The first compound has two master bedrooms, two kids' rooms, a kids' pool, staff quarters and a kitchen, while the second compound contains the spacious living area and kitchen (including an alfresco dining table). Finally, the third has two master bedrooms, two king bedrooms and a gazebo with ocean vistas. Each is connected through greenery-lined pathways.
Weekly rate from $200,000.
Contact St Barths Properties, Peg Walsh, president, pegwalsh@stbarth.com, +1 508 528 7727, stbarth.com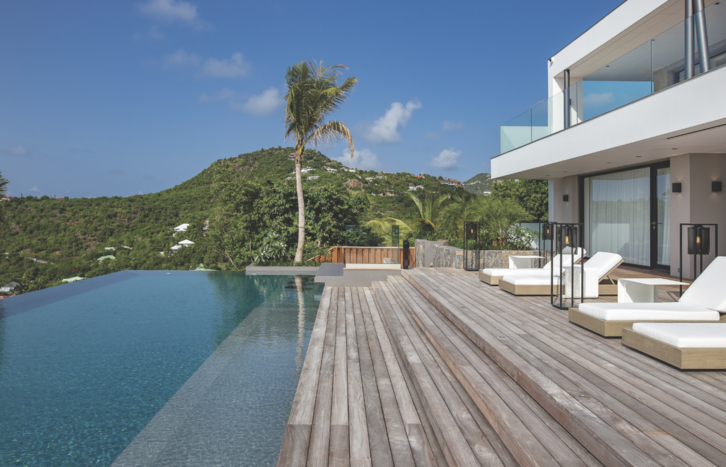 Villa Neo
Tucked in the hills overlooking Baie de St Jean, Villa Neo is a contemporary six-bedroom villa split into two stories with some of the best views on the island. It's available through Eden Rock Villa Rental, meaning you can access Eden Rock hotel amenities, such as the Jean-Georges Sand Bar and priority access to its private beachfront. It's hard to imagine you'll ever need to leave though, with a 108-ft infinity pool, hammam, cinema, gym and even a private nightclub. But if you get a little stir crazy, have your butler book you a beach or boat picnic at the secluded Colombier Beach.
Weekly rate from $125,000.
Contact Eden Rock Villa Rental, Marie-Gabrielle Berthelot, reservations manager, mariegabrielle.berthelot@oetkercollection.com, +590 590 29 79 99, edenrockvillarental.com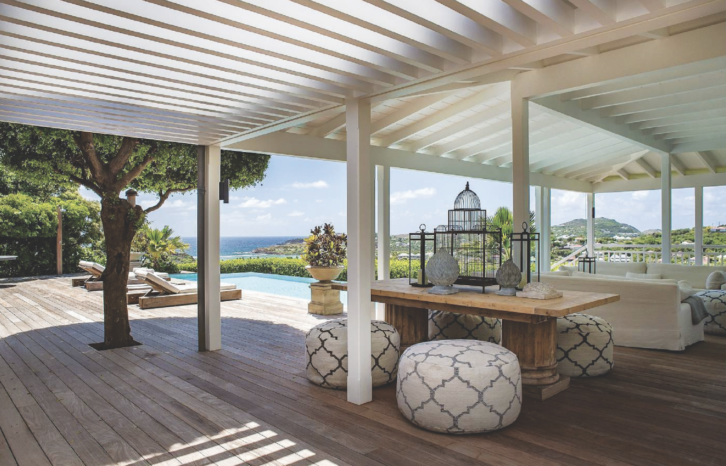 Photos: Wimco Villas, Laurent Benoit
Haute Hotels
La Villa
Hotel Le Toiny
Opened in 1992, Hotel Le Toiny, a Relais & Châteaux property, is a St Barths favorite for those who seek a more relaxed visit to this energetic island. Continually reinventing itself, the hotel underwent a renovation post-hurricane that welcomed an eight-suite expansion and brand-new beach restaurant, while still keeping the same simplistic elegance for which the property is so revered.
Offering the seclusion of a private villa, but with access to the hotel's luxe amenities, La Villa is replete with neutral wood, stark white linens and views of Toiny Beach.
From $4,630 per night.
Contact Magali Marin, reservation manager, reservations@letoiny.com, +590 590 278 888, letoiny.com
Villa Aqua and Villa Bleu
Le Barthélemy Hotel & Spa
Le Barthélemy calls the nearly uninhabited nature reserve of Grand Cul du Sac home, trading splashy crowds for beachside seclusion. The hotel is one of the newer on the island, and after the hurricane, it revealed refreshed interiors, a new spa and Villas Aqua and Bleu. You can rent the villas separately, or combine them to create a dreamy compound.
Each villa has two master suites on the top level (each with its own staircase) and four bedrooms on the main floor. An entertainment area, kitchen and living room face out to each villa's terrace and 55-ft lap pool.
From $121,000 per week for exclusive use.
Contact Claire Hillau, director of sales and marketing, chillau@lebarth.com, +590 590 774 848, lebarthelemyhotel.com
Beach Suite
Cheval Blanc St Barth – Isle de France
From the moment you arrive at Cheval Blanc on Flamands Beach tranquility sets in. French designer Jacques Grange reimagined the property after Irma's devastating damage with 41 rooms and suites (another 20 suites will open later this year).
The 1,300-sq-ft Beach Suite is awash in neutral woods, and it mimics the surrounding island scenery with rattan furniture, breezy cottons and hints of blue the exact color of the sea. Lounge on your private terrace near tropical flora or in your infinity pool while gazing at panoramic ocean views. The suite opens directly onto the beach and is ideal for those seeking complete privacy.
From $9,080 per night.
Contact info.stbarth@chevalblanc.com, +590 590 27 61 81, chevalblanc.com
Photos: laurentbenoit.com, V.MATI
Eleven Ways to Act Like a Local
1 – Watch the planes land and take off every 15 minutes from your post on St Jean Beach
2 – Watch the Les Voiles de St Barth and the St Barths Bucket regattas in March and April — the island's most sought-after sailing events each year
3 – Visit Villa Marie's colonial-style restaurant, François Plantation, which has one of the best wine lists on the island
4 – Hike the mile-long Washing Machine trail off Grand Fond alongside the churning surf on a cliff's edge. A dip in a natural tidal pool is your reward at the end
5 – Stop by Le Select for an ice-cold Carib beer and a burger after a stroll around the marina
6 – Indulge in Le Sereno's outdoor spa treatment room that faces the ocean
7 – Spend a day at Gouverneur Beach, an untouched haven that's a favorite among locals
8 – No morning is complete without a boulangerie trip for an espresso and baguette with Nutella — we love Gustavia's Boulangerie Choisy
9 – Sip a mojito at Shell Beach's Shellona for sunset happy hour
10 – Go cliff jumping by swimming five minutes along Shell Beach's rocky cliffs until you reach a rope ladder — the swim is as exhilarating as the jump
11 – Enjoy light bites from Chef Nicolas Tissier's menu at Hotel Christopher's Mango Restaurant, the hotel's chic lunch option
This story originally appeared in the Spring 2019 issue of Elite Traveler