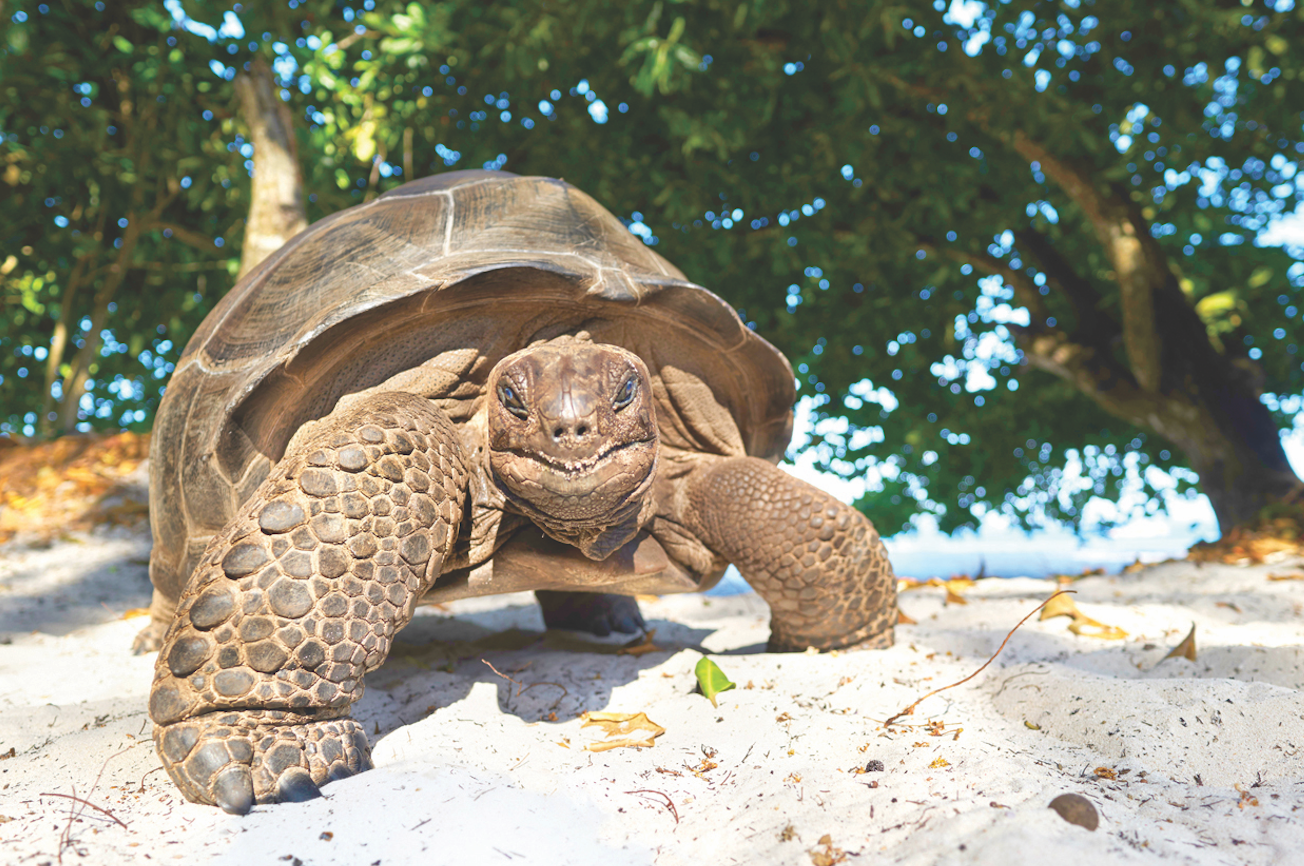 Of the 115 islands in the Seychelles, just four are inhabited, and the majority are so minute that you have to zoom in on Google Maps just to see them. But these archipelagos dotted throughout the Indian Ocean are utterly spellbinding: volcanic rock dating back hundreds of millions of years; thick, lush rain forest; jagged mountains; granitic boulders; and impossibly perfect beaches with rolling waves and a salty tang in the air. The wild, rugged coastlines will capture your heart, as will the laid-back and ultra-friendly locals.
Mahé is the largest (and busiest) island and is a great base for exploring the other, quieter islands and enchanting beaches. Each island has its own microclimate, but there's never a bad time to go; the temperature hovers around 86 degrees year round. Rain clouds encircle the tops of the mountains, creating misty halos around the peaks; they'll occasionally venture down for a quick downpour and, if you're lucky, an epic lightning show.
The four islands that are inhabited by humans still reserve over 90 percent of the land for vegetation and wildlife. There are crabs as big as your forearm scuttling around at night, grey herons fishing, endemic birds soaring through the sky, as well as friendly Aldabra giant tortoises and hawksbill turtles roaming the forests and beaches (seeing these turtles hatch is a once-in-a-lifetime experience).
While the inhabited islands are everything you'd expect from a paradise island, what's truly interesting and rather impressive is the country's strong conversation efforts — the government of Seychelles has chosen to uphold sustainability and conservation above tourism. Many resorts bottle their own water, use sustainable energy and are committed to protecting the country's wildlife. In fact, over half of the total land area is under natural conservation (a world record) so you can be sure your dollars are going to a great cause, helping to preserve this authentically beautiful paradise.
Creole Cuisine
The Seychelles is a vibrant merging of different cultures — African, British, French, Indian and Chinese — and as a result, the cuisine is a unique Creole blend with flavors taken from each place. Of course, the fish is as fresh as can be and flavored with spices grown on the island. Salted fish, or pwason sale, is a local favorite. On Mahé, locals and tourists alike head to Marie Antoinette — it is so beloved it was named a national monument.
This is as traditional as you can get: The restaurant opened in 1972 and still has the same menu. Order the fish stew or chicken curry with some crispy eggplant fritters. La Grande Maison, also on Mahé, serves scrumptious dishes surrounded by lush flora and fauna with a side of live music. It is located within the Takamaka Rum Distillery on a 230-year-old sugar plantation, so rum is often used in the cuisine: juicy prawns in rum sauce and yellowfin tuna in white rum. For something really authentic, order the fruit bat curry.
Activities
Head for the Hills
The undulating landscapes are calling to be explored. There are different levels of difficulty depending on where you choose to climb, but you'll be rewarded with exceptional views everywhere. Pack your hiking boots and plenty of bug spray and set off on an adventure — catch the morning sunrise or watch the sky turn various shades of pink at sunset.
Silhouette Island is one of the larger islands, and approximately 95 percent of it is jungle and wildlife. It has five peaks soaring over 1,600 ft, but there is also a relatively short one-hour hike on the island. Head off with your expert guide from the Hilton Seychelles Labriz Resort & Spa to see the vegetation and stand on the only volcanic rock in the Seychelles, while learning about the island's history.
On Mahé, the two trails to hit are both in Victoria, the small capital. The Copolia Trail takes the best part of two hours to reach the summit and is fairly easy. The view is breathtaking; you'll feel like you're on top of the world. The Morne Blanc trail is more challenging: It begins at a tea factory and winds up to a peak where you'll be rewarded for your efforts with a spectacular panoramic view.
Beachy Keen
Perhaps the biggest draw of the Seychelles is its pristine beaches — but every picture you've seen doesn't quite do them justice. On La Digue Island you'll find one of the most gorgeous beaches in the world: Anse Source d'Argent. Imposing boulders, lush palm trees and crystal waters will have you feeling suitably Robinson Crusoe-esque, hardly surprising as the 1988 movie Crusoe was filmed here. Those after something more active should head to Anse Intendance on Mahé Island — it's not safe for swimming but has excellent surf conditions.
Gone Fishing
Take a 60-minute seaplane ride from Mahé to Alphonse Island, a remote hideaway in the Outer Islands that is one of the country's fishing hot spots. The atolls of the Alphonse Group provide a heavenly setting for any serious fly fisher: 10,000 acres of
hard white-sand flats make for easy wading and unbeatable sight-fishing. The atolls are home to the largest bone fisheries in the world, as well as various species of triggerfish, barracuda, snapper, grouper, permit, parrotfish, eight species of trevally (including the giant trevally) and milkfish. Alphonse Island has eight full-time fly fishing guides who have an incomparable wealth of knowledge. You can also opt for a game fishing adventure and hunt for sailfish, wahoo, dogtooth tuna, yellowfin tuna and dorado —
if you succeed, the chef will prepare your catch for your dinner.
Beach villa from $5,495 per night. Contact Olesia Driuk, reservations, bookings@alphonse-island.com, +27 824 964 570, alphonse-island.com
Island Hopping
Fregate Island
Fregate Island has a sterling reputation with good reason: Its biggest success story is bringing the Seychelles magpie-robin back from the brink of extinction and maintaining the natural habitat for the Aldabra giant tortoises — there are over 3,000 on the island. The entire island with its 16 villas is available for exclusive use; we recommend the Banyan Hill Estate. It is actually three one-bedroom villas, each with its own private veranda, set on a private peninsula. The entire estate comprises 11,840 sq ft, including a vast, open-plan living space and private infinity pool.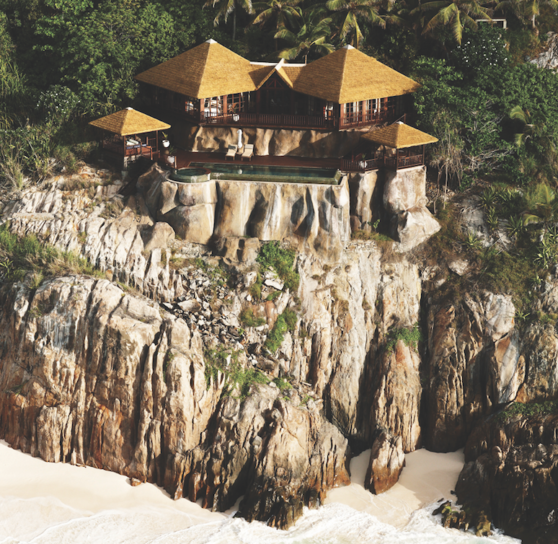 Banyan Hill Estate from $16,500 per night. Contact Arta Rozefelde, resort manager, welcome@fregate.com, +49 722 1900 8071 , fregate.com
Desroches Island
Part of the Outer Islands, Desroches Island is a short seaplane flight away from Mahé. Four Seasons Resort Seychelles is the only building on the island (except for the conservation center), and is the epitome of paradise. While the resort is available for full buyouts, the Seven-bedroom Presidential Villa is so expansive that it can comfortably host 16 guests: It has seven bedrooms spread across three villas, seven full bathrooms and separate outdoor showers, a private gym, three swimming pools and soul-soothing views of the ocean.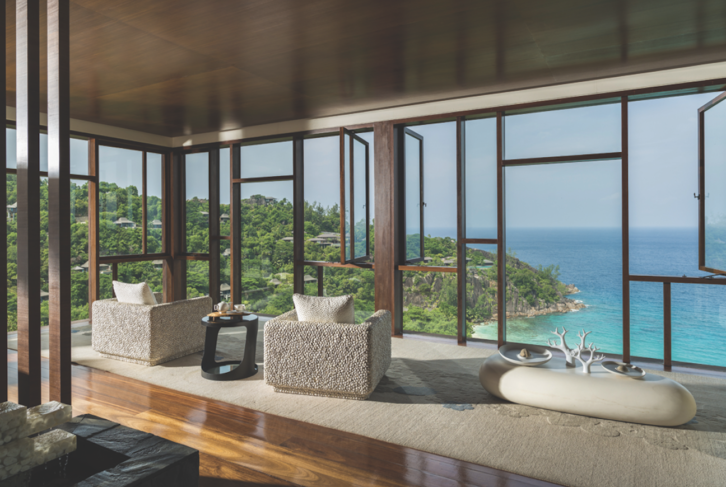 Seven-bedroom Presidential Villa from $8,975. Contact Nick Solomon, resort manager, reservations.sdi@ fourseasons.com, +24 842 294 00, fourseasons.com
North Island
A 45-minute boat ride or a 20-minute helicopter flight from Mahé, North Island is a private granitic island measuring just under 500 acres. It has the magic formula for the most flawless vacation: a paradisical setting with a passionate conservation ethic, extremely attentive service that never strays into the overbearing, gorgeous natural design, plate-licking-good cuisine — which is so bespoke that your menu literally has your name on it — and total and utter privacy. So private, in fact, that Prince William and Kate Middleton chose the island for their honeymoon.
There are 11 wonderfully appointed suites, all constructed using natural materials sourced from the island — think thick-log structures, walls fashioned from granite, palm-leaf thatched roofs and seashell wind chimes. There's an expansive lawn, and you might find a few of the 100 resident Aldabra giant tortoises meandering on the grass (feed them apples and plums). Each villa has a host who will see to your every request (arranging in-villa dining, movie nights with popcorn and macaroons, or whipping up an in-villa breakfast with iced coffee). The team truly goes above and beyond to ensure you have the most unforgettable stay, be it a fishing trip to catch a red snapper or a private picnic on the aptly named Honeymoon Beach.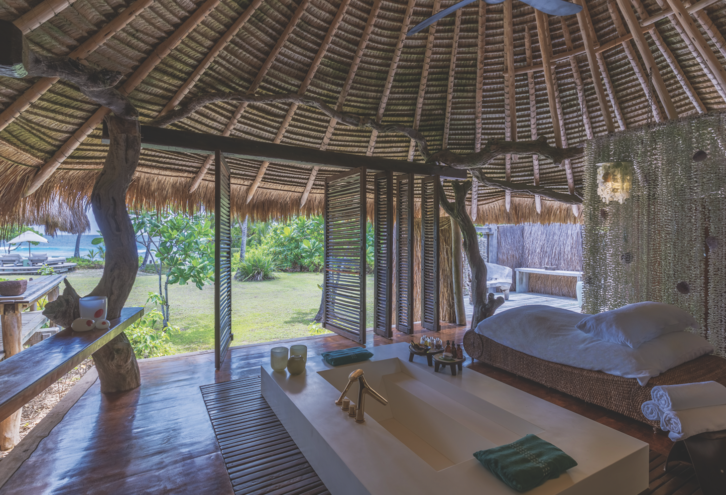 Villa North Island from $11,285 per night. Contact Julie Tucker, head of reservations, reservations@north-island.com, +27 610 890 462, north-island.com
Image credits: Etched Space, Ken Seet, Jochen Manz