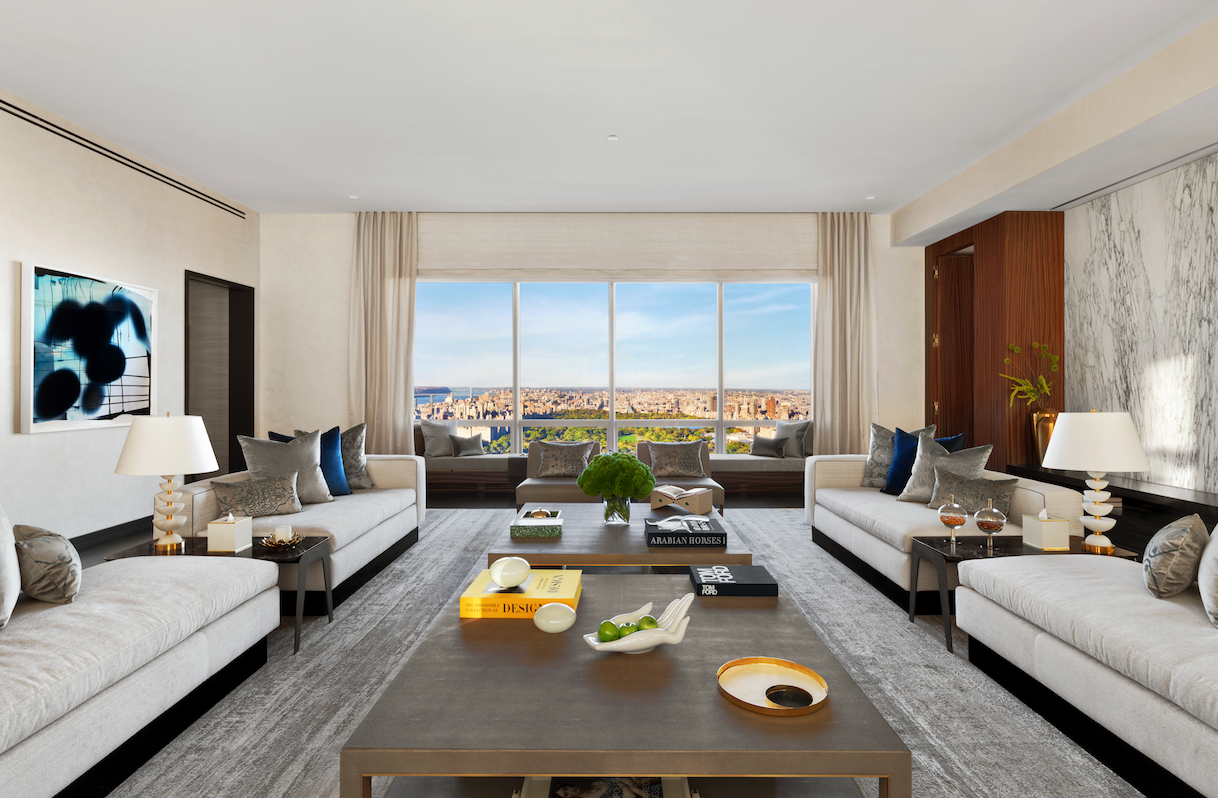 Park Hyatt New York has taken ultra-luxury living to new heights with the introduction of its new and exclusive Manhattan Sky Suite. Located on the 59th floor of the iconic One57 luxury residential tower, it becomes the highest Central Park-facing suite in the city's luxury hotel market.
The new suite, which is reported to cost $50,000 per night, adds to an already impressive array of luxury accommodations within Park Hyatt New York, which features in Elite Traveler's select list of the best hotels in the city.
Much of the attention will be on the views across Central Park and rightly so: they are staggeringly good thanks to 11-foot high ceilings and floor-to-ceiling windows. Guests can take in the expansive panoramas throughout the property, including while soaking in the master bathroom's oversized tub.
Accessed through a private elevator from the hotel lobby, the Manhattan Sky Suite boasts 4,200 square-foot of floor space and has three bedrooms. All other rooms revolve around the impressive Grand Salon, which is drenched in natural sunlight and can just as easily be used for casual living by day and formal dining by night.
Designers Jeffrey Beers International aimed for a sophisticated and residential look with neutral hues and contemporary furnishings present throughout the property. The 3.5 bathrooms are naturally arrayed with marble and include walk-in rain showers.
Attempting to set it apart from its competitors, the suite's master bedroom includes an expansive walk-in closet, which will be filled with personally-styled outfits upon arrival for guests. All of the clothes will be available to purchase from Nordstrom, a luxury retailer that recently opened a flagship store close by.
Other exclusive services include helicopter transfers, dedicated butler service, a personal chef, and 60-minute treatments at the hotel's Spa Nalai for up to six guests.
Guests benefit from a carefully-designed home-away-from-home amenities, including an exclusive Assouline-curated library and a collection selected by the hotel's art curator, Erica Samuels of Samuels Creative & Co. There is also a glass-enclosed three-piece gas fireplace – perfect for cozy nights in as fall turns to winter.
"We're excited to welcome the most discerning global travelers to the Manhattan Sky Suite. In collaboration with One57, Park Hyatt New York's new Manhattan Sky Suite serves as a brand extension of the hotel and is an ultimate expression of the exceptional Park Hyatt brand," said Peter Roth, Area Vice President and General Manager, Park Hyatt New York.
"New York City hotels are renowned for their specialty suites, but nothing in the city measures up to this new suite's overwhelming sense of luxury and unparalleled views of Central Park and the Manhattan skyline."