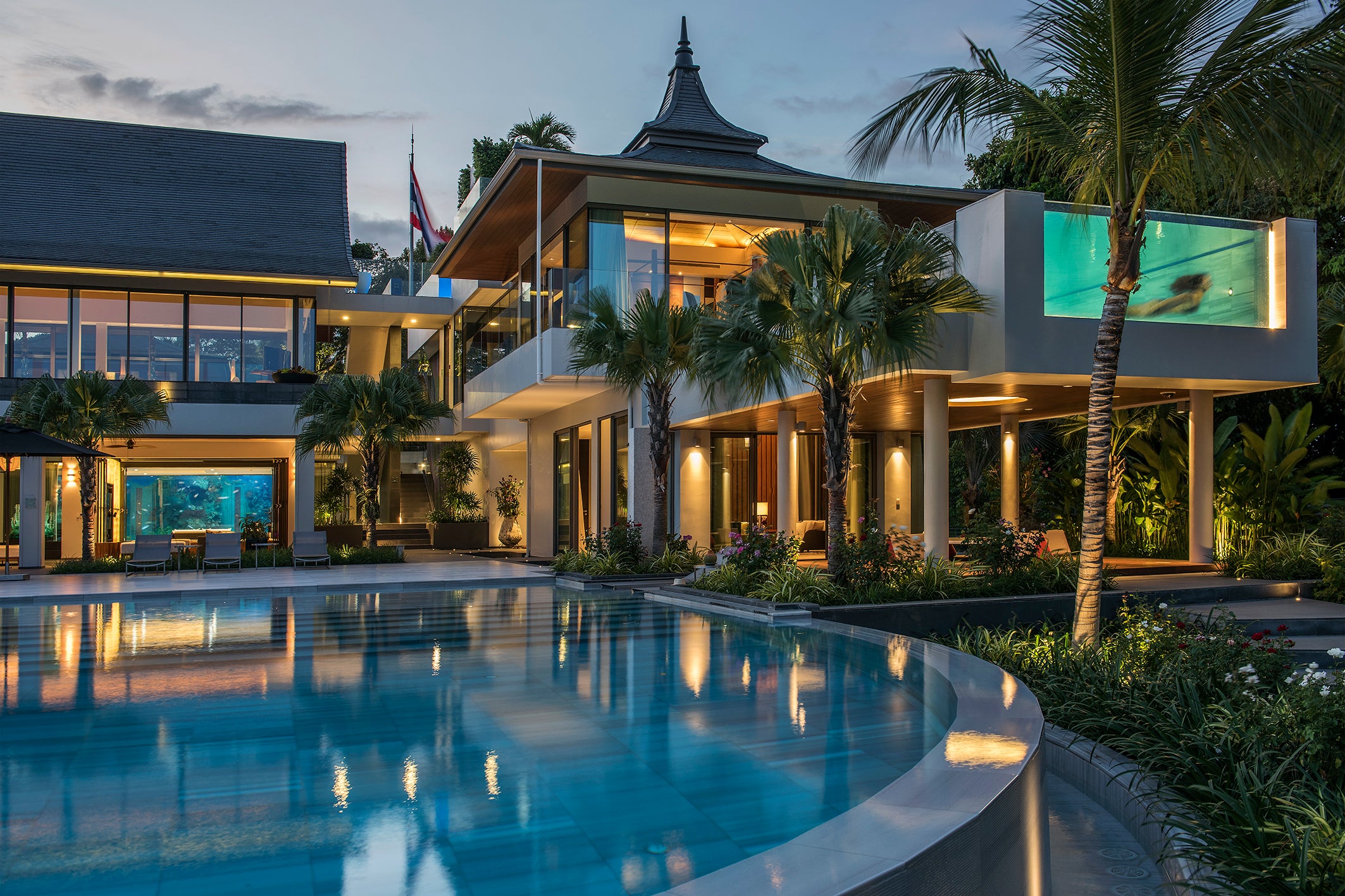 The Resort Villa, located in Rayong, Thailand, has been honored once again with the global 2019 World Luxury Hotel Award, this time in the category of Eco/Green Villa for Asia. As a 2018 winner in the category of Luxury Resort Villa, The Resort Villa has continued to engage customers and industry experts alike to further improve what the luxurious property has to offer, especially in the area of sustainability.
Covering more than 45,000 sqaure-feet of tropical paradise, The Resort Villa is nested in the quiet and quaint region of Rayong, Thailand. Surrounded by tropical forests on one side and only a five-minute walk to the beach, The Resort Villa offers more than 3,000 square-feet of saltwater infinity pools, a 45-foot long aquarium, soon-to-be eight individual villas, nine dining areas, four bars, a fully equipped gym, full-service spa, home cinema and much more.
As The Resort Villa is only available to charter for one group of guests at a time, more than 70 full-time staff are onsite to ensure the best experience possible.
As an advocate of the environment, one of The Resort Villa's core mission is to provide ultra-luxury while staying self-sustainable. As such, The Resort Villas has invested heavily in green infrastructures and efforts to minimize such impacts.
With solar power almost always readily available in sunny Thailand, the resort invested more than $250,000 in a state-of-the-art 206kw solar farm located only a quarter of a mile away, providing all the power the property requires during daytime. This includes usage for air conditioning, the pools and the massive aquarium home to 50 plus tropical fish. To further conserve and regulate energy consumption, all utilities except the aquarium are turned off at night.
The Resort Villa also boasts its own vegetable plots, hydroponic system and farm, which offers sweet juicy bounties, herbs and even fresh eggs for breakfast every morning. A water filtration system was also recently installed to reduce the usage of plastic water bottles. Guests can now enjoy the alkaline purified water in The Resort Villa's own glass bottles, which are sterilized daily for reuse. Bamboo cotton buds and toothbrushes are also just more examples of the resort's continuous eco efforts.