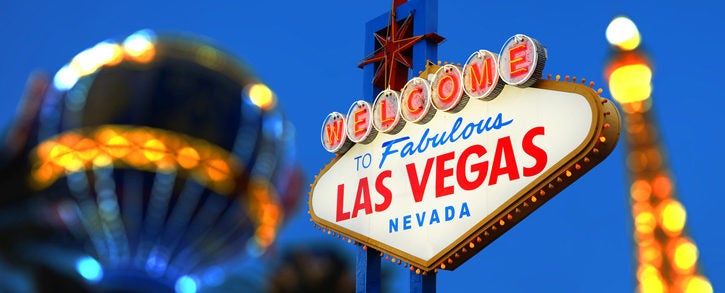 The bright lights of the Vegas Strip are most dazzling at night, creating a vibrancy that extends from the streets to the bars, clubs and theaters. Whether it's sipping on absinthe at the Downtown Cocktail Room, or watching the breathtaking Cirque du Soleil performers at the Bellagio, Las Vegas has it all, and more.
Omnia
Located at Caesars Palace, Omnia nightclub spans 75,000 sq ft spread over multiple levels. The main room features a dance floor and glamorous accents such as antique mirrors and sumptuous seats. There's also a terrace overlooking the Las Vegas Strip where you can dance on a lit-up floor to DJ beats.
Cirque Du Soleil O
A celebration of the infinity and elegance of water, Cirque du Soleil's phenomenal production 'O' has been in residence at the Bellagio since 1998. Combining simple street performances and lavish operas to create a beautiful theater production, O is guaranteed to leave spectators in awe. An international cast of world-class acrobats, synchronized swimmers and divers perform in, on and above water in a custom-designed theater at the Bellagio. From the traditional circus aerial cradle used to create the impressive Bateau, to the graceful synchronized swimmers at the heart of the production this is truly elegant and unique production.
The Bank
Bellagio's exclusive venue The Bank is a chic and contemporary alternative to the larger nightclubs on the Vegas Strip. As you enter, a Cristal stacked foyer leads you into the lavish black and gold main room, setting the standard of prestige which runs throughout the entire club. A range of VIP booths can be found throughout the club, the main room offers seating which strikes the perfect balance between privacy and a social clubbing experience. The Bank has firmly established itself as a high-end venue and as a result is perfectly suited to the elite traveler.
Rain
One of the most popular nightclubs in Las Vegas, Rain is a vibrant venue attracting tourists, locals and celebrities. Impressive fireballs light up the elevated dance floor, water fountains flow to the rhythm of the music, and a state-ofthe- art lighting system creates the perfect clubbing vibe.Exclusive skyboxes and cabanas add an element of privacy to this popular venue, while the high standard of performers and DJs are guaranteed to create an electric experience. Previous guests have included Jay-Z, No Doubt, and Britney Spears.
Jewel at Aria
Spread over more than 24,000 sq ft, Jewel is part of the famed Hakkasan Group. Dance the night away to world-renowned DJs or take in a performance from top-selling recording artists. The club hosts Flawless Mondays parties to kick off the week as well as Good Life Fridays. The Alibi Ultra Lounge offers a pre-club experience for a chic retreat after dinner, with complimentary champagne for ladies until 11:30pm.
Downtown Cocktail Room
A favorite with locals, Downtown Cocktail Room offers a more chilled, intimate bar environment for those looking to escape the Strip's over-extravagance. Opened in 2007, Downtown Cocktail Room brings world-class mixology to Vegas, with some truly innovative drinks. Guests can taste the bar's unique take on the traditional martini with Satan's Whiskers, sip on a Downtown Jackie Brown, a unique blend of Caribbean and Mexican spirits, or opt for a classic Green Fairy Absinthe cocktail. Bohemian-chic décor, intimate lighting and seasonal menus help make this bar one of the most celebrated cocktail lounges in Las Vegas.
David Copperfield
A regular feature in Las Vegas, David Copperfield is a master magician who continues to impress audiences worldwide. Bringing his amazing illusions to the MGM Grand's Hollywood Theater, Copperfield will leave you mystified by his stage production, An Intimate Evening of Grand Illusion. The show rejects the stereotypical showgirl assistants and extravagant staging in place of a more personal production, bridging the gap between magician and audience to wonderful effect. Meet and Greet VIP packages are also available, complete with front row seats and a souvenir photo.
Hyde Bellagio
For its first Las Vegas location, Hyde offers stunning views of Sin City from floor-to-ceiling windows and an expansive terrace. The venue features gourmet small plates from Lago, award-winning cocktails, VIP tables, bottle service and a diverse lineup of DJs and performers. Hyde is heralded for its indoor-outdoor space, where you can snag one of 40 VIP tables.
Intrigue
To mark Wynn Las Vegas' 11th anniversary, Intrigue took over the space previously occupied by Tryst, offering a different nightlife concept. Intrigue Nightclub features  cutting edge lighting and sound  designed by award-winning John Lyons Systems throughout the tremendous 14,000 sq ft venue, which accommodates up to 1,200 patrons. A glass enclosed patio allows year-round views to the venue's dramatic waterfall and spectacular fireworks show. Guests enjoy contemporary party music that will cross over many different genres creating a high-energy dancing environment. Additionally, a 1,200 sq ft private club within the club that is a social media free zone, allowing guests the ultimate in privacy.