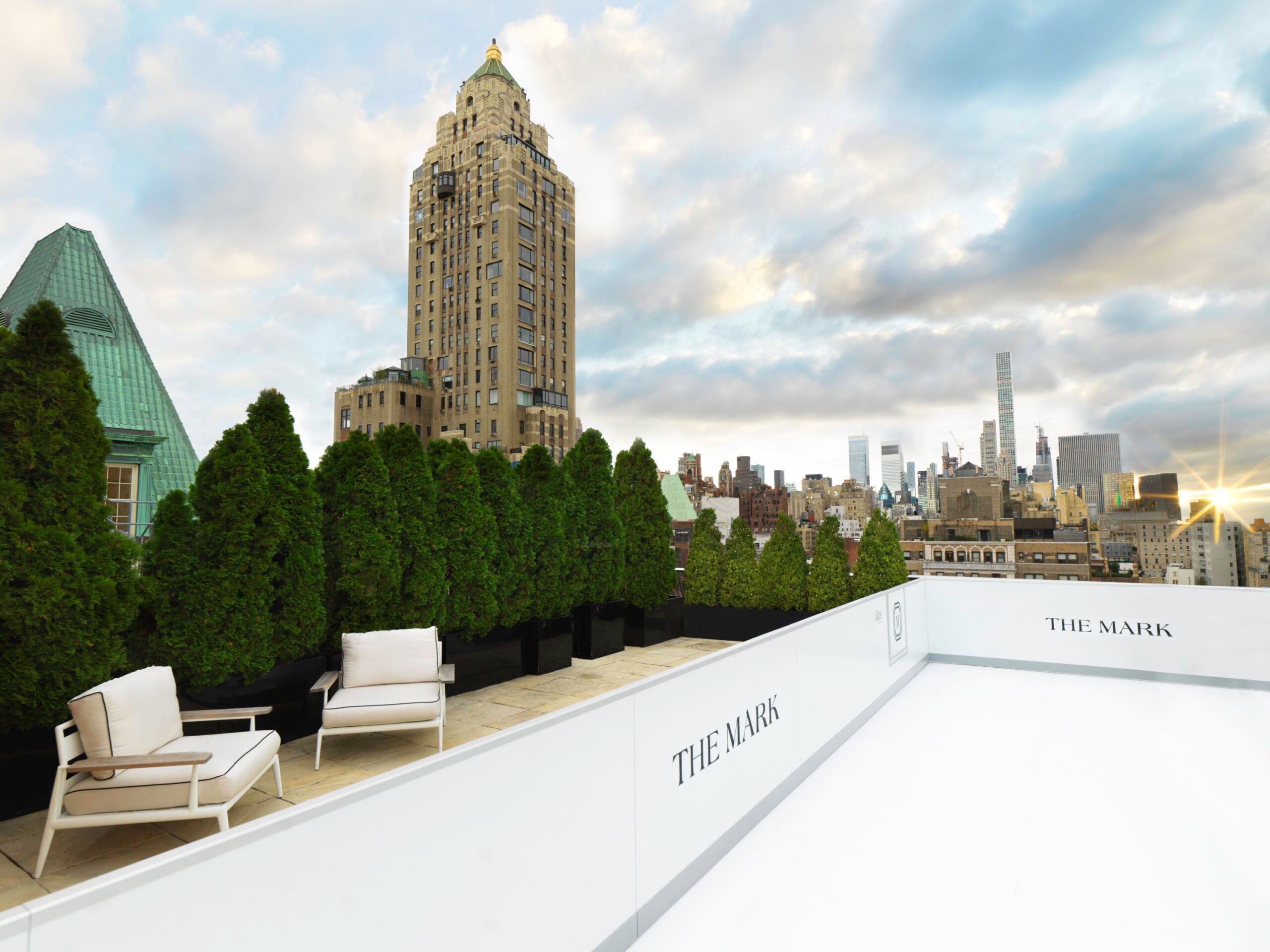 The Mark Hotel's Penthouse Suite has been transformed into a winter wonderland with the installation of a skating rink on its beautiful terrace for the private use of its occupiers.
Ice skating is a time-honored tradition of the holiday season, and now The Mark is offering the chance to escape the crowds with your very own rink. Guests staying in the Penthouse will have exclusive access to a skating rink that boasts wonderful views of Central Park and the New York skyline.
Already one of the biggest and best suites in New York, The Mark Penthouse has brought the best of the city's holiday traditions within its 12,000-square-feet of space. The ice rink forms just a small part of its curated 'Penthouse Holiday Spectacular' experience.
Guests will be treated to a host of incredible festive experiences, including a private screening of a Christmas classic, an exclusive rendition of The Nutcracker in the Penthouse's Great Room, and a four-course holiday suite created by the hotel's Michelin-star chef, Jean-Georges Vongerichten.
The Mark will also provide a Juilliard-trained pianist to serenade family and friends on the Penthouse's grand piano while the world-renowned photographer Alexei Hay will be taking family photos to ensure the memories last a lifetime.
There is also a range of adventures designed specifically for children, such as a holiday playroom by FAO Schwarz. The room will be full of toys and games for the kids to play with and take home. There is also the option to have a private shopping experience around the famous toy store.
Similar experiences have been added for adults, of course, including an after-hours shopping spree at Bergdorf Goodman, a menu of luxurious services by The Mark's in-house beauty salon by Frédéric Fekkai and private fitness classes to sweat off the inevitable excesses.
The Mark's Penthouse Holiday Spectacular: Full itinerary
– A private skating rink atop The Mark Penthouse's Terrace overlooking Central Park and The Manhattan Skyline
– A four-course holiday feast created by Jean Georges Vongerichten, with Cristal champagne, Imperial Gold Osetra Caviar and more
– A Juilliard-trained pianist to serenade family and friends on the Penthouse's grand piano
– Family photographs shot by world-renowned fashion photographer Alexei Hay, for everlasting keepsakes
– A private rendition of the classic holiday ballet, The Nutcracker, in The Penthouse's Great Room or a VIP box at Lincoln Center
– Bergdorf Goodman all to yourself for your very own after-hours, private shopping spree
– A Holiday Play Room from FAO Schwarz full of toys and games for your kids to play with and take home, with an optional private shopping experience at FAO Schwarz
– A private screening by the fire of a holiday classic or an unreleased Hollywood blockbuster, complete with Jean-Georges Vongerichten popcorn, candy, and s'mores
A dedicated team that includes a driver, butler, nanny and massage therapist, with Santa upon request
– A menu of luxurious services provided by French beauty entrepreneur Frédéric Fekkai's Salon including hair, makeup, manicure, pedicure, and more
– Tailored personal fitness classes with The Mark's personal trainer Daniel Flores, in the privacy of the Penthouse or the fitness center
– Airport transportation to and from The Mark by car or helicopter
The Mark's Penthouse Holiday Spectacular is priced at $250,000 and is available now through early 2020. themarkhotel.com