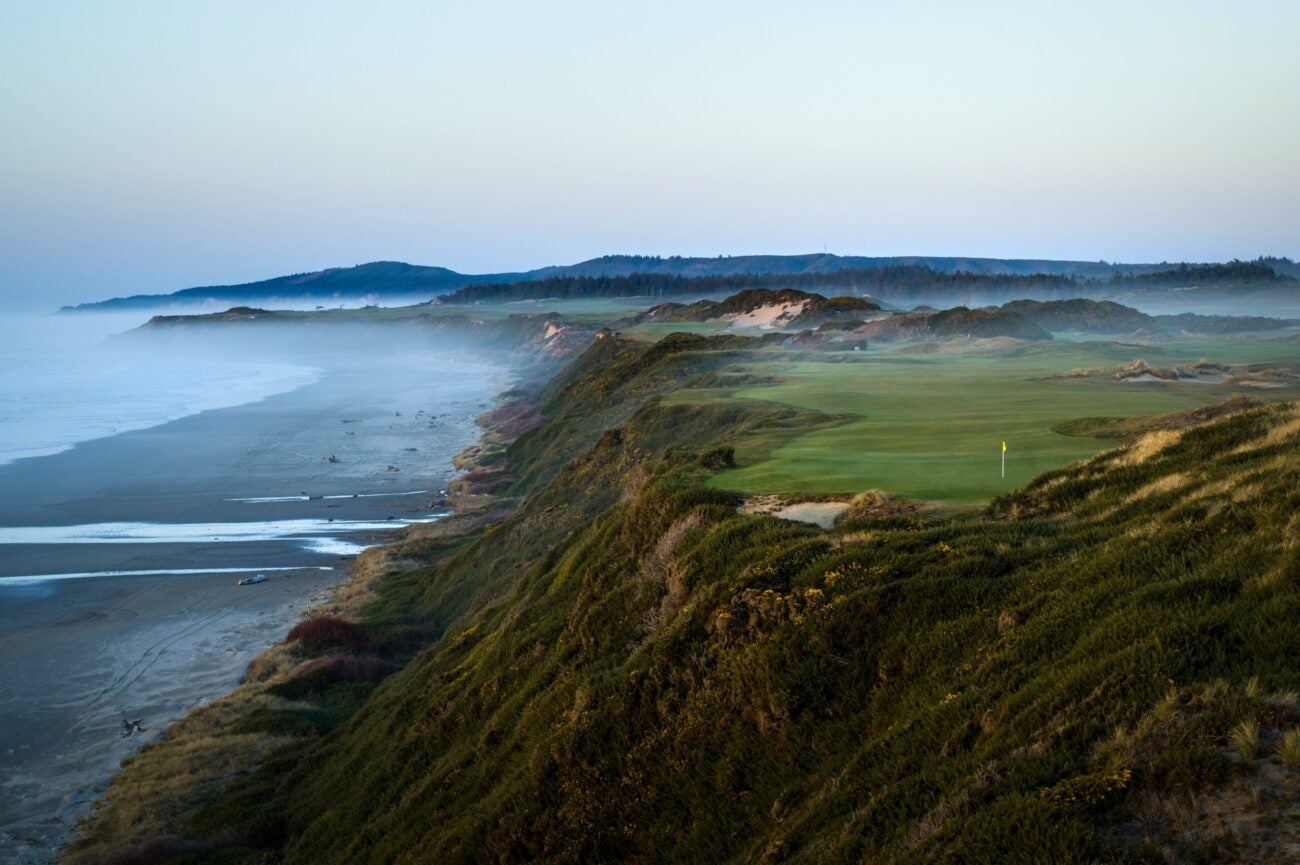 Over the last 20 years, dozens of exceptional golf courses have been built in the US and beyond, many of which immediately landed on respected lists of the world's best layouts. Rather than replicating those efforts, this assemblage of courses spotlights some of the most significant to be built in the past two decades. From resort courses in Florida that look and play nothing like a typical Sunshine State course, to a captivating northern Pacific layout that proves a world-class course can exist without a sand bunker, the following eight properties are among the most influential to open in the past 20 years.
[See also: The World's Best Golf Courses at Luxury Resorts]
Pacific Dunes, Bandon Dunes Resort
Oregon, USA
As the second course to open at Bandon Dunes Resort along Oregon's southern coast, Pacific Dunes (pictured above) in many ways legitimized the fledgling property when it debuted in 2001. "One course is a curiosity," Bandon Dunes' developer Mike Keiser has often said. "Two courses is a destination."
Beyond how the course impacted the public's perception of the resort, Tom Doak's design also challenged preconceived notions about how a course should be laid out. In simple terms, Pacific Dunes proved that a design that surrenders itself to the topography of a site can produce captivating and stunning golfing experiences — even when the course's back nine includes three par 5s, only two par 4s, and begins with back-to-back par 3s. "I think many outsiders felt that it was very bold," Keiser says of the decision to build a course with such an unconventional scorecard. "But Tom and I both felt that the routing fit the site perfectly."
Since then, other notable courses have let the land dictate their layouts, including Cabot Cliffs in Nova Scotia (also a Keiser development), which opened in 2016 and features six par 3s, six par 4s, and six par 5s. "Today, more architects let the land determine the golf course," Keiser acknowledges. "But it certainly wasn't prevalent back then."
Streamsong Resort
Florida, USA
Thanks to the naturally flat terrain and ubiquitous tropical vegetation, the vast majority of golf courses in Florida all look and feel remarkably similar. The trio of courses at Streamsong Resort, however, resoundingly break that mold.
Built upon land that was previously mined for phosphate, Streamsong's topography is unnatural. Yet, because the land was undeveloped for years after the mining ended, the stacked mounds and trenches naturally revegetated, giving the entire site a more organic look. Equally important, those post-mining landforms produce dynamic elevation changes not found anywhere else in the state. "If you brought me in blindfolded," says Tom Doak, who designed the resort's Blue course (opened in 2013), "Florida would've been the last state that I would've guessed I was in."
The resort's Red course was designed and built by Bill Coore and Ben Crenshaw at the same time as the Blue course. In fact, the two courses are routed in such a way that they intersect and abut each other numerous times. In the process, they both take advantage of similar landscape features, but each course looks and plays independently thanks to the architects' distinctive philosophies. "It wasn't a traditional chess game because we weren't playing against each other," Coore says, acknowledging that they worked together to create both 18-hole layouts. "It was a team chess game."
In 2017, Gil Hanse created a third layout at the resort, the Black course, which successfully introduced links-style architecture to the property. "The landscape at Streamsong is simply like nothing we've experienced," Hanse said at the time of the Black course's construction. "It's one of the very best."
Ohoopee Match Club
Georgia, USA
In its earliest days, golf was a sport defined by matches. Over time, handicap systems were developed; with them came a fixation and a focus on individual scores relative to par. But for the better part of at least a century, match play was the recognized format for a competitive round of golf.
At Ohoopee Match Club in rural Georgia, which opened in 2018, match play defines the experience. The inception of the club was focused on a course where only match play would take place. For that reason, the course wasn't rated by any governing body, which means players have no way of posting their scores for handicap purposes. But Gil Hanse, who designed the course, created it specifically with that in mind, which means many holes are defined by their risk-reward nature. The outcome is a course that allows players to focus on their shots rather than their scores.
"It's liberating for people to come out and just have a match," says Todd Sapere, Ohoopee Match Club's head golf pro. "Our members understand the culture. They've ended up here because they understand it and they embrace it when they're here. Gil built a golf course that you can play every day and thoroughly enjoy yourself."
The Loop, Forest Dunes
Michigan, USA
Forty years ago, Tom Doak, then a 20-year-old aspiring golf course architect, read The Architectural Side of Golf, which introduced him to a short, three-hole reversible layout. Captivated, Doak spent the better part of the next three decades pondering the idea, always wanting to create a routing like that but never finding the right developer or the right topographical site to make it work.
The stars aligned about eight years ago when Doak met Lew Thompson, who was then the owner of Forest Dunes in Roscommon, Michigan. Once Doak visited the site, he saw that the gently undulating, sandy parcel of land was the ideal stage for a reversible, 18-hole layout. The uniqueness of the proposed course also aligned with Thompson's motivations. "I wanted something that would wow people," Thompson says. "Something that would attract golfers."
Comprised of the Black and Red courses, The Loop boasts classic elements of golf architecture like Redan and Biarritz greens; however, the course's most striking accomplishment is how it can change a golfer's perception of one piece of land as they play it clockwise one day and counter-clockwise the next.
The Loop proved that it's possible to create an engaging and easily playable reversible layout and, for that reason, Doak believes similar courses will be commissioned in the future. "Even before we had built the golf course, I must've heard from half a dozen architects who had said that they had wanted to do that for a long time," he says.
Payne's Valley, Big Cedar
Missouri, USA
During the summer of 2020, the second US course designed by Tiger Woods opened at Big Cedar Lodge in the Ozarks of southern Missouri. Named in honor of the late Payne Stewart, who was born and raised in the region, Payne's Valley brings Woods' design philosophy to the general public for the first time (the original US course designed by Woods opened in 2016 as a private club outside of Houston).
Like Woods' first US design, Payne's Valley features wide fairways, relatively low rough meant to keep balls in play rather than penalize players, and strategically placed hazards that will challenge good golfers but not require lesser-skilled players to hit shots near or over them.
"My favorite [style of] golf is to play it on the ground, which is links golf," Woods says. "You can use the ground as your friend. So many of the different golf courses that I play around the world, that's kind of been taken out of the game. Everyone's forcing people to play the ball in the air."
At Payne's Valley, as is the case at Woods' other courses around the world, the terrain is conditioned to play firm and fast, especially around the greens. "I want the ball running, I want it traveling, I want it moving on the ground," Woods says, "and this golf course allows us to do that."
St Patrick's Links, Rosapenna Hotel & Golf Resort
Ireland
The grand opening of any new Doak-designed course is significant, as the 60-year-old has created or renovated almost two dozen courses that routinely appear on prominent golf publications' lists of the top courses in the world. But the opening of a new Doak-designed links course in Europe is especially noteworthy, since EU regulations have now prevented those coastal lands from being developed for golf. St Patrick's Links, which will open this summer at the Rosapenna Hotel & Golf Resort in northernmost Ireland, was grandfathered in since 36 golf holes had already been constructed on the site.
The 18 new holes that make up St Patrick's Links stretch out across more than 350 acres of land that had previously held the two original courses. Preexisting fairways on the site have been incorporated into four of the new course's holes, but otherwise Doak and his team created a brand new routing that utilized the best parcels of land. "It's definitely an advantage to have more great land to work with," says Doak, who acknowledges that the finished layout is easily walkable even though it includes golf holes positioned in far-flung corners of the property.
This project will introduce golf travelers to a region of Ireland that they've likely never seen — an area of the country that still looks and feels how much of Ireland did when Doak first visited after graduating from college in the early 1980s. "Once you get off the main byways," he says, "the last 20 or 30 miles going up to Rosapenna still feels like it did 40 years ago."
Sheep Ranch, Bandon Dunes
Oregon, USA
By the time golfers reach the halfway mark of their rounds at Sheep Ranch — the latest course at Bandon Dunes Resort, which opened in June of 2020 — they will have stood on six greens perched right on the edge of a bluff overlooking the Pacific Ocean. In total, the Coore & Crenshaw-designed course features nine holes that either hug the edge of that bluff from tee to green or culminate in ocean-side putting surfaces. "The routing that Bill and Ben did is proof of their genius," says Keiser.
For all the dramatic and unobstructed views of the ocean that Sheep Ranch delivers, one thing that golfers won't see while on the course is sand — at least not in the form of any on-course bunkers. The course's location is the most exposed of any area of the resort, which means the land is constantly battered by gusty winds. It was deemed that those winds would make it difficult to keep the necessary amounts of sand in the bunkers at all times. Additionally, those winds alone provide a stout defense against low scores.
"Had we given Bill and Ben the green light to include sand bunkers, they'd probably have 10," Keiser acknowledges. "In part because of the exposure to the wind, but also because it's such a natural site, the course didn't need them."
Dumbarnie Links
Scotland
When Scotland's newest links course opened for play in May of 2020, almost a decade had passed since the land had first been identified as prime golfing terrain. Set across 345 acres, Dumbarnie Links boasts a mile and a half of sea frontage and offers panoramic views of Muirfield, North Berwick and — on a clear day — Edinburgh out across the Firth of Forth. It also benefits from dual elevations, which allowed course architect Clive Clark to take an unconventional routing strategy, laying out holes in two big loops and utilizing elevated tees for the holes that play directly towards those aforementioned panoramic views.
Due to a tightening of governmental restrictions within the UK as it pertains to ecologically sensitive areas, the course's routing had to be carefully planned. Even before that, however, the course's developers had to convince Lord Anthony Balniel, whose family had owned the land since the 16th century, that the course would positively impact the area. With Lord Balniel's eventual blessing, construction crews began sculpting flat farmland into intriguing dunescapes.
The resulting course is one that has some early players declaring that it could immediately host an Open Championship. While that's unlikely to happen, Dumbarnie Links appears poised to become a bucket-list destination not unlike the already famous courses in nearby St Andrews.