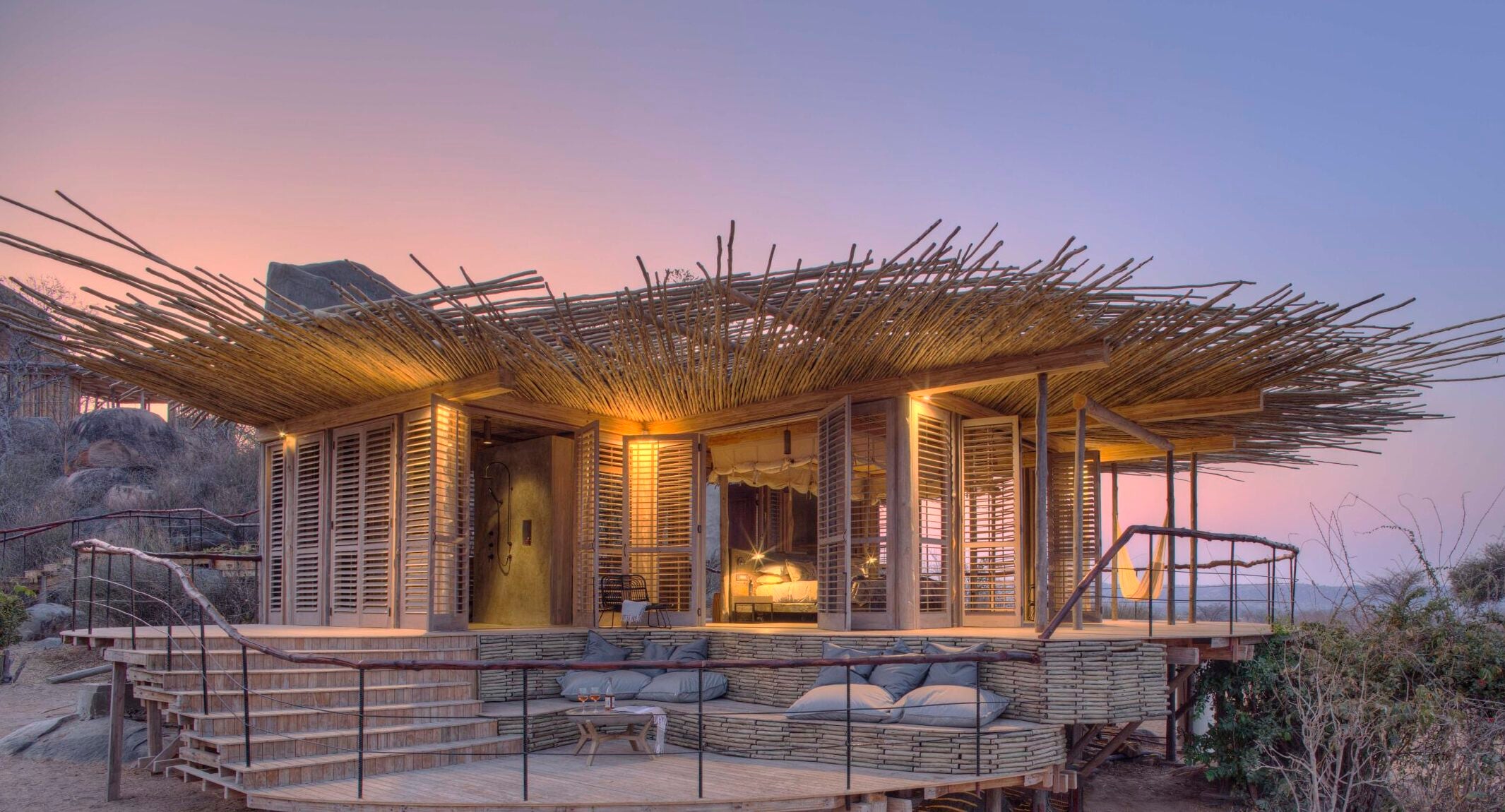 What better way to begin traveling again than to see some of the world's most iconic sights? We worked with the best tour operators to create inspiring trips, curated especially for our readers, that will take you from Antarctica's majestic natural beauty to India's bustling streets and Hawaii's picture-perfect sunsets.
An Epic Safari, Africa
You may have been on safari before, but this exclusive 21-day itinerary from The Explorations Company is unlike anything out there. You'll traipse across the continent via private jet and stay in the most beautiful and intimate hotels, safari lodges and mobile camps while seeing spectacular wildlife and enjoying enriching cultural experiences. You'll start and end your journey in two of Africa's most vibrant cities, Nairobi and Cape Town to check out local artists and designers, feast on fabulous food and see the sights.
The rest of the trip takes you to pristine wildlife preserves; many of them are exclusive-use, so there won't be anyone else in sight. A professional wildlife photographer will accompany your group, so you can focus on enjoying the miraculous sights rather than capturing them. In addition to seeing the Big Five — lion, leopard, rhinoceros, elephant and Cape buffalo — in Masai Mara and Ruaha National Park, you will help with conservation efforts including lion collaring in Royal Malewane in South Africa and elephant collaring with the Mara Elephant Project in Kenya; learning about rhino conservation at Little Mombo in Botswana; and visiting Big Life Foundation to discover its anti-poaching projects. You'll also spend time with two primate species as you trek with gorillas in Rwanda at Singita Kwitonda, which also offers the fabulous opportunity to dine with vets, then see chimpanzees in Nyungwe National Park.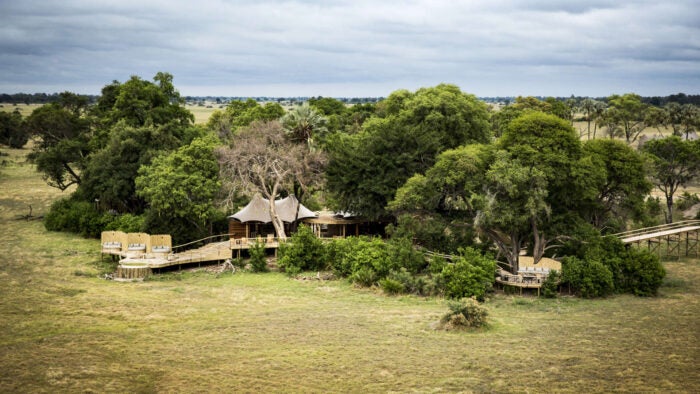 If you go between July and September, you'll see one of the world's most incomparable experiences: the great wildebeest migration. Over two million animals, including wildebeest, zebra and gazelle, migrate from the Serengeti to Masai Mara and cross the Mara River in dramatic fashion. As well as getting close to amazing wildlife, you'll see epic natural wonders including Mount Kilimanjaro, Victoria Falls, Table Mountain and South Africa's rolling wine country. The trip's fabulous accommodations include Giraffe Manor, luxury mobile camps, Jabali Ridge, One&Only Nyungwe House, Little Mombo Camp, Royal Livingstone Hotel, Royal Malewane and Ellerman House. -KS
From $125,000 per person based on six people traveling. Contact Nicola Shepherd, owner, The Explorations Company, n.shepherd@explorationscompany.com,+1 855 216 5040, explorationscompany.com
Andean Adventures, Peru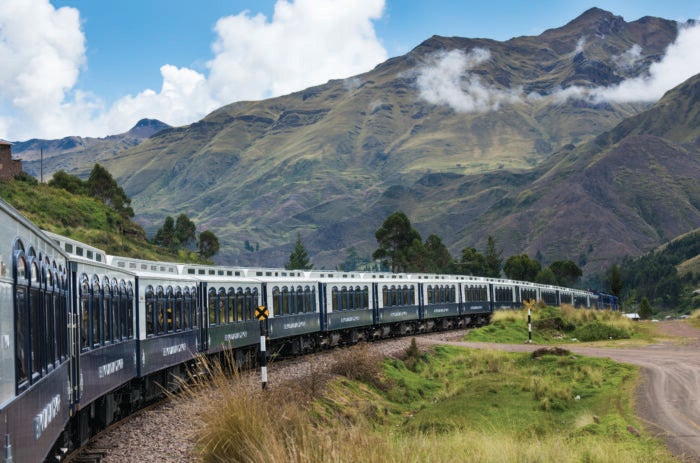 There are countless ways to explore Peru, but by far the most phenomenal is from the region's first luxury sleeper train, Belmond Andean Explorer, perfect for those who prefer their morning coffee at 13,000 ft with views over snowcapped mountains or Incan ruins. During this journey, you will visit five Belmond hotels in Peru and end your trip with a two-night train trip from Cusco, the former capital of the Incan Empire; stopping in Puno, located along Lake Titicaca and dating back to colonial times; and ending in Arequipa, the 'White City' whose city center was deemed a Unesco World Heritage Site for its opulent European-inspired architecture.
Belmond Andean Explorer is one of the highest train journeys in the world, and the 35-cabin train is outfitted with Peruvian design details like brightly colored handwoven fabrics (including linen walls), local art and alpaca-style textures. Each room has large windows overlooking the epic landscapes. There is also a spa, luxury lounge and dining cabins offering locally-inspired gourmet cuisine (the sumptuous interiors are akin to a Michelin-starred restaurant). However, most of the excitement lies outside of the train itself. There are wonderful excursions in several cities that unite guests with local traditions.
In Cusco, the Belmond Hotel Rio Sagrado will be your base: Bike along the beautiful Lake Huaypo and the Sacred Valley of the Incas; help cook Pachamanca (a meat-centric dish prepared with hot Andean stones sourced from deep within the ground); and on Sunday, witness Iglesia San Pedro Apóstol's morning mass spoken in the native language, Quechua, followed by a traditional costumed parade. An hour's drive away, Belmond Hotel Monasterio is surrounded by talented artisans; join them as they teach you how to knit the Andean way, and tour artisans' ateliers.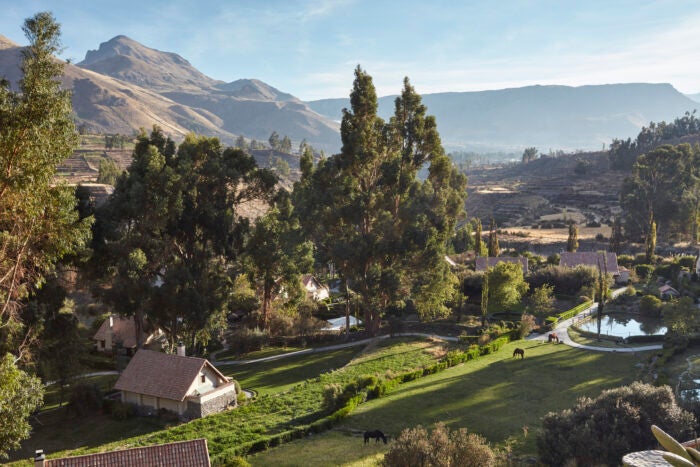 There are also fabulous markets here, and you can accompany the hotel chef to the San Pedro market, then cook several Peruvian dishes with them. At Belmond Las Casitas, tour the colonial churches at Maca and Yanque, or take a baking class with locals. For many, the most anticipated excursion is visiting Machu Picchu; Belmond Sanctuary Lodge is the only hotel at the entrance of the ancient site. In the morning before crowds arrive, a guide will take you on a walk, hike or climb to the Sun Gate or Huayna Picchu — you won't see one other person on this expedition — while your knowledgeable guide teaches you about the history of the grounds and the ancient civilizations that helped create this magical destination. -ER
From $7,305 per person. Contact Nathaly Meija, sales, Belmond Andean Explorer, perures.fits@belmond.com, +51 1 610 8300, belmond.com
Photo credits: Christopher Scholey, Neil Macbeth, Angola Image Bank.
Island Hopping, Hawaii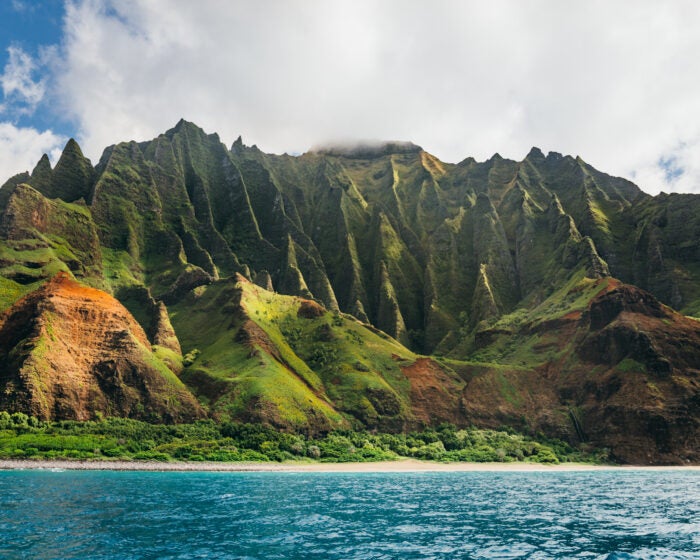 The Hawaiian Islands have a special magic, transporting you to a remote paradise just hours from the US's West Coast. Its dramatic landscapes range from the razor-sharp red cliffs emerging from the blue ocean on Kauai's Nā Pali Coast to the Big Island's black sand and lava flows, and there are picture-perfect beaches and lush jungles on every island. Instead of staying on just one, embark on the ultimate tour and see all five of the major islands. Each has a different culture, from cosmopolitan Honolulu on Oahu to sleepy Lanai, but the aloha spirit and the charming lilt of Hawaiian music and ukuleles are present wherever you go.
Our exclusive itinerary showcases the best of nature on land, in the air and underwater. In Oahu, go scuba diving with a former US Navy Seal, who will show you lava tubes, brightly colored fish, turtles and maybe spinner dolphins, if you're lucky. Explore Maui in a classic car as you drive all (or part) of the road to Hana, rewarding yourself afterward with a stellar meal at Mama's Fish House. Take to the skies in Kauai and the Big Island to witness their majestic landscapes from above: the Nā Pali Coast and Kauai's inaccessible rain forests and waterfalls are best seen from the air, and since the Big Island is true to its name — big! — an aerial tour is the best way to see ancient lava flows, idyllic farms and towering mountains.
There's no shortage of incredible sunset spots: each hotel has a prime place for sunset watching, and there are plenty of excursions to take you away from the crowds, whether that's driving to the top of Mauna Kea, where the sun dips below the cloudline instead of setting into the ocean, or a private charter on a 50-ft Gulfstar sloop to toast the sunset with a glass of champagne. For a truly unique experience, swap watching the sunset for sunrise atop Haleakala, where the sun slowly rises over the volcano's crater. During your trip, you'll stay in the best properties on each island, including Four Seasons Resort Oahu at Ko Olina, Four Seasons Resort Lanai, Four Seasons Resort Maui at Wailea, Kukui'ula on Kauai, and end your journey at the spectacular Four Seasons Resort Hualalai on the island of Hawaii. -KS
From $35,000 per person. Contact Kara Slater, travel agent, SmartFlyer,kara@karaslater.com, +1 310 493 5508, smartflyer.com
Photo credits: Hawaii Tourism Authority/Heather Goodman, Hawaii Tourism Authority/Vincent Lim
Aurora Chasing, Iceland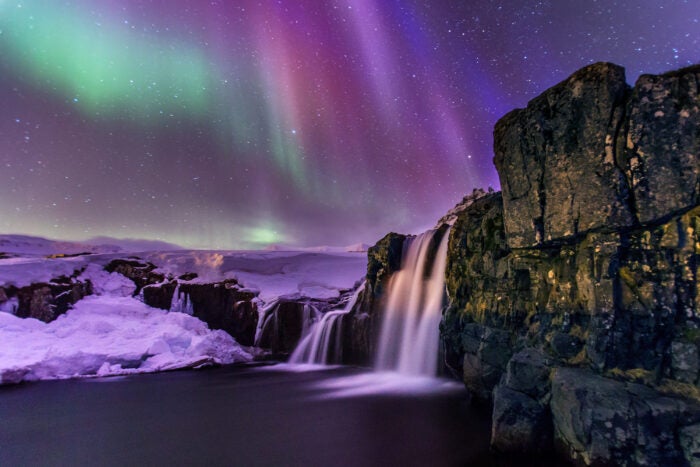 Iceland has an otherworldly, ethereal beauty. In summer, it's full of rolling green hills, thundering waterfalls, lava fields, geysers and the iconic Golden Circle. But despite the lack of sunlight, it's in winter when the country really comes alive. Its long nights are perfect for viewing the Aurora Borealis — you can even see them in Reykjavik. Untold Story, formerly Niquesa Travel, created a sensational itinerary for us that combines the best of the country's nature with exceptional dining experiences in unique locales. Seeing the Northern Lights is at the top of most people's lists, and you will see them in absolute style by spending a night on a glacier.
Here, a camp with heated tents, an astronomer, a chef and a world-class DJ from Reykjavik create the ultimate party underneath the dancing lights. Iceland is also known for its volcanoes, and you'll have two spectacular meals in volcanic settings: first, a three-course dinner accompanied by a small orchestra will be inside Thrihnukagigur volcano, which is illuminated by 200 candles, then lunch inside Leiðarendi lava tube. Of course, there are plenty of excursions to visit the country's epic landscape, including snowmobiling on a glacier, tours of its most iconic natural landmarks, and scuba diving in glacial water where the North American and Eurasian tectonic plates meet.
You'll stay in the best regional hotels, including Torfhus Retreat, Skálakot Lodge and Tower Suites. And no trip would be complete without a stay at The Retreat Hotel at Blue Lagoon, where you can soak in healing thermal waters and enjoy floating spa treatments before heading home. -KS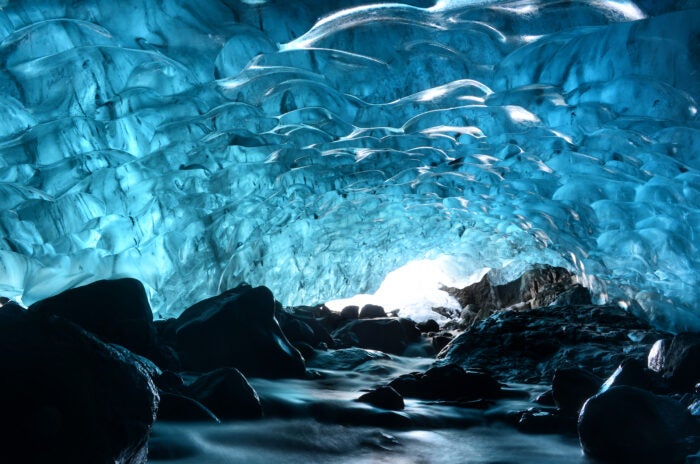 From $62,000 per person based on six people traveling. Contact Mark Allvey, co-founder and CEO, Untold Story, mark@untoldstorytravel.com, +44 776 284 8888, untoldstorytravel.com
Photo credit: Micato Safaris
Explore India, India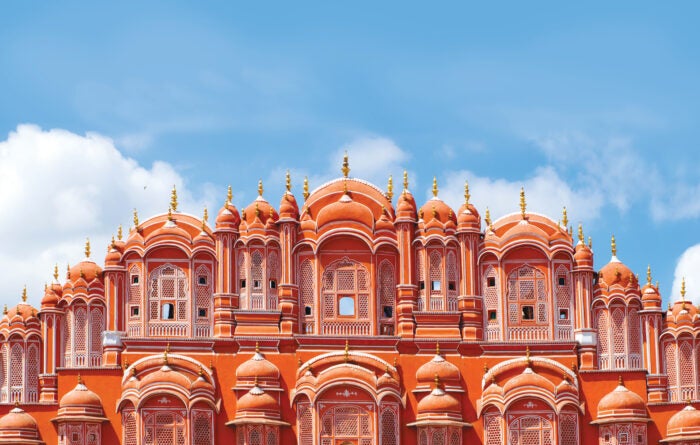 India is one of the most vibrant places on Earth and it's full of contrasts. It has buzzing metropolises and sleepy countrysides; deserts, jungle and mountains; urban skyscrapers and ancient palaces. And Micato, a specialist in India travel, has put together an incredible 18-day journey to see it all, accompanied by a private guide. You'll visit major cities, including Delhi, Jaipur and Mumbai, and see their top sights, including a tour of the private areas of Jaipur's City Palace, which is still a royal residence, and historical sites like Amber Fort, Gateway of India, and museums and galleries.
There are plenty of shopping opportunities for fabulous gems, artwork, textiles and rugs. India has a deep spiritual side encompassing many religions; you will get to see many of them by visiting temples and mosques, as well as participating in an aarti ceremony at the holy River Ganges or volunteering at a Sikh temple. And of course, you'll visit the world's most famous ode to love, Taj Mahal, which you will tour at sunset and sunrise. But it's not all cities and temples; India has beautiful nature as well. You'll visit Ranthambore for a tiger safari (perhaps seeing tigers with their cubs), take to Rajasthan's skies for a hot-air balloon ride and sail on a houseboat in scenic Alleppey, called the Venice of the East.
Accommodations include opulent hotels and luxury tented camps from Taj Hotels, Oberoi and Aman. Micato is extremely well connected and has access to unique experiences, like pigeon flying in Old Delhi; watching Mumbai's dabbawalas, who deliver 100,000 meals from homes to offices each day; a personal Bollywood dance lesson; and private Kathakali theater performances. -KS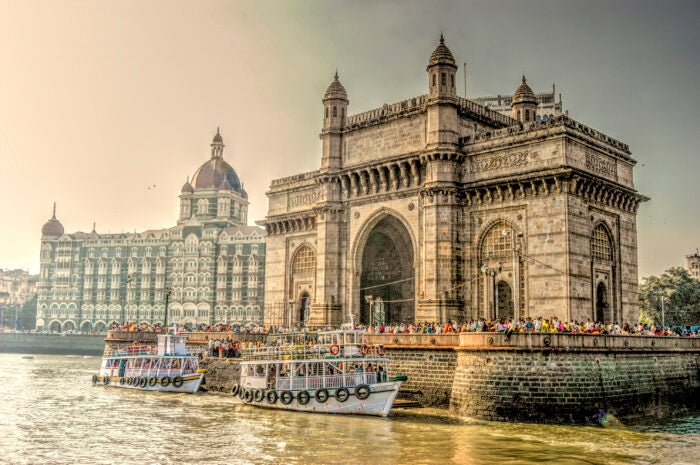 From $29,575 per person based on two people traveling. Contact Marion Miller, director of bespoke collection India, Micato, mmiller@micato.com, +1 212 545 1908, micato.com
Photo credit: Shutterstock
Desert Dreams, Morocco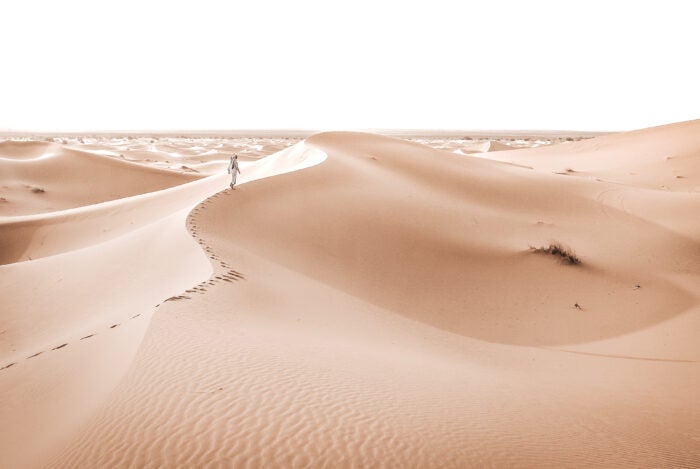 For centuries, travelers have been inspired and enchanted by Morocco's alluring desert fortresses, ancient architectural and cultural sites, lush valleys, beautiful mountains and fascinating souks. In this unique 11-day itinerary from Naya Traveler, travel through its most significant cities and regions, including Fez, Skoura, the Atlas Mountains and Marrakech. In Fez, known for its cultural and artistic significance, visit the city's finest artisans who specialize in brass etching, pottery and Islamic geometry drawing.
Get a unique view of the city on a hot-air balloon ride at sunset and experience local flavors at dinner prepared by a private chef at a gorgeous riad. In the peaceful oasis of Skoura, you'll stay at Dar Ahlam, a 14-room hideaway at the edge of the desert and Atlas Mountains. You will tour adobe kasbahs (desert fortresses) and Berber villages dating back to the 12th century, or walk along the fragrant Valley of the Roses trail. Take advantage of the tranquil setting with a traditional hammam experience back at your hotel followed by a relaxing picnic lunch in a palm grove along the river. If you seek something more off-the-beaten-path, Dar Ahlam Dune's Camp awaits. Spend a night in the Sahara desert underneath the starry sky and take a sunrise camel ride. Or, you can hike through the Atlas Mountains, home to Berber villages, and meet local people; you can even bake bread at a local Berber's home as you learn about their customs.
Your final stop is Marrakech, the beating heart of Morocco, with the opulent Royal Mansour as your base. While here, take a private tour of the city's most famous medina, Jemaa El Fna Square, and a shopping tour of appointment-only boutiques — take home handmade silks, argan oil, spices or art. Perhaps the most special access, however, is a private visit to Yves Saint Laurent and Pierre Bergé's residence, which is not open to the public. -ER
From $17,000 per person based on two people traveling. Contact Sarah Casewit, sales director, Naya Traveler, info@nayatraveler.com, +1 301 358 5095, nayatraveler.com
Photo credit: Naya Traveler
Superyacht Voyage, Meditteranean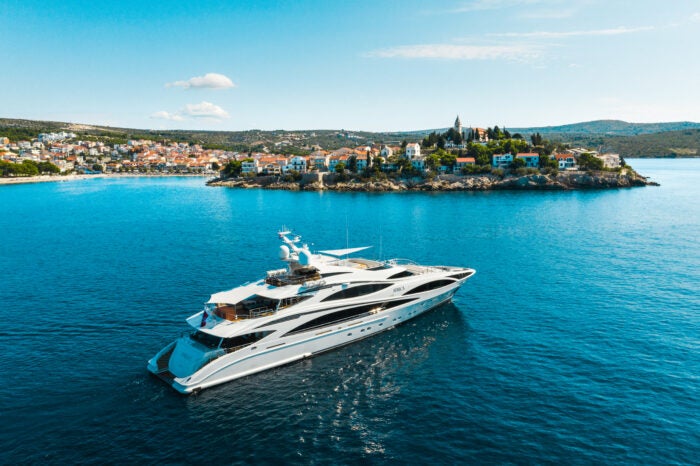 From the languid lifestyle of Italy's Amalfi Coast and the sophisticated glamour of the French Riviera, to quaint fishing villages along the coast of Croatia and the stunning Greek islands, the best way to explore the Mediterranean is aboard a luxury superyacht. The region is known for its azure waters, charming islands and beaches (many only accessible via boat), fresh seafood and notable architecture, and sailing between its idyllic ports allows you to experience them all. Charter IYC's Africa I, a 154-ft modernly designed yacht with six cabins to sail two of the Mediterranean's most iconic destinations: Côte d'Azur, France and the coast of Italy.
There's no shortage of glamour and history in the South of France: The picturesque St Tropez, a mecca for the jet-set crowd, has luxury shopping and chic soirées, while Cannes delivers the movie-star treatment with many Michelin-starred restaurants — be sure to walk along the beautiful Boulevard de la Croisette to see the lively city in action. While you must visit both of these see-and-be-seen towns, a quieter, more relaxing excursion can be found in Saint-Jean-Cap-Ferrat, known for its opulent mansions and anchorages perfect for exploring, or at the serene Îles de Lérins. Just 15 minutes from Cannes, the two islands' only inhabitants are Cistercian monks, who produce lovely wine.
Next is Italy's vibrant Amalfi Coast, historic Capri and the quaint, colorful fishing village of Portofino, each offering a unique atmosphere and unbelievably delicious cuisine. Don't miss sailing around the classic Faraglioni arch or swimming the Blue Grotto — and pick up a bottle of locally made limoncello as a memento of your visit. The yacht also sails to all the Greek islands and Croatia, home to some of the oldest fortresses and castles in Europe. Sail to remote islands or anchor off the coast to take advantage of the ship's many water sports offerings, including a large tender, Seabobs, waverunners, paddleboards, an electric jet board and diving gear. No matter where you find yourself, a chilled glass of champagne at sunset is the perfect way to end your seafaring days. -ER
From $215,000 per week. Contact Filip Jerolimov, partner, IYC, fj@iyc.com, +385 23 305 714, iyc.com
Asian Odyssey, Southeast Asia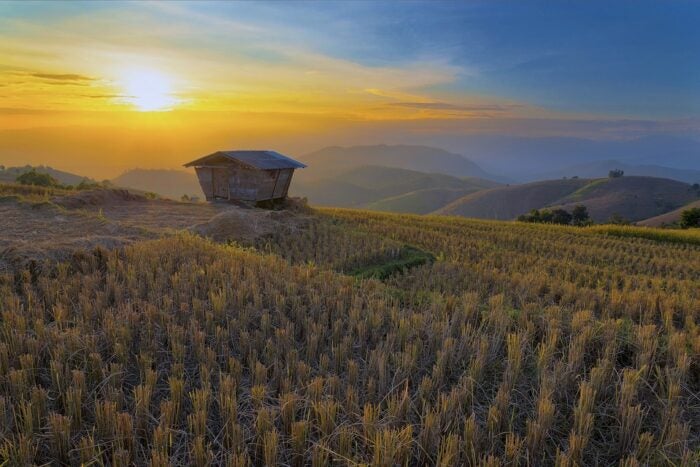 Ancient temples, historical sites, paradisiacal beaches, lush jungles, buzzing metropolises and flavorful local dishes: Southeast Asia has it all, and more. Embark on a once-in-a-lifetime, month-long trip to the region on a truly epic journey, curated by one of Asia's premier tour operators, ATJ, to discover its vast and diverse beauty and culture. You'll visit Hong Kong, Vietnam, Cambodia, Laos, Thailand and Singapore; stay in charming boutique hotels and five-star resorts, including Four Seasons, Six Senses and Raffles; and you'll be accompanied by English-speaking guides and chauffeured by private car.
Learn about the region's fascinating history through tours of Hanoi, Vietnam's capital; Hue, the former Imperial capital that houses the Imperial Citadel and Forbidden Purple City; Ho Chi Minh City, where you can visit Viet Cong tunnels and Reunification Palace; Phnom Penh, Cambodia's buzzy capital; and Singapore, a fascinating mix of cultures and cuisines packed into a tiny city.
Your days aren't just filled with history and culture; you'll visit local markets and indulge in delectable street food, as well as Michelin-starred fare. There's a mystical feeling throughout the countryside, where Buddhist shrines and temples are at every turn, and you'll get to see the largest and oldest Buddha structure in the city firsthand. Cambodia's Siem Reap is one of the most well-known Buddhist sites, where you can tour Angkor Wat and Ta Prohm.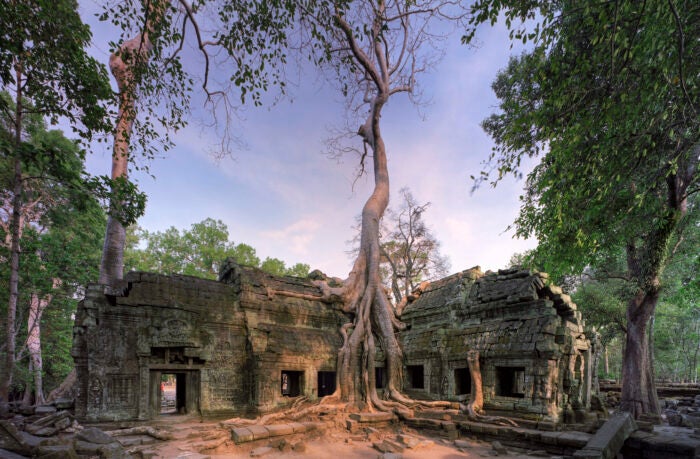 You will also have more intimate experiences, like meeting a Thai monk who will take you around his monastery and share his daily routine with you, or participating in a special morning ritual in Laos where bells chime each morning signaling the procession of barefoot, golden-robed monks who line the streets to receive their daily rice from citizens. But most of all, it's the natural wonder of the region that will captivate you. There are pristine beaches with powdery soft sand and crystal-clear waters where you can break up your touring days and relax; a luxury cruise through Ha Long Bay, where dramatic limestone karsts rise from emerald-colored waters; and picturesque countrysides dotted with tiny villages. -ER
From $25,645 per person. Contact Eric Kareus, sales director, ATJ, eric@atj.com, +1 800 642 2742, atj.com
Darwin's Muse, Galapagos Islands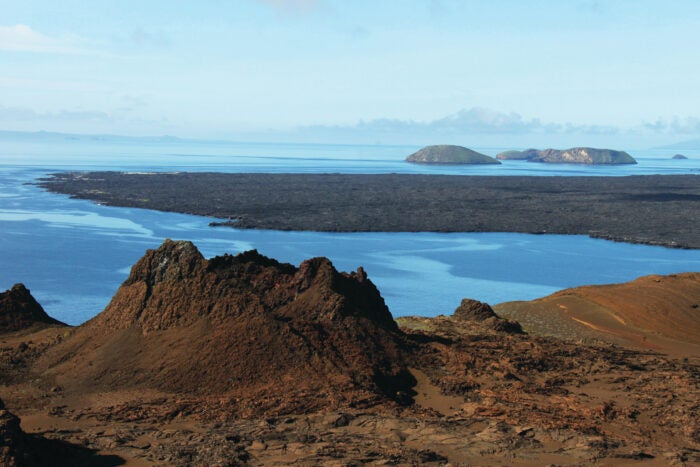 Galápagos Islands hold some of the most important protected natural areas in the world; they are home to several endemic species, including Galápagos tortoises, marine iguanas, Galápagos (or Darwin's) finches, flightless cormorants and Galápagos fur seals, plus unique crabs, seabirds, sea lions and fish. This archipelago of 21 volcanic islands is located 600 miles off the coast of Ecuador; the isolated location, as well as the subtropical climate, is what has allowed these unique species to thrive.
The landscapes vary wildly; there are dramatic cliffs, thick mangroves, black volcanic rock, lava tubes and white-sand beaches, all surrounded by turquoise ocean. Naturalist and geologist Charles Darwin made the Galápagos famous in the mid-19th century when a visit here to study wildlife helped him develop his theory of evolution. Not only are the islands beautiful, but there is plenty to do, see and learn while here, including how we can further protect this special part of the world. The best way to explore the islands is by boat, and one of the newest, and more elegant, ways to see it all is aboard Silversea's Silver Origin.
Unlike any expedition ship you've seen, Silver Origin is more like a private yacht than a cruise ship in both design and size, hosting just 100 people at a time. The ship employs environmentally conscious technology (including dynamic positioning technology that forgoes the use of an anchor so as to not damage underlying sea beds), uses reverse osmosis and is plastic-free. View wildlife from the indoor and outdoor Explorer Lounge (complete with an outdoor fire pit), and Basecamp, which has information on all of the unique flora and fauna. The ship has a large selection of Zodiacs for closer exploring, plus fantastic excursions like snorkeling, hiking and getting up close and personal with the endemic species. -ER
From $8,910 per person. Contact Silversea, +1 855 486 0912, silversea.com
Photo credits: Silversea, Shutterstock
Global Private Jet Journey, Worldwide
Ancient wonders, cosmopolitan cities, Earth's last frontier and tranquil beaches are just a few things you can check off your bucket list on this ambitious 28-day trip to all seven continents from TCS World Travel. Just 52 guests will experience this itinerary aboard a custom-configured Boeing 757 jet, and every logistical aspect of your trip will be taken care of so you can immerse yourself in cultural discovery.
There are many historical and wondrous sites along the journey, including visiting Easter Island off the coast of Chile, home to the mystifying moai stone figures set within Unesco World Heritage Site Rapa Nui National Park. Learn how these ancient structures were created and the mystery surrounding them, and explore nearby grassy hillsides, volcanic rock outcrops and dramatic cliffs. More sacred sites await in Egypt: An expert Egyptologist will lead you through the temples of Karnak and tombs and temples in the Valley of the Kings before you fly to Cairo to explore the 5,000-year-old Pyramids of Giza and the Great Sphinx. Next, head to the Middle East to enjoy Oman's ocean, mountain and desert landscapes. Tour the maze-like Muttrah Souk, the Grand Mosque or the Arabian Desert.
Stay at Al Bustan Palace, a Ritz-Carlton Hotel, that showcases the rich Arabic culture through its Art Deco design; towering mountains loom over the lush 200-acre property. You will also visit snowy Antarctica. Explore its remote landscapes, icebergs and glaciers while staying aboard luxury vessel World Explorer, which has scientists on board and observation decks for comfortable wildlife spotting (including several types of seals, whales and penguins).
Between your adventures, relax at Pullman Nadi Bay Resort & Spa Fiji, which has a tranquil spa, stretches of white-sand beach, snorkeling and water sports, and local gourmet fare. You will also experience the lush southeast Asian paradise Langkawi, Malaysia, filled with waterfalls, jungle, beaches and deserted islands. For some urban flair, stop in Melbourne to experience its art scene and fine dining (read more about its world-renowned food festival on p106); enjoy a trip to Buenos Aires, dubbed the "Paris of South America" for its impressive architecture, design and art; and complete your journey with a stop in London. -ER
From $164,950 per person. Contact Kristina Gordon, guest relations manager, TCS World Travel, kristina.gordon@tcsworldtravel.com, +1 800 454 4149, tcsworldtravel.com
Southern Sojourn, USA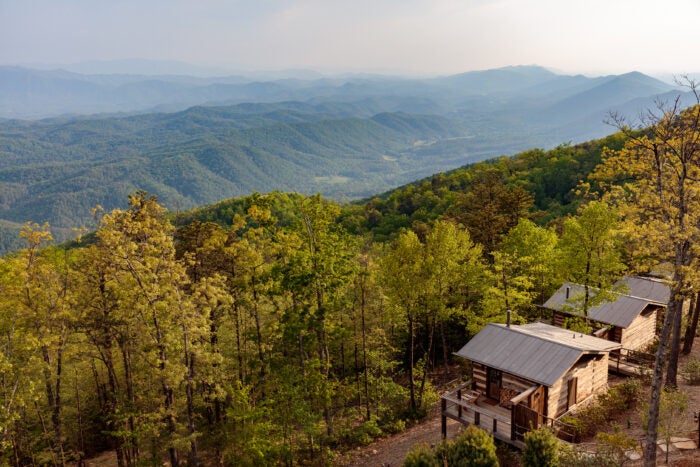 The Southern US is known for its warm sunshine, country music, friendly people and comfort food, and it is brimming with unique history, culture and tradition. Multi-award-winning travel company Black Tomato's Southern journey showcases the best of the region's food, music, whiskey and history; the trip starts in Nashville and ends in New Orleans, and you'll visit Tennessee, South Carolina, Georgia and Louisiana.
The South has instantly recognizable, hyper-local cuisine; for example, barbecue in Nashville is completely different from South Carolina. Your gourmet journey includes plenty of Southern classics like barbecue and fried chicken, but also takes you to meet some of the country's best artisans at Blackberry Farm, a Relais & Châteaux property and pioneer in the farm-to-table movement, and showcases exceptional cuisine in New Orleans with a VIP chef's table experience at the world-famous restaurant Galatoire's and a martini-making class at Commander's Palace.
There's also plenty of whiskey, including a private tour of the Jack Daniels Distillery, where you'll get to create a special blend inside a personal barrel to send home. There are several historical excursions with private guides, so you can learn the secrets of the French Quarter and explore Civil War landmarks in Savannah.
Gracious Southern hospitality isn't an empty sentiment, and you'll get to enjoy it at its best at Sea Island Resort in Georgia, where you can explore pristine waterways looking for manatees and local wildlife, relax on five miles of private beach, play golf at world-class golf courses or indulge in treatments at the enormous spa. But most of all, you'll get to soak up the region's unique culture through its music, including stops at the best venues in Nashville and a wild night of jazz at the Big Easy's Spotted Cat Music Club. -ER
From $9,650 per person. Contact Luca Fella, travel expert, Black Tomato, luca.fella@blacktomato.com, +1 646 747 3041, blacktomato.com