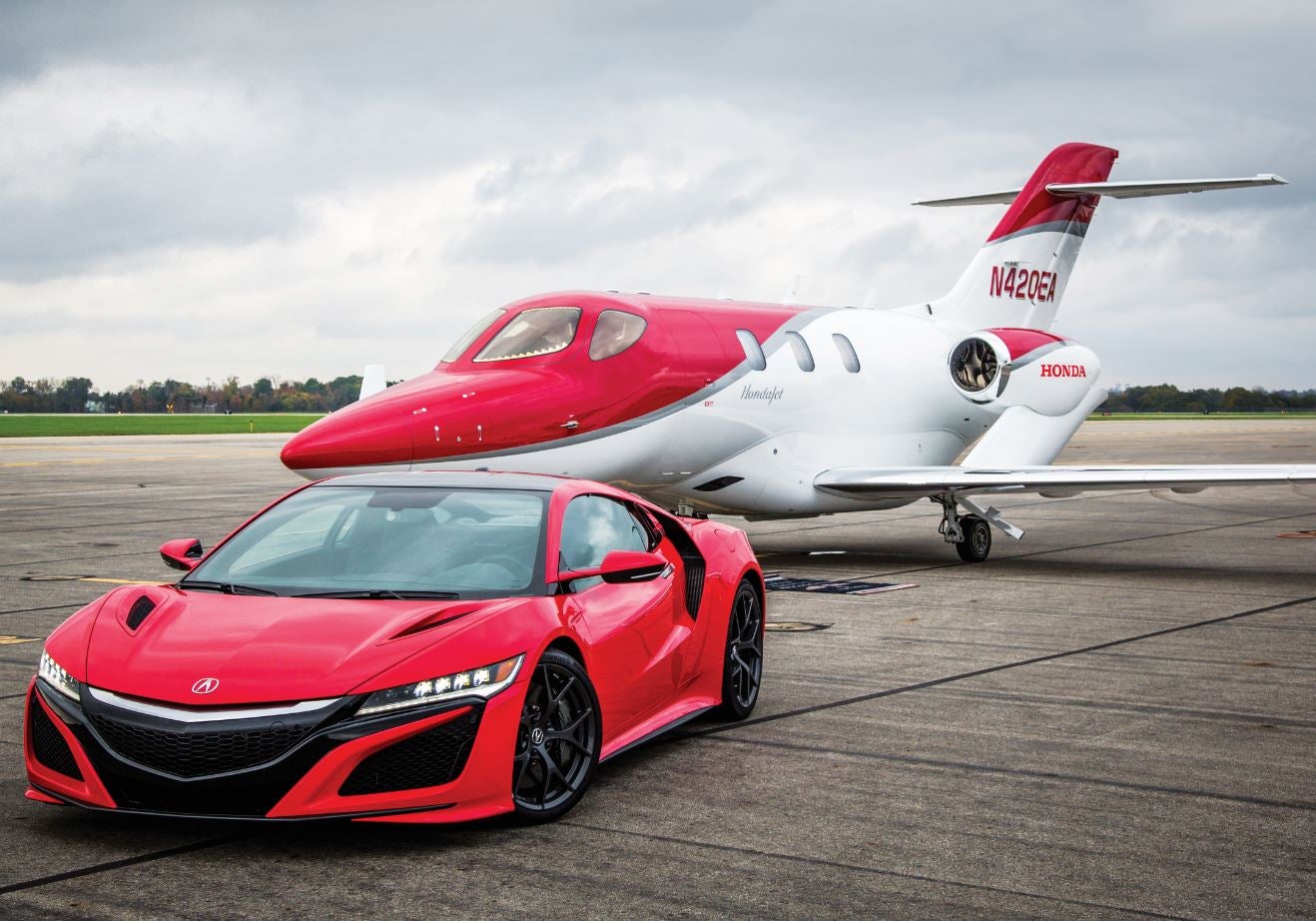 This story originally appeared in the January/February 2018 issue of Elite Traveler.
In an unassuming building in Marysville, Ohio, you'll find a marvel of modern technology: the Performance Manufacturing Center, a pristine, almost-too-quiet factory where dedicated employees build the only American supercar using state-of-the-art technology. Sure, a Japanese company, Honda, owns the plant, but the Acura NSX was designed, developed and built here in the US, making its NSX Insider  Experience tour a relatively short trip for most new owners. To make the visit even more special, Acura has teamed up with its parent company's groundbreaking HondaJet, offering a unique opportunity to experience both reimagined modes of transportation in rapid succession.
There are now more than 50 of the innovative HondaJets flying the skies. Popular with owner-operators (while it's a jet, it's FAA-approved for only one pilot) and companies making regional trips (it has a range of up to 1,358 miles), the aircraft features a unique engine-over-wing design, fastest-in-class airspeed and surprisingly roomy interior, poising it to take over significant market share in the near future. Plus, you can sit in the copilot's seat during your flight.
In Ohio, you can custom design your trip to focus more on history, track driving or watching your baby be assembled. On the Acura Proving Grounds, step inside an NSX with a professional driver accompanying you, and put it through its paces in a dynamic drive experience. Test the four modes and feel the difference between Quiet and Track modes on the curvy dynamic track, or drive perhaps the fastest you've ever driven on the high-speed test track. If you're up for it, your driver will take the wheel and show you a high–g-force hot lap, which will have you firmly pressed into the back of your seat and leave you absolutely exhilarated and searching for a track close to your home.
Acura NSX from $156,000, nsx.acura.com; NSX Insiders Experience from $1,990 to $6,768, nsxinsiderexperience.com; HondaJet from $4.9m, average operating costs $1,000 per hour, hondajet.com; Charter a HondaJet from Sunrise Jets to Marysville from $8,000 round-trip, charter@sunrisejets.com, +1 800 927 0209, sunrisejets.com