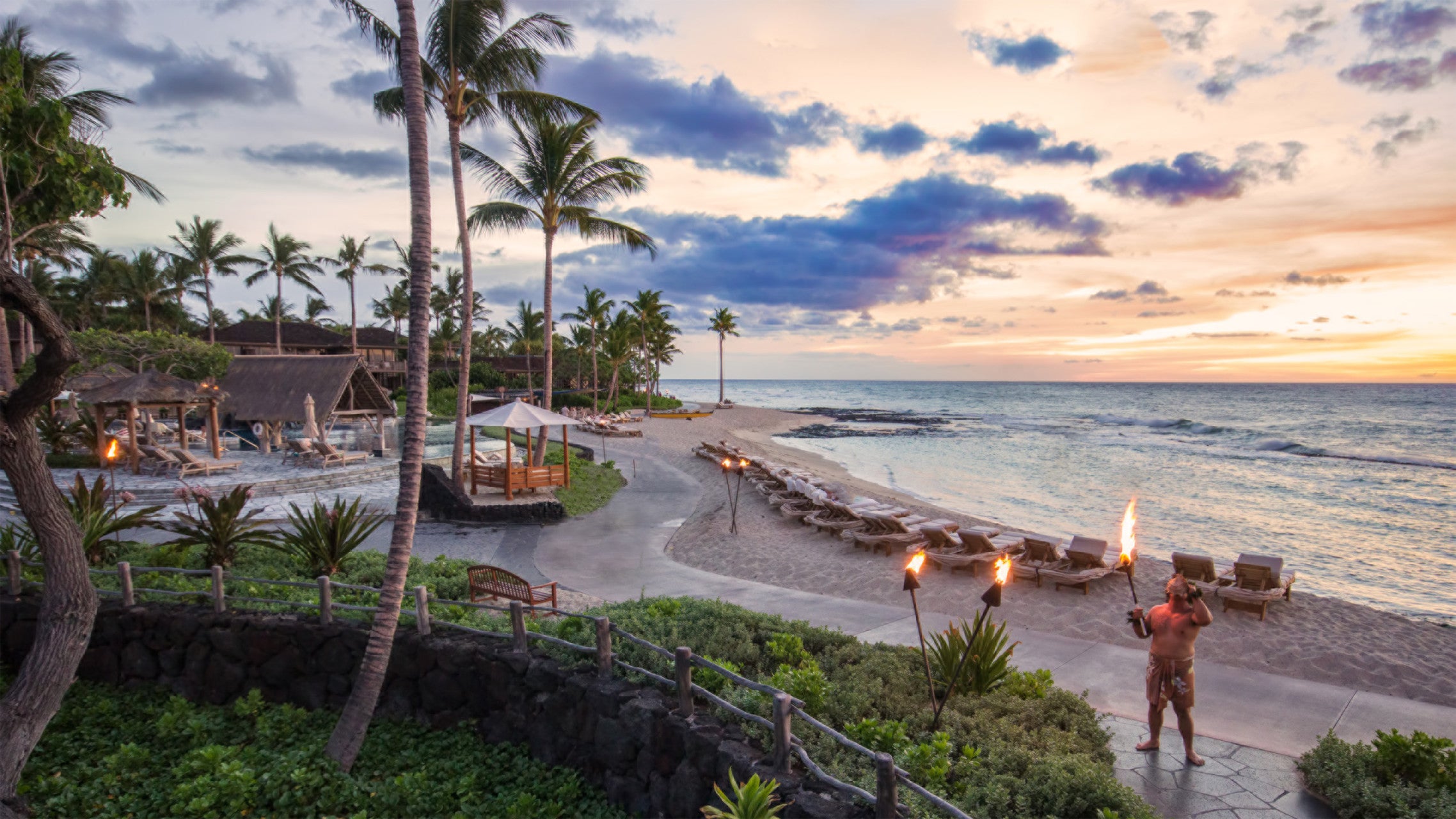 Each Four Seasons resort in Hawaii (Hualalai, Lanai, Maui and Oahu at Ko Olina) is inspiring guests to 'aloha at home' with a series of virtual experiences. Because every resort is so different in what they offer, these at-home experiences bring a sense of place tied to each Hawaii resort.
Four Seasons Hualalai, for example, aims to bring a sense of 'old Hawaii' to each guest's experience. On property, the Hualalai Spa uses traditional Hawaiian techniques and local ingredients in all of its treatments. While we aren't able to travel there, spa director Cecilia Hercik has put together a bath treatment and suggests playing Hawaiian music and lighting candles to transport yourself to Hualalai. Start with an exfoliating scrub made from four ounces of sugar, one spoonful coconut oil and one spoonful cocoa powder on your knees and elbows. Next, fill your bathtub with warm water, adding mineral salt and coconut milk to soak and relax. After the bath, massage cocoa butter for smooth, soft skin.
Four Seasons Resort Lanai encourages reflecting and mindfulness while at-home through journaling your feelings; moving, nourishing and resting; and setting intentions and goals. Some questions to answer in your journal include setting intentions and how your goals align with your wellbeing. Each resort's virtual experience goes hand-in-hand, and Four Seasons Resort Maui hopes to connect you to nourishing your body through healthy food. They have created a plant-based healthy dessert (courtesy of executive chef Craig Dryhurst). Create six servings of Chocolate Avocado Mousse:
4 ripe avocadoes
8 oz organic maple syrup
2 tsp organic vanilla extract
4 oz cocoa powder
1/2 tsp cinnamon
12 oz fresh raspberries
Chocolate shavings
Combine all ingredients in the blender and blend until smooth and silky. Check the sweetness at the end and adjust to your preferences. Portion out into separate containers and layer with five raspberries. Garnish with chocolate shavings, some more raspberries and a sprinkle of cinnamon.
Last is Four Seasons Resort Oahu at Ko Olina. Celebrity chef Michael Mina and his team of master mixologists wants guests to relax with a creative craft cocktail, made using local ingredients and flavors. The Tranquilizer is one of the top cocktails on the menu. Cheers!
1 fifth Del Maguey Vida Mezcal
1 fifth Espolon Tequila
3 oz pineapple juice
Kwi for garnish
1 oz banana purée
To make, add all ingredients in a mixing tin, add ice and shake. Double strain into a Collins or pilsner glass, add pebbled ice and garnish with a kiwi wheel, edible butterfly and two pineapple fronds.
For more information, visit fourseasons.com/hawaii