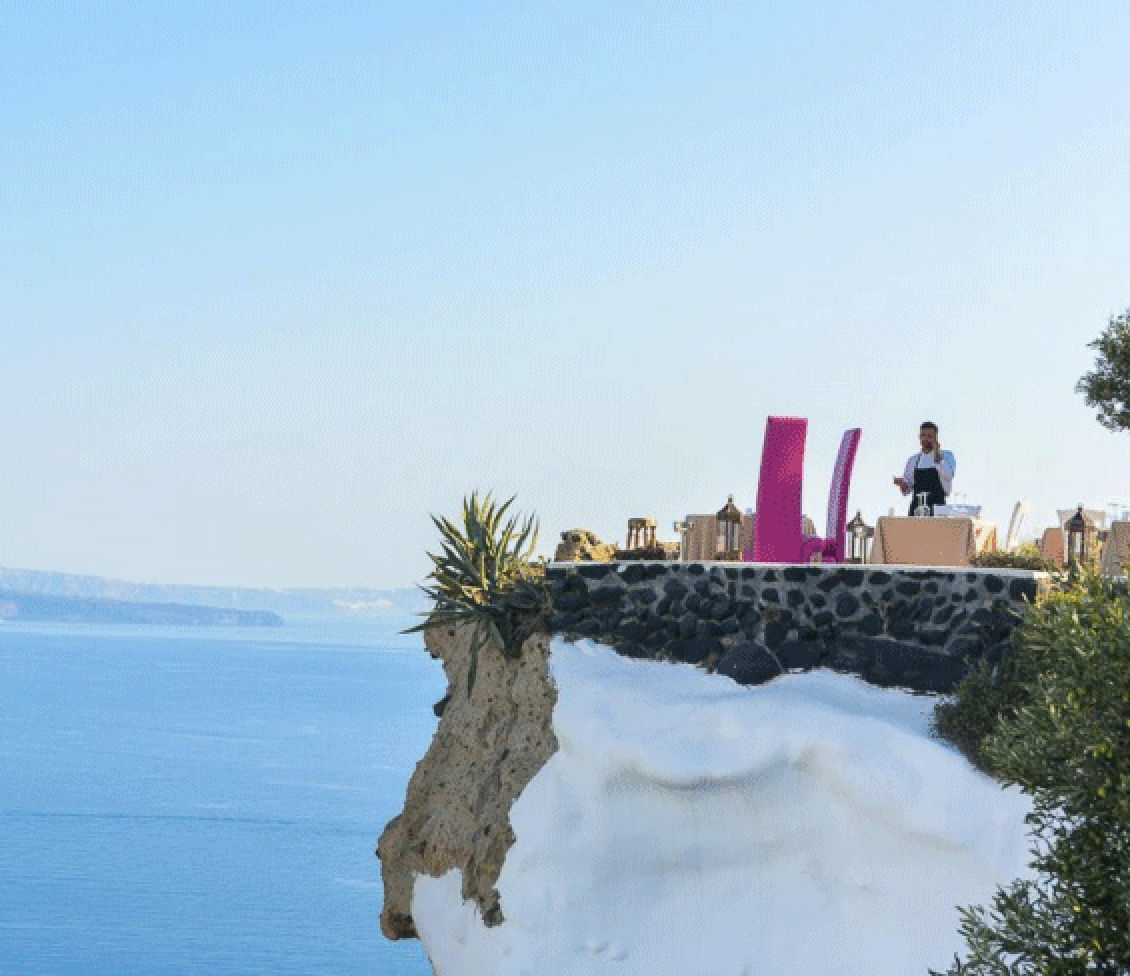 The enchanting island of Santorini calls to luxury vacationers and honeymooners, and now, gourmands. This year is the fourth installation of the Andronis Gastronomy Festival, where world-class chefs prepare divine tasting menus inspired by the fresh, local ingredients of the pretty island paired with their distinct culinary style.
While enjoying the exquisite dishes and fine wines against the renowned Santorini sunsets, festival attendees also have the unique opportunity to meet the lauded guest chefs.
The events take place at three of the boutique hotel brand's venues: Lauda restaurant at Andronis Boutique Hotel, Lycabettus restaurant at Andronis Luxury Suites and Throubi restaurant at the new Andronis Concept wellness resort.
August 4-5th, Frederic Anton at Lycabettus
Frederic Anton, a previous winner of MOF (Meilleur ouvrier de France) began his career in 1986 at Le Flambard with Robert Bardot. Before joining Le Pre Catelan in Paris, he was the chef de cuisine at Joel Robuchon.
August 12-13, Paolo Casagrande at Lycabettus
Paolo Casagrande is the chef de cuisine at three-Michelin-star restaurant Lasarte in Barcelona. The Italian chef has perfected his culinary prowess at many top restaurants in Paris, Italy and London.
August 18-19, Jacob Jan Boerma at Lauda
One of the 50 Best Chefs according to French publication Le Chef, Jacob Jan Boerma of De Leest Restaurant in the Netherlands is famed for his haute cuisine and experiment dishes.
August 22-23, David Garcia at Lycabettu
With a passion for organic produce and controlled cultivation, David Garcia's authentic cuisine is created with all natural ingredients. He is the chef de cuisine at Corral de la Moeria in his homeland of Bilbao, Spain.
August 27-28, Emmanuel Renaut at Lauda
Founder and chef of the tres chic Flocons de Sel restaurant in Megeve, Emmanuel Renaut was inspired by the village's wild pants and used them to create his bold dishes.
September 8, Ntinos Fotinakis at Throubi
Ntinos Fotinakis has worked alongside Gilles Marchal, Eric Frechon, Arnaud Bignon and Charles Metayer, resulting in his signature Greek nouvelle cuisine with a subtle French twist. He currently heads up Bill & Coo in Mykonos.
September 15-16, Pere Planguama at Lauda
Pere Planguama has worked with some of the most iconic chefs, including the Roca Brothers of El Celler de Can Roca. The Spanish chef is inspired by the landscape that surrounds him and creates rich, aromatic dishes.
Tasting menus from $130, andronisexclusive.com