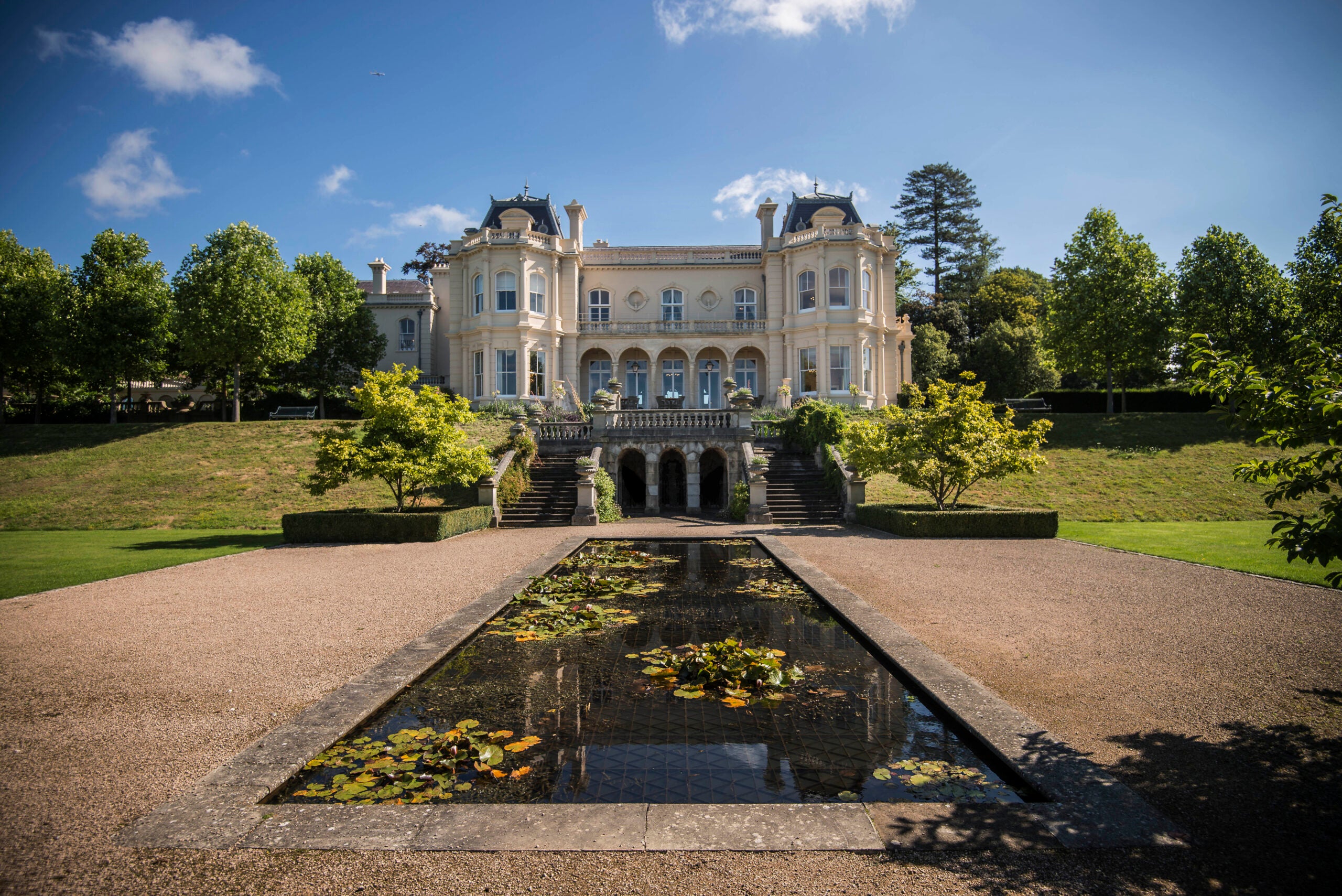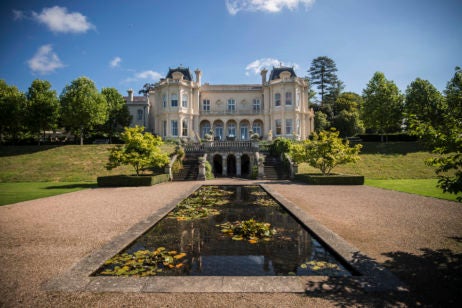 Just under an hour outside of London, Beaverbrook Hotel & Spa is surrounded by 470 acres of rolling hills, perfectly manicured grounds, pretty gardens and ponds. Despite its proximity to the city, it feels wonderfully cut-off and remote. The main house (known simply as The House) has just eighteen guest rooms and makes an impact when you enter: the reception is off to the right so feels as though you're welcomed into a grand home instead of a hotel, and the original woodwork, interesting art displays and towering double-height ceilings make an excellent first impression. Within The House, there's also The Dining Room; The Morning Room; The Parrot Bar; and a charming cinema with large, wine-colored velvet sofas with matching footrests and a working popcorn cart. The Garden House, adjacent to The House, has eleven bedrooms and a restaurant serving rustic Italian fare (plus a cooking school if you're feeling inspired).  
Beaverbrook will delight history buffs as the estate has a fascinating history: Lord Beaverbrook was a Canadian-British publishing baron who was a millionaire by the time he reached 30 years old. He was a powerful and influential character and entertained his friends at Beaverbrook (then known as Cherkley Court) — Ian Fleming, HG Wells and Elizabeth Taylor all visited regularly. He was close friends with Winston Churchill; they would use the cinema to discuss the war. Lord Beaverbrook was a cabinet minister during both world wars and, during the Second World War, overhauled the production of aircraft production. He famously appealed for "pots and pans" to make spitfires. Keep a close eye on the bartenders' uniforms, as they wear small spitfire brooches on their braces.   
STAY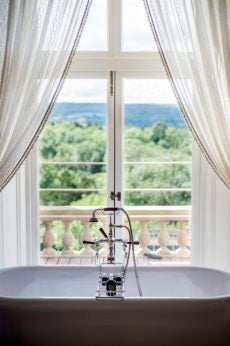 Named after the many famous characters who have visited, each suite is quirky and unique with original features. We love the Superior Turret Suites that are located in the eaves of The House on the top floor with towering domed ceilings, dangling chandeliers, a gorgeous monochrome bathroom with a his 'n' hers shower and separate room for the bathtub. There's a sweet snug adorned with gingham pillows — grab a Sipsmith sloe gin and tonic, cozy up with a good book and gaze out onto the acres below.  
The Dowager Suite was once Lord Beaverbrook's bedroom; he loved the views over Surrey Downs and Italian Gardens — take them in from one of the two private terraces, or draw a bubble bath and admire the greenery from the bathtub.   
THE DINING ROOM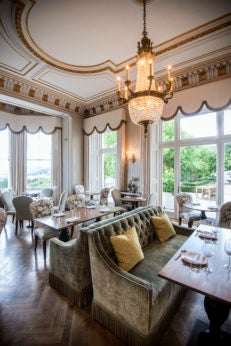 Unusual pairings abound at The Dining Room: cuisine from the far east served in an old-English-style dining room and delectable sushi topped with crispy ants (surprisingly tasty). There are two tasting menu options and both come with wine pairings. The grilled corn-fed baby chicken with teriyaki sauce and sliced truffle is a highlight of the menu, and we recommend washing the mango mochi ice cream down with a clean, crisp sip of sake. Head to The Parrot bar for a nightcap — the interiors are as delicious as the cocktails on offer; think gilded bird cages, green velvet chairs and Art-Deco flair. 
THE SPA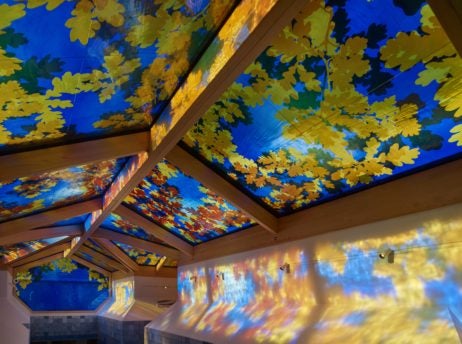 Unveiled earlier this year, the spa, also known as The Coach House, is utterly divine. It is an anomaly in its design: no soothing neutral colors here, instead you'll find bright and bold floral prints and vibrant colors. The incredible stain-glass windowed ceilings, designed by Brian Clarke, are so stunning you'll be craning your neck to admire their beauty, but do make sure you look down: there's an indoor stream that cascades down the steps: The sound of the trickling water is a pleasant juxtaposition to the vibrant colors. The inspiration behind the decor is the English countryside — hardly surprising considering the hotel is surrounded by pristine natural beauty. The relaxation area is a series of wooden stables with green sofas that are easy to sink into, and a flickering fire at the center point of the room.  
If you suffer with any aches and pains, the biodynamic massage combines a variety of inspirations from western science and eastern philosophy. Choose your preferred essential oil and slip into a state of bliss as your therapist gently works out any knots with a soothing massage and gentle stretch.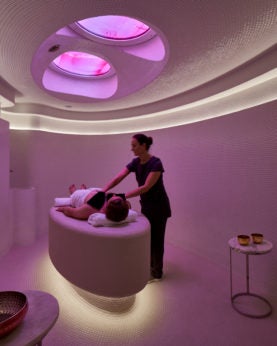 Do not leave without trying the English Bath Ritual — a variation of the traditional hammam, you'll be scrubbed with an invigorating peppermint scrub that will leave your skin tingling, before having body oil applied. A clay mask is then applied to your entire body to help draw out toxins. You'll leave with baby-soft skin and smelling delicious.  
Post-treatment, head to the deli for a hearty but healthy salad or a flat bread straight from the wood-burning oven. Wash it down with a green smoothie if you're feeling healthy or champagne if you're not.  
The Coach House also has two swimming pools (one indoor and two outdoor), steam room, jacuzzi and sauna, plus an excellent gym and dance/yoga studio. There's a lovely store too incase you want to take any products from your treatment home — instead of choosing big-name spa brands, The Coach House stocks small, independent British brands that are mostly hand-made.  
From $980 per night, info@beaverbrook.co.uk, +44 1372 571300, beaverbrook.co.uk