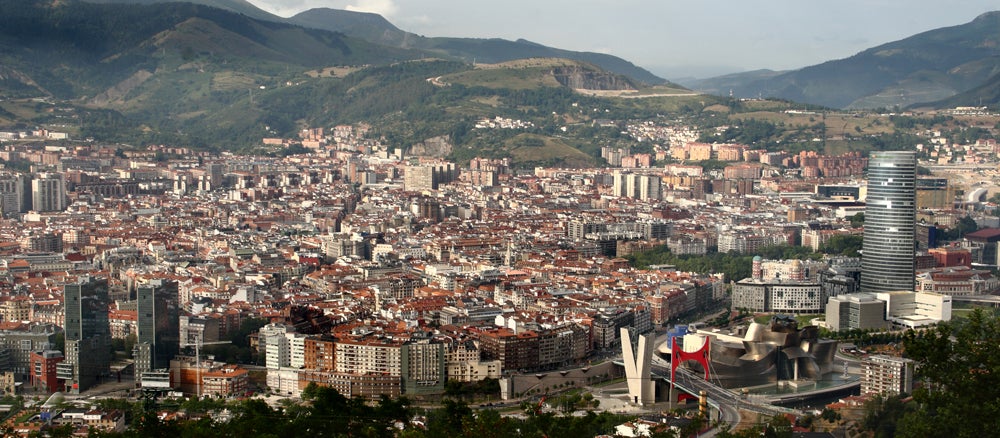 At the epicenter Basque Country, Bilbao is a city all its own — with its own language, own culinary traditions, vibrant art and design scene, it's a must-visit, especially as the Guggenheim Museum celebrates its 20th anniversary. Here's our pick of the best hotels in Bilbao.
Hotel Carlton
Step back in time at Bilbao's first high-end hotel — Hotel Carlton was first built in the 1920s and exudes old-school glamour with marble floors, plush red rugs, stained-glass domed windows and crystal chandeliers. Ideally located in the buzzy Plaza Moyúa (the Guggenheim is just a 10-minute walk away), you can watch the world rush by from the Imperial Suite's terrace. Be sure to visit the Artagan restaurant to sample the best in traditional Basque cuisine.
Grand Hotel Domine Bilbao
You can't get a luxury hotel closer to the Guggenheim — Grand Hotel Domine idactually so close that you can see the titanium structure reflected in the windows, and is also right next to Jeff Koons delightfully playful Puppy sculpture. The hotel's striking architecture makes it right at home with its creative neighbors — designed by famed Spanish artists Javier Mariscal, his works are on display within the hotel.
Hotel Miró
Flanked by the Guggenheim and the Bilbao Fine Arts Museum, Miró is the hotel of choice for art fans. Named after Joan Miró, the Spanish painter, sculptor and ceramicist, the interiors are all fresh, minimalist chic with calming shades of blues and creams. Check out the library filled to the rafters with specialist books about art and Bilbao.
Barceló Bilbao Nervión
This eco-hotel can be found in the heart of the city, towering over the Nerivon River with views of all of Bilbao's famous bridges and just a short walk from the Old Town. The Bosque de Oma, an enchanting local landmark of painted trees, inspires the hotel's décor with a pixelated wall sculpture. Be sure to sample the pintoxs (a traditional Basque dish), washed down with your choice of wine from the hotel's cellar.