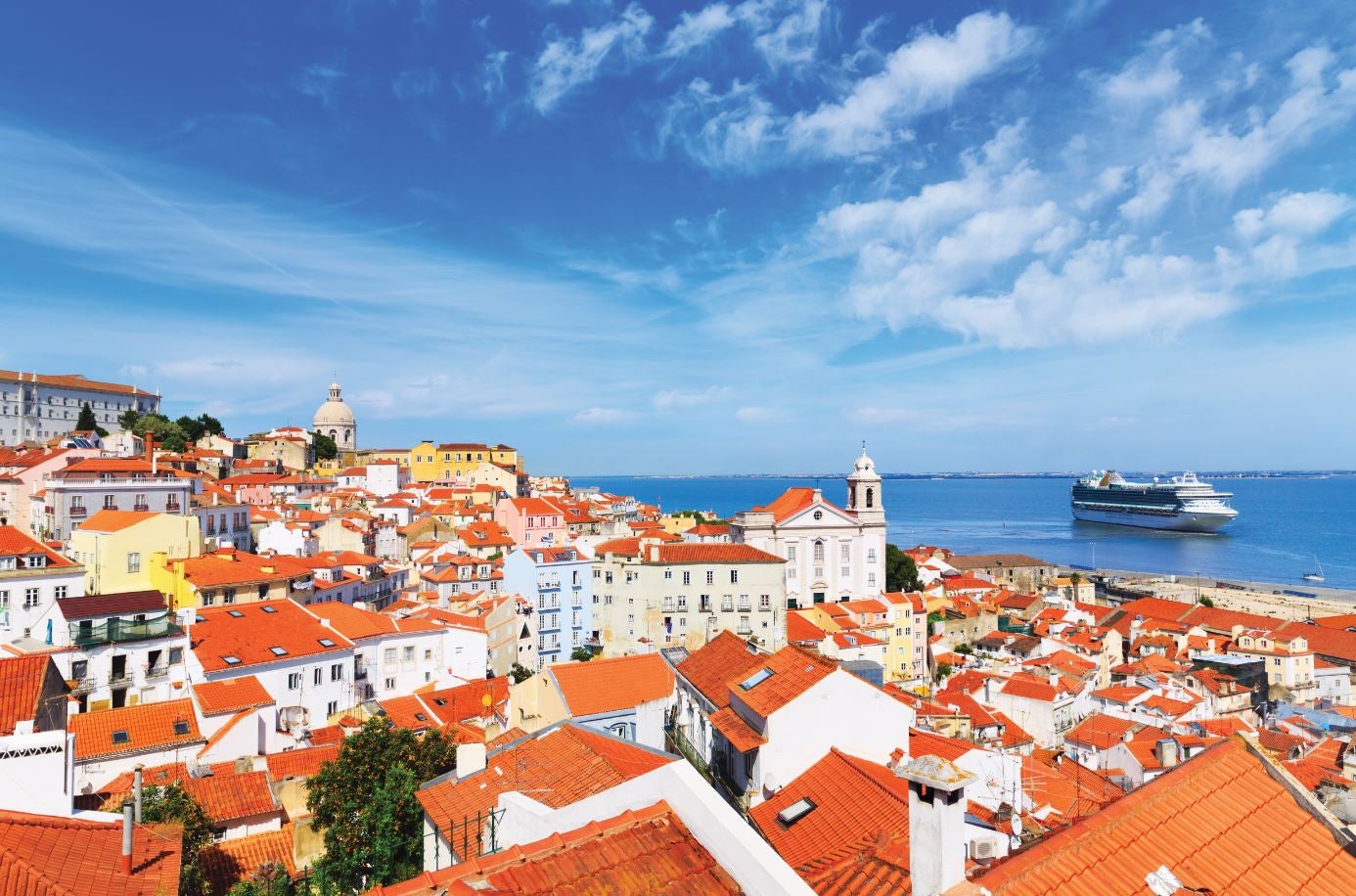 By Irvina Lew
This story originally appeared in the January/February 2018 issue of Elite Traveler.
Lisbon's delights are best seen from the maze of cobblestone streets in the ancient Alfama district, where Islamic towers dating from the Moorish invasion of 711 top the ancient Roman walls surrounding the medieval São Jorge castle. Here, red-tile-roofed buildings fronted with hand-painted, blue-and-white azulejo tiles line the steep streets that wind down to the waterfront. The city's Christian history presents itself with Romanesque churches, Gothic monasteries and cloistered convents. Mosaic-tiled sidewalks border buildings filled with homes, shops and restaurants in Chiado, and tiny cafes and wine bars stud the narrow cobblestoned streets of Bairro Alto. In the area constructed after the earthquake that destroyed much of the city in 1755, the jacaranda-bordered Edouardo VII park sits alongside hotels and splendid Belle Époque buildings with wrought iron balconies that line the Avenida da Liberdade. This landscaped pedestrian promenade hosts apartments and hotels with chic designer shops and restaurants. Lisbon, a cultured, sophisticated and safe city enjoys balmy weather, fabulously fresh local foods and regional wines, all served in fine restaurants where the prices are as welcoming as the English-speaking staff.
BEST PLACE TO HAVE
Traditional Portuguese Cuisine
Solar dos Presuntos A family-operated traditional Portuguese restaurant near the swank Avenida de Liberdade, Solar dos Presuntos lures celebrities and ordinary Lisboans alike. Named for the dry-cured ham served upon arrival, the homey restaurant offers generous portions of cozido (a multimeat stew), platters of local seafood and fish, and an impressive selection of Portuguese wines. solardospresuntos.com
Gastronomy with a Wink
Beco Cabaret Gourmet Newly launched by José Avillez, the two-Michelin-starred chef at Belcanto, Beco lives up to the lofty expectations for the lauded chef. Hidden behind a bookcase in a former chapel, Beco offers a choreographed multicourse prix-fixe menu that is full of surprises, including an edible rose, served "with a wink," a song and a dance. becocabaretgourmet.pt
An Enormous Steak
Rib Beef & Wine A popular steakhouse, Rib Beef & Wine made its debut in 2016, under a curved brick ceiling within the 18th-century former government building that once housed Prime Minister António de Oliveira Salazar's office. The restaurant faces the city's central waterfront plaza, and celebrates 28-day-aged ribeye and chateaubriand and house-made specialties, including red-cabbage slaw with balsamic and honey. pestana.com
A Palatial Experience
Palacio Chiado A stunningly restored 18th-century palace with an extravagant staircase, frescoes and stained glass, Palacio Chiado opened in 2016 as an opulent culinary destination. It comprises two bars that serve the best Portuguese wine and cocktails, a pastry shop and six restaurants with traditional Portuguese dishes and international cuisine, including meat, oysters, bacalhau (cod), sushi and healthy vegetarian fare. palaciochiado.pt
Made-in-Portugal products on a private tour
A Context Travel culinary expert introduces authentic Portuguese products on the private three-hour Bica to Ginja: Lisbon Food Tour. Throughout your journey you will sample sweets like pastéis de nata, the iconic orange-and-cinnamon-flavored custard tart, and visit some of Lisbon's best markets to try delicacies. Sample traditional goat cheese, prosciutto and Moscato wine at Time Out market, enjoy canned sardines, tuna and mackerel at Conservas, and end the afternoon with typical petiscos (tapas) such as bolinhos de bacalhau (codfish cakes) and multiple drinks, including Ginja, a cherry-flavored liqueur. contexttravel.com
MUST-SEE SIGHTS
Visit Torre de Belém (Tower of Belém), the Unesco World Heritage site built where the Atlantic Ocean meets the Tagus River. Designed in 1515 to defend the city's harbor, it occupies a prestigious historical location near Jerónimos Monastery, where explorer Vasco da Gama is entombed. torrebelem.gov.pt
Explore Castelo de São Jorge (Saint George's Castle), which dominates the maze of narrow cobblestone streets in the culturally rich Alfama district. It housed Romans,  Visigoths and Moors until 1147, when Afonso Henriques, the first Portuguese king, captured it. castelodesaojorge.pt
Tour MAAT (Museum of Art, Architecture & Technology), a brand new cultural center in a delightful contemporary structure with a walk-up rooftop terrace on the renewed riverside promenade in the Belém historic district. maat.pt
Marvel at Museu Nacional do Azulejo (The Tile Museum), set within a 16th-century cloister for the sisters of Madre de Deus monastery. It showcases traditional blue-and-white Portuguese tiles, some dating from the 15th century, plus a cityscape dating from 1738. museudoazulejo.gov.pt
Linger at Calouste Gulbenkian Foundation, a parklike seven-acre art complex with Egyptian, Greek, Roman, Islamic, Asian and European art, china, tapestries, carpets and contemporary European paintings donated to the city by Armenian-born collector of Portuguese art Calouse Gulbenkian. gulbenkian.pt
DAY TRIP
Hire a chauffeured car for the 35-minute drive to the picturesque pine-studded hills of the Serra de Sintra. Here, nobles escaped the summer heat in opulent palaces and gardens, which include a variety of public historic monuments and a hotel, the luxe Tivoli Palácio Seteais. The coastal drive back to Lisbon passes the wild surfing shores of Guincho en route to Cascais, a fabulous fishing village and beach destination. A meal at Cascais's The Mix restaurant, helmed by chef Ricardo Deus and set within the Farol Hotel, a 19th-century oceanfront villa, is a must.
TOP SUITES
PRESIDENTIAL SUITE
Four Seasons Hotel Ritz Lisbon
Former Portuguese Prime Minister António Salazar had this 400,000-sq-ft midcentury-modernist hotel constructed after World War II to welcome visitors in haute style. The very grand one-bedroom Presidential Suite features a double-door entry, an antiques-filled marble-floored foyer, formal dining for eight and an oversize living room with two sofas. The suite's five balconies offer incredible 10th-floor views over the Eduardo VII park, from the Marquês de Pombal statue to the Tagus River. Brito, the dapper maitre d', greets guests at chef Pascal Meynard's Varanda Restaurant. Also on-site: a four-treatment-room spa and an indoor lap pool.
From $18,000 per night. Contact Guilherme Costa, general manager, +351 21 381 1400, fourseasons.com/lisbon
ROYAL SUITES
Verride Palácio de Santa Catarina
This palatial 18th-century townhouse, located at the edge of Chiado, formally opened as a hotel in December 2017. The exclusive 19-room boutique property features two first-rate restaurants, Suba and Criatura, and a rooftop terrace with river views. The glamorous lobby opens to marble floors and a curved staircase leading to the ornate noble floor, which houses two Royal Suites, each with sculpted-wood ceilings, enormous windows in the bedroom and a sitting room decorated with a stylish contemporary flair. The Queen Suite boasts a freestanding oval soaking tub surrounded by azulejo murals; the salon in the King Suite is ensconced within the historic, wood-paneled library. Each connects to The Yellow Room, a luxe lounge with a stunning chandelier, which becomes private if both suites are booked.
From $3,400 per night. Contact Paula Marques, general manager, info@verridesc.pt, +351 211 573 055, verridesc.pt

ROYAL SUITE
Olissippo Lapa Palace
Located on a hilltop in a quiet residential neighborhood studded with diplomatic mansions, Olissippo Lapa Palace—a member of Leading Hotels of the World—dates to the 19th century. The elaborate palace entry features cream, pink and black marble floors, high painted ceilings, stained-glass windows and formal furnishings. The gracious fifth-floor Royal Suite is decorated with antiques, along with azulejo murals in the marble bathroom. The views from the terrace overlook the courtyard, the Rio Tejo and the distinctive red April 25th suspension bridge. The one-bedroom suite extends to three by connecting the two adjacent deluxe rooms. A newer garden wing offers accommodations facing the exquisite subtropical garden, outdoor pool and spa atrium.
From $2,700 per night. Contact Pedro Gomes, front office manager, pedro.gomes@olissippohotels.com, +351 213 949 593, olissippohotels.com