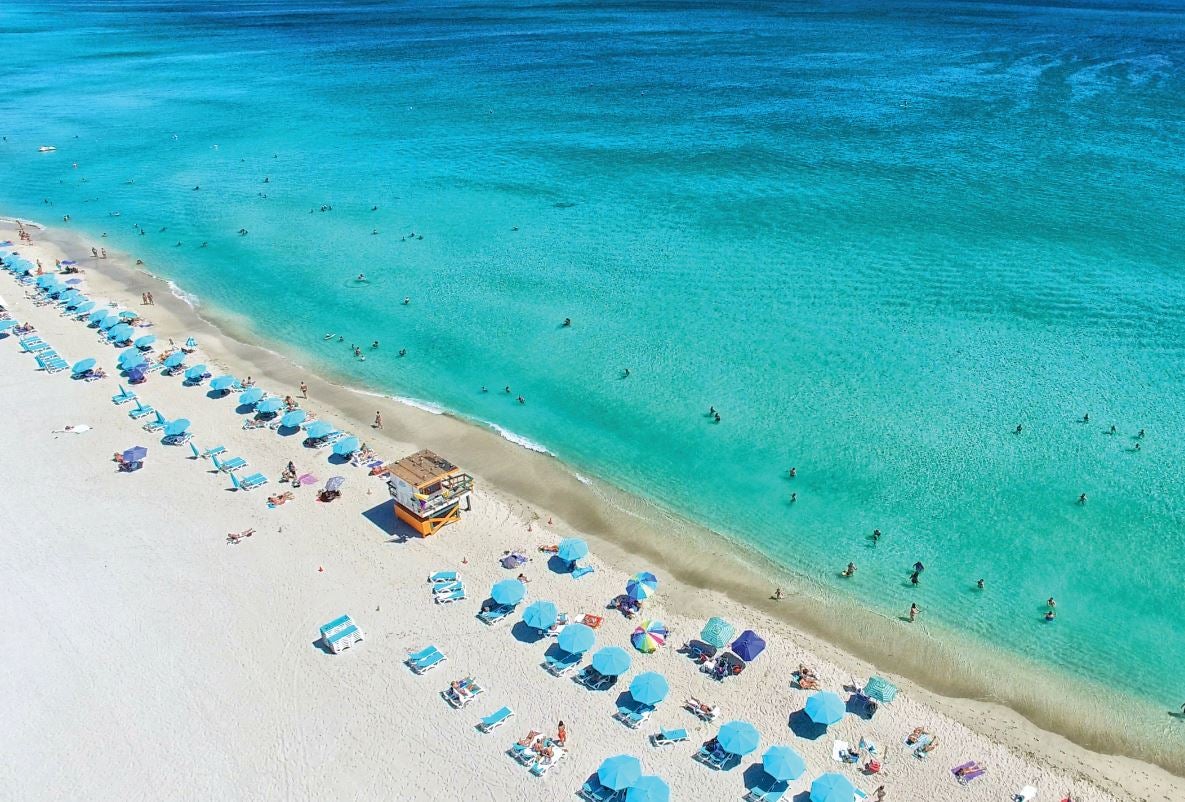 This story originally appeared in the November/December 2017 issue of Elite Traveler.
Miami straddles many worlds and there's no shortage of sights that will make you say "only in Miami": women jogging on the beach in sports bras and bikini bottoms, spring-breakers in their finest clubbing attire, pool parties that rival Las Vegas and some of the deepest tans you will ever see. But away from certain places in South Beach, you'll find an exciting culture, world-class shopping, booming real estate and endless beaches.
Neighborhood Watch
BRICKELL
The formerly sleepy financial district has become one of the city's buzziest neighborhoods—full of new condos, trendy restaurants and the next big shopping area, Brickell City Centre. Stay at SLS Brickell, Four Seasons Hotel Miami or Mandarin Oriental to soak up the atmosphere. Beware of the traffic—thankfully Brickell is quite walkable.
DESIGN DISTRICT & WYNWOOD

An ultra-luxury shopping mecca meets the art world in these neighborhoods. Nearly every top-tier fashion, watch and jewelry brand has a boutique in the Miami Design District, and the restaurants are quickly following. In Wynwood you will find incredible street art, galleries and museums, including the Gary Nader Art Centre and the Rubell Family Collection. The hotel scene hasn't quite caught up, so best to stay in a different area.
BAL HARBOUR VILLAGE
At the northern end ofMiami Beach, this elegant village is renowned for the incredible shopping at Bal Harbour Shops, its proximity to the action and as a welcome escape from the party scene for both families and those who want a good night's sleep. The sophisticated hotels that dot the pristine beaches are full of chic guests and in-the-know locals. The St. Regis Bal Harbour Resort and the Ritz-Carlton Bal Harbour have expansive, opulently decorated suites with private terraces, dining rooms and theaters.
SOUTH BEACH
For many, there is no Miami outside of South Beach. And it's true, you could stay at any one of the incredible hotels and never need to venture outside its borders. Channel old-school Miami at the Delano or Shore Club, hit the party scene at 1 Hotel South Beach, or stay at the city's most fashionable hotels, the Edition Miami Beach or Faena. Hit the beach, of course, but be sure to soak up the landmarked Art Deco architecture on a walking tour.
[See also: Top Suites in the World – E-Wow Penthouse Suite, W South Beach]
LITTLE HAVANA
You will feel as if you have been transported straight into Cuba if you spend an afternoon in Little Havana. Stroll down Calle Oche and enjoy charming shops, delicious Cuban food and a cafecito (or two). Book a walking tour with your concierge to get the inside scoop and end your evening at Hoy Como Ayer (of the movie Chef fame), where some of Latin music's best acts play.
Images: The incredible street art in Wynwood; patriotic lifeguard huts on South Beach; the bold architecture of SLS Brickell
Top Suites
PENTHOUSE SUITE
Faena Hotel Miami Beach
The opulently decorated and incredibly fun Penthouse Suite at Faena is perhaps Miami's most over-the-top suite. And we love it. Five bedrooms and large living areas are sprawled across two floors, each with floor-to-ceiling windows overlooking Miami's famous beaches. It's decorated in leopard print, gold and the property's signature red. While the decor might be untraditional, you can still expect impeccable service, as the suite comes with a butler. For slightly more subtle decor, check into the Imperial Suite. Downstairs you'll find several of Miami's most popular restaurants and bars, which might tempt you to leave the confines of your gilded palace.
From $50,000 per night. Contact Nicole Sinclair, general manager, reservations-miamibeach@faena.com, +1 305 535 4697, faena.com
BUNGALOW PENTHOUSE
The Miami Beach Edition


An idyllic suite located on the fifth floor of the bungalow tower, just above a grove of perfect palm trees, the Bungalow Penthouse is an outdoor oasis. The lovely interior has one bedroom, seating area and spa-like bathroom with oversized marble soaking tub and luxurious rain shower. Take the spiral staircase or in-suite elevator to the crown jewel of the hotel, a 1,900 sq ft balcony with private rooftop lap pool and dining area. If you want to share your retreat, there's an optional three-bedroom connecting suite.
From $10,000 per night. Contact Mathew Pargament, general manager, mathew.pargament@editionhotels.com, +1 786 257 4500, editionhotels.com
GRAND PALACE SUITE
The St. Regis Bal Harbour Resort


High on the 23rd floor, two Sky Palace Suites combine to form the 7,500 sq ft Grand Palace Suite. Grand, indeed. The eight-bedroom suite has elegant, modern decor and is perfect for group trips or multi-generational family trips. There are several balconies with dining tables and sun loungers offering spectacular views. Enjoy butler service, a daily villa at the pool and the benefits of combining two suites, meaning you'll have two master bedrooms, kitchenettes and media rooms.
From $20,000 per night. Contact Oliver Key, general manager, +1 305 993 0700, stregisbalharbour.com
Classic Miami Dining
There are simply too many restaurants in Miami to pick a favorite, so follow our lead and eat your way through the city's best-loved restaurants savoring their specialties. If you're looking for something new and exciting, we recommend Alter for locally-sourced ingredients and fabulous presentation or Los Fuegos by Francis Mallmann for an incomparable Argentinian asado experience.
Have a leisurely lunch at Cecconi's and watch the Soho House devotees milling about.
Enjoy sunset cocktails at The Standard. But no matter how inviting the water looks, don't go for a sunset dip—it's prime shark feeding-time.
Crack delectable snow crab claws with the tourists at Joe's Stone Crab (or order delivery to your hotel).
Dine outside in a cabana at Mr Chow, which is always a place to see and be seen.  Squab with lettuce, the eponymous spareribs and Beijing duck are must-order dishes.
Pick from 20 different fish at Milos—you can even pick exactly which one you want at the interior "fish market." Start with the Milos Special (a delicately fried tower of thinly-sliced zucchini) or the freshest Greek salad in the city.
Indulge in the fettuccine with truffle in the lantern-lit garden at Casa Tua for a charming Italian escape.
Split the famous spaghetti with tomato and basil at Scarpetta to save room for a delicious main course, such as lobster poached in olive oil or filet of beef with spinach and foie gras sauce.
End your night on a barstool at La Sandwicherie (open until 6am on weekends) with a Croque Monsieur or paté-filled baguette.
Gorge on empanadas, yuca croquettes, Cubanos and vaca fritto de pollo at Versailles in Little Havana.
Wait in line at Pubbelly or Pubbelly Sushi for some seriously delicious and innovative Asian-inspired gastropub fare (it's a favorite of many of Miami's chefs).
Images: Cecconi's; Pubbelly