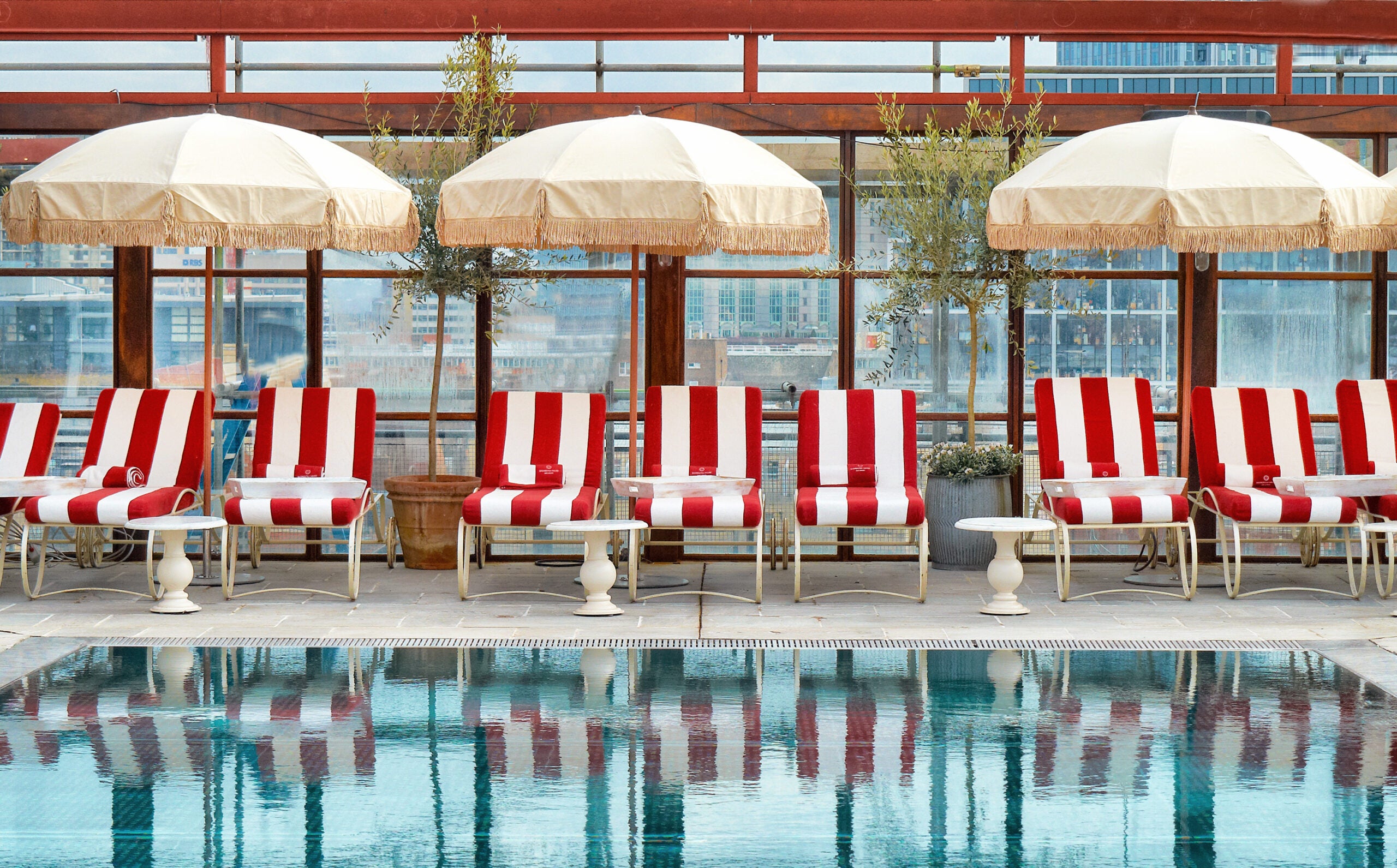 Wherever you are, the likelihood is that you're far too hot. A heatwave has swept across the world leaving everyone floundering as to what to do with themselves. The season which usually has us all yearning for sunny holidays has instead left everyone dreaming wistfully of ice and cool breezes. To ensure you can enjoy your summer holidays while still getting that cold fix we're all searching for, we've compiled the ultimate guide of hot places to cool down in so you can stay stylish in the sun. From snow room spa treatments in the Maldives to glamorous rooftop pools and bars in London this list ensures you can chill out in style while still soaking up the sun.
The Peninsula New York
New York, USA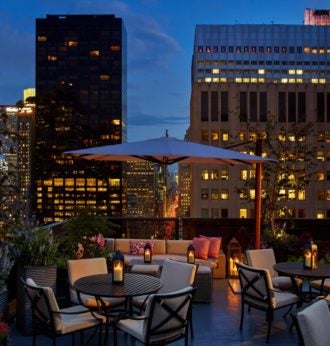 Known for its luxurious location (with quick access to the Fendi, Armani and Prada flagships just around the corner) The Peninsula New York is also a great spot to cool off from the city heat. A night in a Rooftop bar is one of the most enjoyable ways to escape from the summer sun, and the Peninsula has one of the best in the city. Salon de Ning, which is decorated with 1930s Shanghai inspired glamour provides a cool breeze and a peaceful escape from the hot bustling streets, while offering stunning fifth avenue city views. As well as their usual delicious cocktail menu, in the summer months Salon de Ning also offer alcoholic cocktail ice creams made exclusively for the hotel by Brooklyn-based purveyor Davey's Ice Cream, which provide the ultimate late-night cool down. If you need a deeper more intense remedy to the hot Manhattan bustle, the Peninsula's award winning spa offers a CRYO 3R Facial, which uses cold techniques to calm, tighten and repair your skin. The hotel itself offers 5-star luxury with a classically elegant design, the staff are excellent and there are Oscar de la Renta bath products in all the rooms. The hotel is also currently exhibiting original works by Andy Warhol, Keith Haring, and Jean-Michel Basquiat as part of the hotels 30th anniversary.
The Cape
Los Cabos, Baja California, Mexico
This breathtakingly beautiful beachside hotel offers some of the most indulgent, yet simple solutions to the heat. The Currents spa at The Cape features an open air corridor which is filled with the natural cool breeze coming off the North Pacific Ocean outside. This is accompanied by three plunge pools, and private baths for couples that can be filled with ice-cold water upon request. In addition to the spa there are two beachfront swimming pools; the larger is an infinity pool which has an in-pool bar, while the smaller is filled with salt water and sits amongst a natural rock formation. For those who want access to instant cooling at all times there are rooms which include private plunge pools on the balcony. The Cape is located at the southern end of Mexico's Baja California peninsula and offers unparalleled views of The Arch rock formation from every bedroom. The hotel's restaurant Manta is led by award-winning chef Enrique Olvera and there is also a peaceful rooftop bar serving delicious cocktails with views of the sunset.
Excelsior Hotel Gallia a Luxury Collection Hotel Milan
Milan, Lombardy, Italy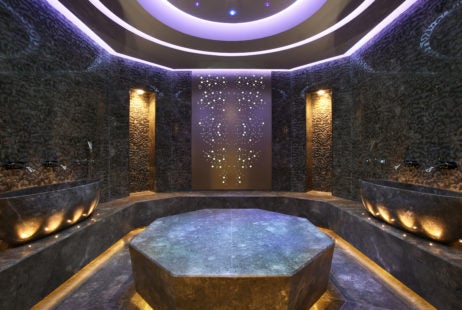 The Excelsior Hotel in Milan offers a cool modern respite from the thick Italian heat. It combines Qatari-style décor with Italian made furniture, while putting a modern, almost futuristic spin on both, which creates a welcome oasis of cold marble and glass after a day in the busy city. Its two-floor Shiseido spa is one of the best and largest in the city, and offers a variety of decadent ways to cool off. There is a private spa suite which holds an ice fountain for an intensely cold rush, or fresh mint-based showers in the main spa for a more relaxing and tingly refresher. While the softly lit hammam holds a cool stone alter at its center to lie down on between treatments. The main hotel offers plenty of quiet spots to hide from the sun in with a fully stocked cigar room and small Library Room. The hotel restaurant is also brilliant with menus overseen by the Michelin-starred Cerea brothers. There are 235 luxurious guest rooms and suites available with decadent velvet curtains, large windows and Trussardi toiletries.
Aphrodite Hills Resort
Pathos, Cyprus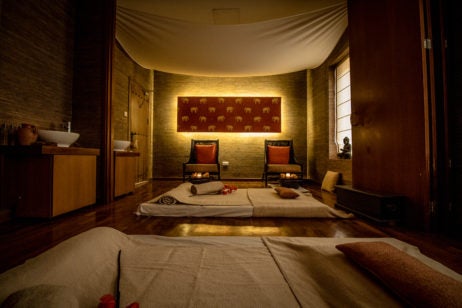 For those who love to spend their days in the rich summer heat, but don't love the hot, red, itchy condition it leaves their complexion in, Aphrodite hills resort offers a novel solution. The hotel which caters primarily for outdoor sport enthusiasts, has developed skin treatments at their Retreat Spa using the best in ELEMIS, Phytomer and VieCollection products to counteract over-exposure to the sun. The combination of mild exfoliation, cleansing and deep moisturization leave the skin fresh and glowing rather than burnt and painful, allowing you to enjoy the hotel's PGA National Golf Course, Annabel Tennis academy, Riding club, or simply the stunning pool without worrying the hot sun will ruin your holiday. The 290 guestrooms and suites have a simple calming style, and some offer private pools for quiet late night dips. The resort is very close to village of Kouklia where there is an ancient temple site dedicated to the Greek goddess Aphrodite for those looking for some cultural diversion.
Velaa Private Island
Maldives
Velaa Private Island has created an extreme way to beat the heat in their luxury My Blend by Clarins Spa. As part of their steam and sauna room regime they have now added the island's first and only snow room, which provides the perfect instant icy chill for when you start to overheat. The can be used for quick relief after a day spent in the sun, or as part of other spa treatments (the spa offers a unique personalized programme for the duration of your stay), and in-between the sauna and steam. The resort also exclusively owns a semi-submarine, which provides an exciting and idyllic setting for an afternoon out of the sun. It seems in fact that the resort has thought of everything, even using special paving stones imported from Jordan which don't absorb heat, so you can relax knowing you have a perfect haven to return to after a hot day out. The Island also has some of the best watersport facilitates in the country with great diving and snorkeling sites nearby, and each room has a private pool with stunning outdoor showers.
Miraggio Thermal Spa Resort
Halkidiki, Greece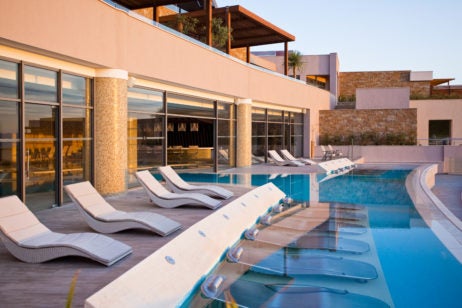 The Miraggio Thermal Spa Resort sits in a perfect location on the Kasandra peninsula giving the hotel access to both Thermal and Thallasso waters to use in their luxury Myrthia spa. This has enabled them to create the perfect summer cool down treatment with what they call a 'Water Source Journey', which includes 6 contrast pools ranging between 32 and 10 degrees. The temperature and duration is entirely up to you, and the waters not only help you to cool down after a day in the beautiful Greek sun, but they also offer the skin a chance to calm and heal. When the treatment is over you are invited to relax in the semi-submerged sun loungers which overlook the dazzling Aegean coast, allowing you to soak in the rays while remaining at the perfect temperature. The resort also provides access to a private beach and the rooms are large and stylish with retro style coffee machines and private pools available.
Shoreditch House
Hackney, London, England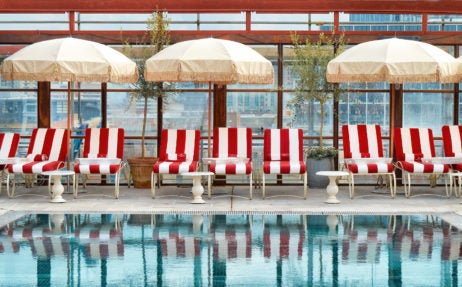 When London gets so hot that it feels as though the streets and the buildings themselves are emanating it at you from all sides, the best thing to do is to flee to the skies! And by that we mean find a luxurious rooftop pool to dip yourself into. Shoreditch House is a trendy members club in Central-East London, which also happens to have the very best rooftop pool in London. The open-air 16-metre oasis is surrounded by beautifully elegant red and white striped loungers with large cream tassled umbrellas, and olive trees dotted throughout. The effect is that of classic English glamour which only feels possible anymore in vintage films, and yet also manages to seem excitingly exotic and far away from the seething capital below. This is accompanied by a rooftop restaurant and bar which is equally lavishly decorated with hanging lights and vines climbing up the walls creating a shaded secret garden style paradise. The Cowshed spa also provides bespoke facial and body treatments for all your summer heat needs, while tingly pedicures provide a quick refresh. The rooms are on the smaller side, but are charming and guests enjoy access to all club privileges including the 5th floor Square Bar, Games Room, Snug and Sitting Room. For a fun night out on a hot evening in London you can also head down to the breezy Thames to see a performance from the National Theatre, which are installing a different company at the River Stage every weekend this summer.