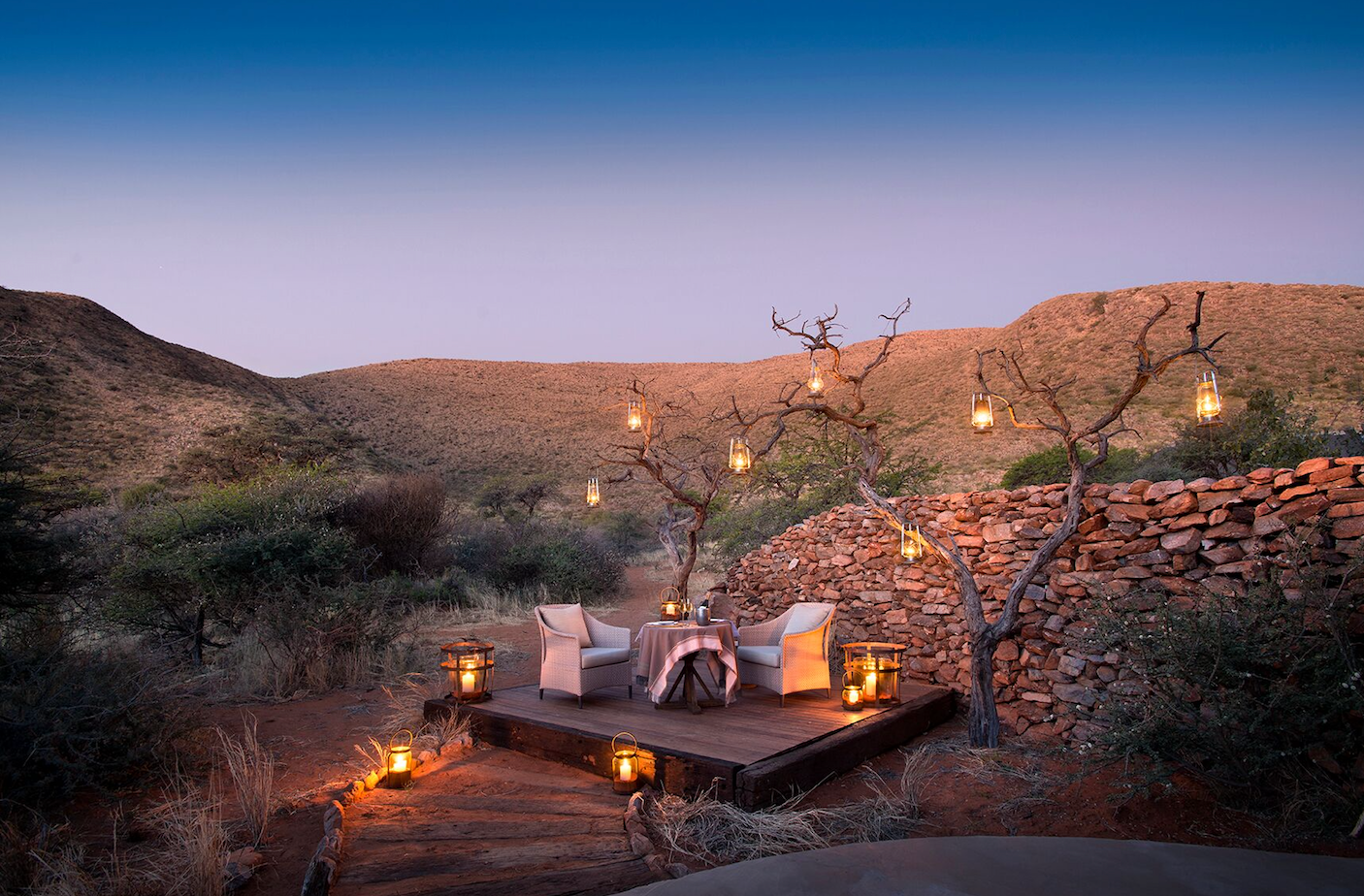 As far as over-the-top luxury safaris go, few come close to Completely Unique Safaris' Fine Wine, Art & Diamond Safari. On this eight-to-11-day journey, you will see rare wildlife in South Africa, get access to utterly private game reserves, savor vintage wine, and view and purchase rare art and diamonds.
Your journey begins with three nights at Tswalu Tarkuni in the Savanna Biome, home to one of the most diverse ecosystems in this South African region of the Kalahari Desert, which has both very dry and very wet seasons. Here, you'll enjoy game drives where you'll seek out its 80 mammal and 240 bird species, as well as embark on a diamond-buying safari.
An exclusive diamond jeweler will be flown in just for you and will present a carefully curated selection of diamonds based on your specifications. The stones you choose will be made into custom jewelry, or you can select a completed piece of your choice should you not be able to wait. Spend nights watching fiery sunsets over the vast desert from the outdoor lounge areas (lit by fire, of course) and explore the elegant accommodations through the lodge's winding wooden pathways.
Next, it's off to Cape Town for three nights of fine art, where renowned African artists will host private pop-up galleries for you around the city (be it a penthouse or a private beachside setup) where you can purchase pieces and have them shipped home. During your stay, enjoy the luxe Penthouse at The Silo Hotel overlooking the cityscape with Table Mountain looming overhead.
Wildlife, diamonds and art accomplished, your journey is far from over: Leave the buzzing city in favor of a quiet reprieve in South Africa's famed wine region, Stellenbosch, at Delaire Graff Estate, a Relais & Châteaux wine estate owned by Laurence Graff, chairman of famed diamond company Graff.
The serene estate overlooks the undulating hills of the Stellenbosch Valley and offers superb service and a world-class art collection. Here, a wine experience awaits: A private guide and sommelier will lead you through the estate's private cellar, where you will enjoy tastings of rare vintages and have the opportunity to purchase some exceptional bottles.
Choose to end your trip there, or you can extend your journey and spend three nights at the conservation safari lodge, &Beyond Phinda Homestead, a private villa on a Big Five reserve. You can go rhino notching (tagging) to help combat poaching in South Africa. A dedicated ranger will take you to track black rhinos on foot and also to participate in the property's other conservation activities.
Each trip is completely bespoke and intimate, as groups are capped at four people. Private butlers and chefs will accompany you every step of the way (think surprise dinners in the African bush or a feast on a quiet part of Table Mountain). You can even book mixologists and massage therapists for the duration of your journey.
From $120,000 for two people for eight nights.
Contact Matthew Murray, managing director, info@cusafaris.com, +27 010 141 1840, cusafaris.com