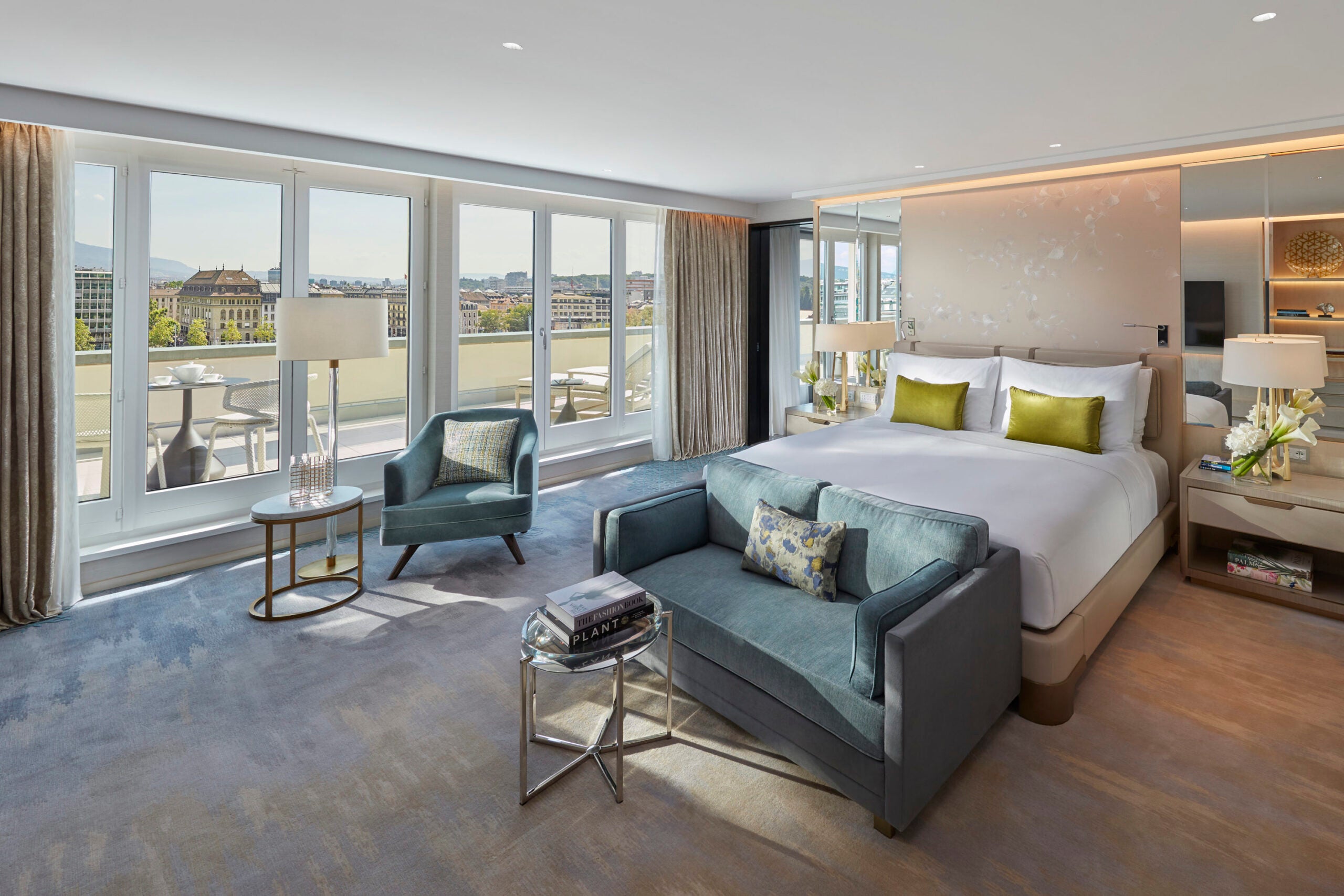 Mandarin Oriental Geneva is now home to one of the biggest and most luxurious suites in the city following the launch of its brand new Royal Penthouse.
The 1,066-square-foot suite is naturally situated on the hotel's highest floor, making it the perfect spot to absorb Geneva's incredible mountain views. Designers BUZ Design dedicated 574-square-feet to the suite's private terrace to ensure the panorama did not go to waste.
Guests will also be able to take in the stunning vistas from inside thanks to the suite's open-plan layout and floor-to-ceiling windows. The living area has been carefully zoned into separate dining and lounge areas to make it equally capable of hosting casual and formal events.
The suite comes with three ensuite bedrooms, including a spacious master bedroom. Each of the suite's four areas has been independently decorated to reflect the colors and charms of a season. The master bedroom reflect spring, with carpets picking up the blues of the lake and mountains. Cool winter prevails in the entertainment room, which has also been soundproofed.
A private elevator to the Royal Suite on the sixth floor allows guests to seamlessly combine the two to form what the hotel calls the Imperial Residence. The result is a vast suite with 1,893-square-feet of luxurious living space and six ensuite bedrooms.
Guests staying in the new penthouse will also benefit from the very best of Mandarin Oriental's amenities and services. The hotel's concierge is on-hand to arrange any number of activities, from in-room dining with a dedicated chef to a visit to one of Geneva's many watchmakers to witness masters at work.
"Our Royal Penthouse is a wonderful addition to Geneva's luxury hotel scene. We are proud to add this contemporary suite, with its amazing view, to our collection of signature suites," said David Collas, general manager of the hotel.
Reservations for the Royal Penthouse can be made by contacting the reservations office at Mandarin Oriental, Geneva on +41 22 909 00 01/ mogva-reservations@mohg.com