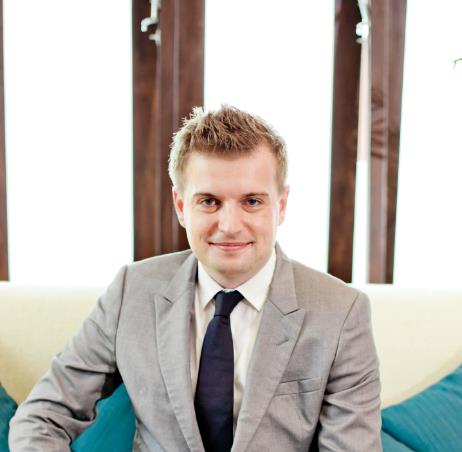 Elite Traveler Asia Managing Director, Tak Man sits down with Mikhail Tyurin, Co-Founder and Business Development Director of Maikhao Dream Co., Limited
ET: Please tell us about your background.
MT: My business career started very early while I was still studying at the University in UK. Over the years I have been involved in founding various projects including logistics, wholesale, and for the past few years international hotel development and operations, which is now the main area I am active in. We currently have four properties world-wide, in Turkey, Kazakhstan and two in Thailand with three more Phuket properties in the pipeline. In 2008 we developed our first property in Kazakhstan, which was originally a remote luxury resort by the lake. Shortly after, we started looking for new opportunities in South East Asia. We chose Phuket because we love the destination and we were drawn to the growing market.
ET:  What is your role?
MT:  I am Business Development Director and COO. My wife and I are both very involved. She is looking after operations and management and I focus on business development. We also have shareholders who are not involved in day-to-day operations.
ET: Can you give us an overview of Maikhao Dream Hotels and Resorts?
MT: Maikhao Dream Hotels and Resorts owns and operates two exclusive beachfront properties located on Mai Khao beach in Phuket and  Phang Nga's exclusive Natai beach. Our Flagship property is Maikhao Dream Villa Resort & Spa, which  is one of the few boutique all villa luxury resorts on Phuket that has direct beachfront access. We offer 22 exquisite pool villas in a romantic tropical setting. Guests can chose from either one, two or three bedrooms with spacious indoor and outdoor living space. The one and two bedroom villas feature a minimum of 5,000 square feet of total living space, whilst the three bedroom villas have larger swimming pools and more space, exceeding  7000 square feet. Each villa features a sumptuous private plunge pool and jet pool, an airy wood terrace, and an outdoor Thai Sala. Privacy is ensured with enclosed gardens.
Other facilities include the outdoor pool, a kid's club and a fitness centre.  We have superb amenities, entertainment and recreational activities, including sight-seeing, yachting and cruising on our Maikhao Dream Sunseeker 60 Luxury Boat. Shopping, additional excursions, tennis or world class golf is just a 10-minute drive from the Resort. Maikhao Dream Villa Resort & Spa is only a 15 minute drive from Phuket International Airport.
We have another resort on an up and coming exclusive Natai beach, Phang Nga province. It is called Maikhao Dream Resort and Spa and is located on the mainland just a twenty minutes' drive from our Villa property, on the Andaman Sea in the West. Both resorts are distant enough to escape the city hustle and bustle and offer convenient chauffeur services to popular attractions and places of interest around.
ET: What separates Maikhao Dream Villa Resort & Spa from other luxury getaways in the market?
MT: We always consider freedom in luxury travel. We offer tailor-made experiences through our unconventional reservation system focused on personalized approach to meeting the needs and wants of every guest.
We are creating an everlasting dream holiday in harmony with nature and an experience of traditional Thai hospitality that is extraordinary, luxurious and flawless. Our Mission is to establish Maikhao Dream Hotels and Resorts as a prestigious and globally recognized Hotel Brand.
ET: What do you provide to private jet travellers in terms of experience?
MT: We have a close relationship with the Phuket International Airport to help make their arrival much easier, especially during peak season. We build life-long guest relationships by delivering exquisite services and fulfilling their ultimate dream holiday, depending on what they are looking for. We care about and respect the Earth and the environment, therefore work hard to be socially responsible. We understand how important privacy and continuity is to our guests as well.
ET: How common are private jet travellers to Phuket?
MT: Very common. It has become less seasonal. Two years ago private jets flying into Phuket were scarce. Private jets are in and out of Phuket all year around with the boom of luxury resort development.
ET:  What are your future expansion plans?
MT: We are looking to take our brand to another level by developing properties in other areas of Thailand and Europe. Currently we are developing three more luxury properties on Phuket and Phang Nga which will strengthen our presence in the region as well as allow us to expand into wider market segments.  We are also currently expanding our current operation at Natai by adding 50 additional beach houses scheduled to be ready to move in early 2015.
ET: Where are most of your guests coming from?
MT: We see a big mix of nationalities. A large proportion comes from Europe, SEA and Hong Kong. We also see people coming from South America and Australia. Generally, we see Europeans flock here during the Winter and Asians in the Summer
ET: What message do you have for our guests?
MT: Please visit Phuket and experience the highest level of bespoke service at the exceptional Maikhao Dream Villa Resort & Spa.
ET:  Aside from hospitality, who are some of your favourite luxury brands?
MT: I'm a big fan of and BMW and Sunseeker luxury motor yachts, who have been our partners for quite some time. I favour Boucheron watches and jewelery, Prada and Paul Smith. Small boutique brands are also very interesting to me.
ET: It has been a pleasure getting to you know you and learn more about your resorts. Thank you for your time. We wish you much more success to come.