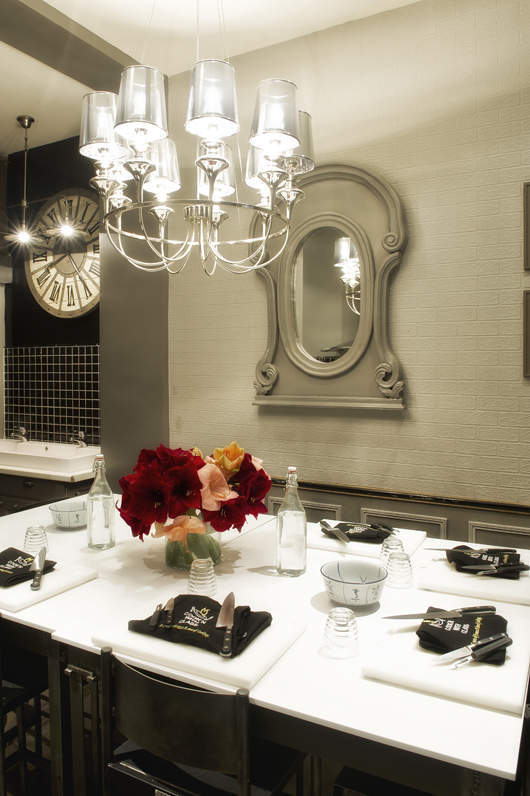 Paris, France – Reported by Elite Traveler, the private jet lifestyle magazine
While in Paris, definitely have a classically trained personal chef whip you up an unforgettable meal, but for those seeking to be more hands-on, Cook'n With Class offers the kind of private gastronomy lessons that make cooking an experience, rather than a chore. This authentic French cooking school—ideally located in the heart of Paris' storied Montmartre neighborhood—has just upped the ante with a gleaming new facility.
Xavier Cocquerelle designed the interiors of the brand new, state-of-the-art teaching kitchens, playfully juxtaposing culinary inspiration with Baroque style (think wooden mixing spoon chandeliers). Helmed by professional chefs, each class explores select aspects of French cuisine. From baking the perfectly flaky pain au chocolat, to picking up some of the industry's most cutting-edge techniques in a molecular gastronomy-focused class, each session will impart not only a new culinary skill, but also a better understanding of the French art de vivre.
If you're after the full, A to Z experience, the school offers special morning market courses, in which students, accompanied by their professionally trained instructor, will explore the local neighborhood produce markets, decide on a four-course meal together and then select the necessary ingredients before returning to the school to create a fabulous meal.
In addition to being quite charming, chef and owner Eric Fraudeau has 20 years of restaurant and hotel industry experience under his belt, and has rubbed aprons with the likes of master chefs Robuchon and Ducasse. He explains that because "many travelers are seeking education vacations, and are building their entire vacation around learning a new technique or skill, we've built an authentic experience for those wanting a taste of our French traditions."